November 21, 2019
This week, Levi Strauss & Co. was honored alongside Patagonia by the Brennan Center for Social Justice for its Time to Vote initiative, aimed at giving employees the time to vote and be engaged in the democratic process. 
Inspired by Justice William J. Brennan Jr.'s devotion to core democratic freedoms, the Brennan Center for Justice works to strengthen democracy, end mass incarceration, and protect liberty and security.
"It is a real honor to be recognized alongside Patagonia by the Brennan Center, which we consider a leader in preserving and protecting America's democracy," said Anna Walker, vice president of Public Affairs for LS&Co.
The center's annual awards dinner brings together civic, business and philanthropic communities to celebrate leaders who advance Justice Brennan's ideal of "common human dignity." Other Legacy Award honorees include those like Desmond Meade, president of the Florida Rights Restoration Coalition (FRRC). Desmond's organization backed a 2018 Florida measure that ultimately reinstated the voting rights of an estimated 1.4 million formerly incarcerated people. The Levi Strauss Foundation partially underwrote the documentary "Let My People Vote," which covered a day in the life of Desmond as he canvased door-to-door to get people to vote.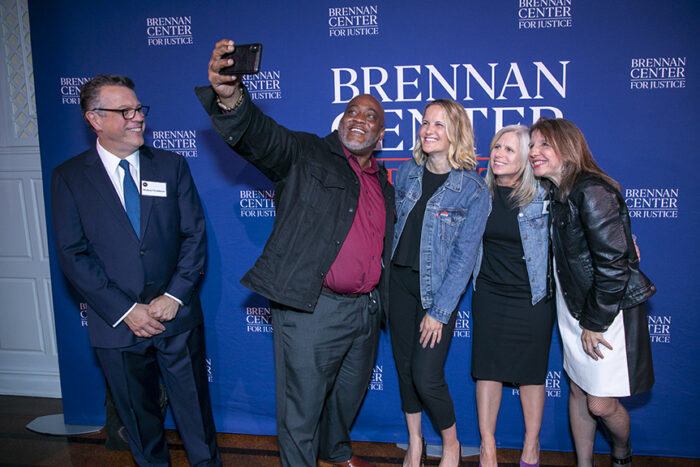 In 2018, Patagonia CEO Rose Marcario reached out to LS&Co. leadership to join them in providing time off to vote for employees and build a coalition of companies with the same commitment to increasing voting and civic engagement. More than 400 companies joined Time to Vote in time for the U.S. midterm elections which boasted a record turnout of voters.
"Prior to Time to Vote, we heard from our employees that they wanted to be civically engaged in their communities on the causes they care about, and the most important manifestation of that interest and passion was voting," Anna said. "We were thrilled and proud to join with Patagonia on Time to Vote then, and this year, we seek to engage even more of the business community in 2020 across all 50 states, ensuring more of working America has the time they need to vote."