November 14, 2019
In 1973, Billy Shire's studded Levi's® jacket and Anna VA Polesny's embroidered Levi's® shorts were selected as two of the winning garments in the acclaimed Levi's® Denim Art Contest. The brainchild of Publicist Richard Owens, the contest invited consumers to submit slides of their best-decorated denim.
Chosen as first and fourth-place winners from thousands of entries, winning garments were exhibited at museums from San Francisco and New York to Amsterdam and Brussels. Now, the two Levi's® artworks are on display again as part of the Off the Wall: American Art to Wear exhibit at the Philadelphia Museum of Art. It showcases decorated Levi's® pieces among one-of-a-kind works by more than 60 artists, celebrating the creativity and ingenuity of those who created a distinctly American art form.  
I interviewed Anna and Billy and visited the opening to talk about their works.
From patch job to artwork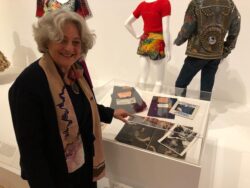 While traveling to Mexico in 1971, Anna patched a hole in the back pocket of her Levi's® shorts. "I received them as a gift from a friend," she said, "and embellished the hole with an embroidered butterfly." Over the next few years, Anna traveled to 16 countries on four continents — "Footloose, fancy free, and ready to embrace all life had to offer," Anna remembered of the late 60s and early 70s — continuing to decorate the shorts along the way.
Anna's International Levi's® became a signature work of art. She says her cutoffs symbolize love, freedom, the exuberance of youth and her interest in color as an emerging artist. Details include a satin-stitched "IANNA" on the waistband, added "not as a narcissistic statement, but as an intertwining of my name and Ian, my boyfriend at the time," she said. Other details include the blue Volkswagen beetle she drove, the New York skyline of her home state, flowers, stars and colorful swirls. "They are about the joy of life at that time," Anna said.
A winning work of denim
Billy Shire, who created studded leather belts for musicians, applied his skills to denim to create the prize-winning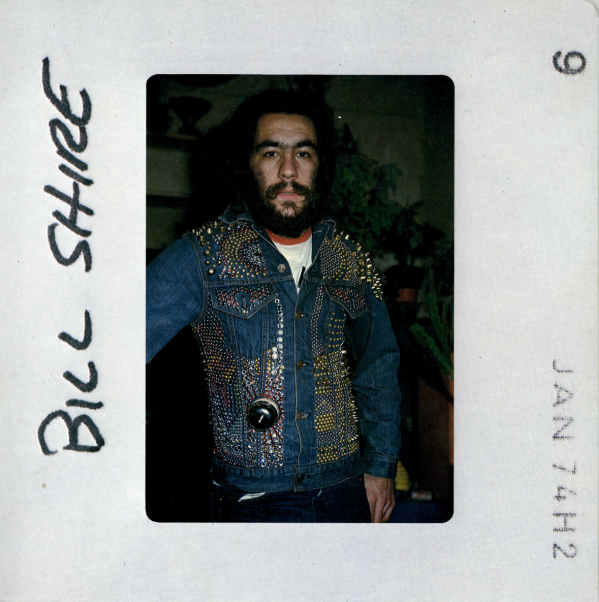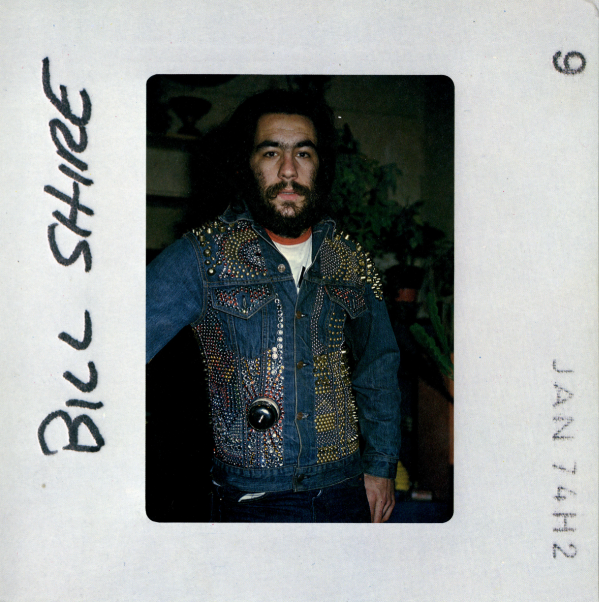 Levi's® jacket. Growing up in California, he found using Levi's® as his art canvas was a natural progression of his life. "I wore Levi's® from the time I was 6 or 7," he remembered.
Billy had been decorating an old Levi's® jacket he'd bought at a thrift store when he learned about the Levi's® Denim Art Contest, just one week before the deadline. "I worked on it for 40 or 50 hours," he said. "I took pictures and flew them up to San Francisco myself [to enter the contest]." Billy returned home and finished the jacket. "I bought this big studding machine," he recalled, "then filled every inch."
It took Billy 200 hours to complete the jacket. He added military medals, ribbons and emblems of a five-star general on the cuffs. He also included an interactive piece — a desk bell engineered so that when you're wearing it, you can ding it. Another inventive feature? "I fastened an ashtray from a Model T Ford I got at Pep Boys," Billy said.
Weighing over 11 pounds and described as a "tour-de-force of metal and glass studding," the piece is unique and a reflection of Billy's skill and interests — and his individuality.
Pioneers of an American artform
With their decorated Levi's® items, Billy and Anna became pioneers of the wearable American art movement that emerged half a century ago — and the Levi's® Denim Art Contest gave these emerging artists a space for recognition.
"My highly embroidered Levi's® traveled to exhibitions in major museums and galleries worldwide," said Anna, who later coaxed the Levi's® brand into sponsoring another denim art contest in Hannibal, New York, when she became an artist in residence.
For Billy, who now runs a store called Wacko and Le Luz de Jesus Gallery in Los Angeles, winning the Levi's® Denim Art Contest opened venues even after the original 1974 tour. "This is the fourth museum [my jacket] has been in," he shared.
Main Image: Anna VA Polesny, International Levi's, 1973. Denim hand embroidered with cotton thread. Promised gift of The Julie Schafler Dale Collection. Photography by Otto Stupakoff ©Julie Schafler Dale.