October 24, 2019
A cowboy pulls a hot-foot prank on a barber to the great amusement of his buddies and the dismay of his pal in the barber's chair. In another display, several cowboys are showering up and decking themselves out in their finest Levi's® for a big dance while a car of young girls are about to roll up on the unsuspecting, half-dressed gentlemen.
These fanciful scenes, depicted in wall-sized Levi's® murals, came to life in full color thanks to Velvetone Company, a San Francisco business that pioneered screen printing in the 1910s. In creating vibrant advertisements for Levi Strauss & Co. (and others), Velvetone not only boosted the jeans business, but developed the framework for graphic screen printing.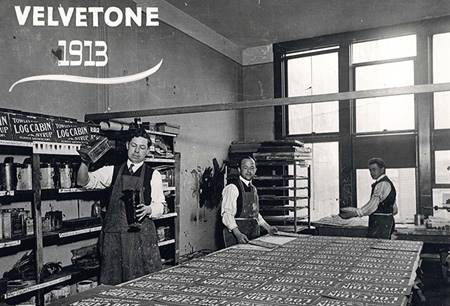 Like blue jeans, the history of graphic screen printing is rooted in America. It evolved from stenciling in the late 1800s to better fit the needs of a 20th century industry seeking efficient production of artful signage and advertisements. Frank Otokar (F.O.) Brant, an immigrant from Prague, bought a San Francisco sign shop in 1908 and San Jose-born sign painter Joseph A. Garner joined him a year later. Together, the two founded Velvetone.
Velvetone created large-scale Levi's® advertisements by developing an effective printing process that produced brilliant results. F.O. and Joseph used a multitude of colors, over a dozen in some cases, each printed on separate color screens until the final piece practically glowed.

Ray Brant, F.O.'s grandson, who worked during the summers at the family print shop in the 1950s, remembers the process. Taking original artwork commissioned by LS&Co., Velvetone matched the colors laid out by the artist at the bottom of each illustration.
Screening was the biggest part of their work. "They had a huge platform table where they set down the big sheet of paper," says Ray. "For every color they would have to run a separate screen, so if there were 20 colors in that picture, they had to create 20 screens." The printers inked the screens, spreading the color onto the paper. "They used a squeegee and actually walked along [the table]—it [was] long." explains Ray. Once the screens were prepared, Velvetone could create dozens of the same colorful prints.

Called "Coro-Vels," the finished prints were glued to corrugated cardboard that could be rolled up like a scroll and shipped to locations throughout the West. The colorful advertisements made an unforgettable backdrop at stores, fairs, tradeshow booths and the like. The vivid prints, displayed with the ends still rolled, helped create the memorable Western imagery tied to Levi's® — America's finest jeans.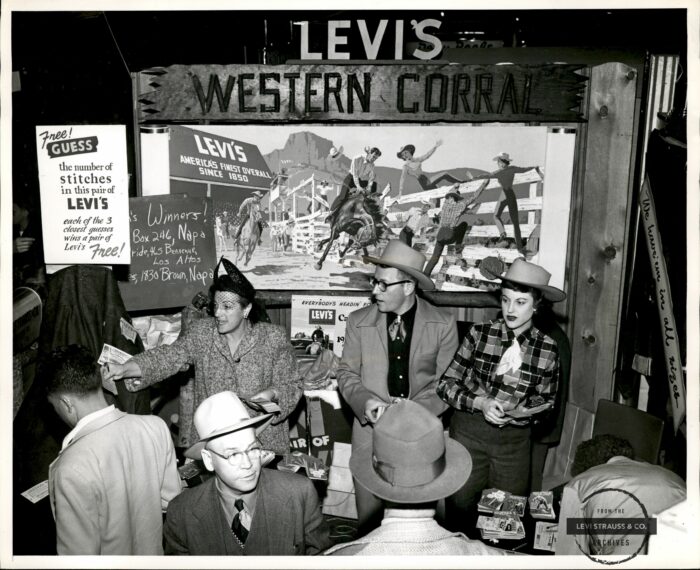 Velvetone's ground breaking graphic screen printing was not only innovative, it set the standard for processes used today. Similar methods have even been applied to creating colorful Levi's® garments.
Thankfully, there are several Coro-Vels preserved in the Levi Strauss & Co. Archives. You can see an original Levi's® Velvetone screen printed advertisement on display in person at Levi Strauss: A History of American Style opening February 20, 2020 at the Contemporary Jewish Museum in San Francisco.