October 8, 2019
On September 20, millions across the globe, including Levi Strauss & Co. employees, took to the streets to participate in the biggest climate protest in history.
Here in San Francisco, we were joined by thousands of youth activists and community members, urging political leaders to take greater action on climate change. And instrumental to the strike's success was Hannah Estrada from the Bay Area youth-led climate justice group Youth vs. Apocalypse.
Besides co-emceeing the event, Hannah helped file permits for the rally, met with union and labor council representatives, reached out to speakers and even passed a resolution for Alameda County – on top of balancing a full student schedule.
"You just do it when you can," the high school junior said. "And for a lot of youth, doing it when you can looks like shooting out emails at 12 in the morning or calling people during your lunch time."
Last month, Hannah was honored as a Giants Community Advocate for taking a lead role in organizing the climate strike in September as well as last March, receiving four tickets to the San Francisco Giants game, a home plate recognition ceremony, Levi's® schwag and a $1,000 grant to Youth vs. Apocalypse.  
Hannah said her fight against climate change began a year ago when she learned about the Green New Deal, which she called "inspiring and hopeful" for being "an extremely inclusive piece of legislation." Before joining this movement, Hannah was already involved in environmental justice, supporting minority communities affected by pollution and bringing attention to activists of color on the frontlines.
"Environmental justice isn't just about the polar bears and the penguins," Hannah said. "There are tons of indigenous people, brown and black people, who have been leading and fighting for this movement for years because their communities are and will be affected the most. And I don't see a lot of the environmental movement recognizing them and supporting them."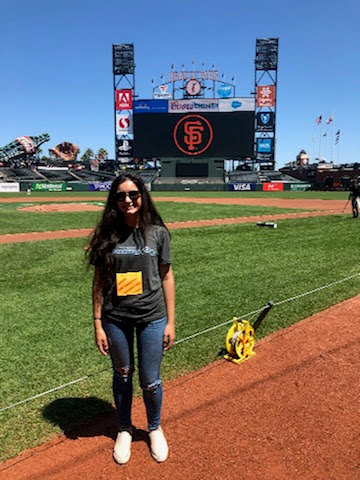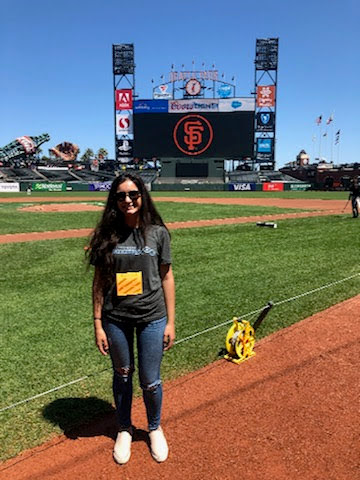 Activating on all fronts
Throughout this baseball season, LS&Co. and the Giants partnered to spotlight six Bay Area youth leaders who are courageously taking a stand on some of the most important issues of today.
Hastings Law School student Allyssa Rose was honored in August. Last summer, while volunteering at the nonprofit San Francisco Baykeeper, Allyssa discovered several facilities that were polluting the Bay and helped formulate cases against them to reduce industrial stormwater running off these sites.
"I wanted to work on policy that impacted the very community that I'm working in and taking classes in," she said.
In July, we honored Bianca Guzman from Generation Citizen, an organization dedicated to promoting civics education in the U.S. Passionate about participatory democracy, Bianca oversees the Democracy Coach program, which trains college student volunteers from across the Bay Area in being civic mentors in middle school and high school classrooms.
We're proud of these youth activists who are standing up for our planet and our future. To learn more about how we're supporting the next generation of changemakers, read about our past honorees here.