August 8, 2019
Fifty years ago, Jimi Hendrix took the stage at the Woodstock Festival in an outfit that would become the epitome of the 1969 style scene. The rock legend pulled off a pair of bell bottoms, a style the Levi's® brand would capitalize on not long after the crowds returned from the festival.
Levi's® 646 bell bottoms and 517 boot cut jeans were born in a time of ultimate self-expression. Hippies and others would split the seams of their jeans to widen the leg openings, sewing in panels of contrasting fabric, bandana prints, or denim remnants. The fuller fits could accommodate boots, and wider pant legs added movement and flow — perfect for the street or stage.  
Hendrix's look was inspired by styles from the famed hippie hot bed, the Haight-Ashbury, located just blocks away from Levi Strauss & Co.'s factory in San Francisco. Hendrix was a frequent customer at Mnasidika, a Haight shop owned by Peggy Caserta from 1965 to 1968. Peggy claims she convinced LS&Co. to change its production lines to manufacture the hot new bell bottoms. Although I have not confirmed her story, what we do know is that by fall 1969, LS&Co. embraced these DIY styles, introducing bell bottom and boot cut fits as the latest Levi's® products. They were launched as part of the brand's experimental orange Tab line, leaving red Tab classics like the 505® and 501® jeans separate.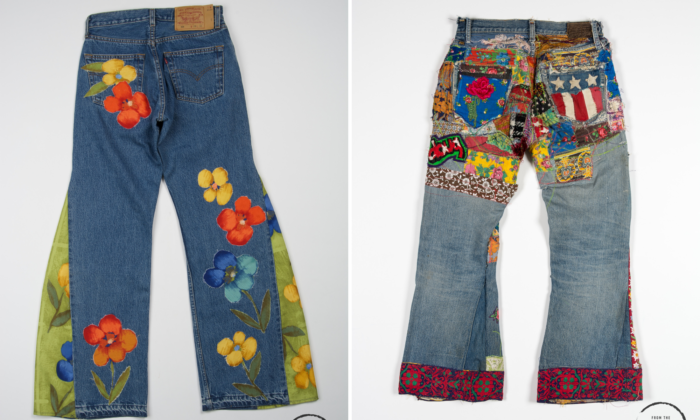 The 646 jean, originally called "Nuvo Flares," was made of a poly-cotton blend. In time for students returning to school, fall 1969 company catalogs described the STA-PREST Saddleman 517-07 as "full from the knee for the boot wearer."
Customizing since '69
Students adorned their jeans with peace signs and other patches, paint or colorful designs. Levi's® became a canvas for political expression, musical preference and personal style. "I went to high school in the late 1970s when both Levi's® wide bell bottoms and jackets were what the cool kids wore to school," said New Jersey native and current LS&Co. employee Maureen Stivale. "Customization was important both then and now."
Maureen wore her Levi's® bell bottoms with a matching Levi's® jacket that she hand-embroidered on the back with a Southwest scene inspired by her favorite record album at the time from the San Francisco-based rock band New Riders of the Purple Sage.
Colorful patchwork and embroidery of the day was also practical, making the jeans last longer if torn or ripped. Doug Hansen, a student at Fresno State University in the 1970s, bought a pair of 501® jeans at a flea market in Fresno. The jeans, torn and frayed, "were probably worn by a farmer," Doug says. He transformed his Levi's®, and reinforced the tears, with his grandmother's vintage tie collection, floral fabrics and trim. And to fit his favorite boots, he opened the side seam and added extra denim to create a custom Levi's® boot cut.
From niche style to big trend
The popularity of Levi's® jeans soared in the early 1970s, fueled by the new bell bottom and boot cut styles. LS&Co. sold wide-legged jeans for fans of all ages in denim and a variety of colors and fabrics like corduroy — a favorite of the decade.
Fifty years later, fans still love these now classic Levi's® looks. For throwback styles that feel fresh, shop our modern boot cut and high-rise jeans on levi.com. Or you can check out Levi's® Vintage Clothing where we reproduce fits, fabrics and details of earlier eras.
In honor of the 50th anniversary of bell bottoms, and boot cuts Levi's® fans can view select styles and boot cut jeans from the 1960s to 2019 in a new Archives exhibition on display August 14 through November in the Atrium at Levi's Plaza in San Francisco.