July 12, 2019
As CEO from 1984 to 1999, Bob Haas introduced several firsts while leading Levi Strauss & Co. During his tenure, LS&Co. pioneered the first manufacturing code of conduct and became the first Fortune 500 company to extend medical benefits to employees' domestic partners.
Bob also introduced the company's first Levi's® dress policy, allowing employees to wear blue jeans and other LS&Co. products to work—no surprise since Bob, a descendant of the Strauss family, grew up wearing Levi's®. But it wasn't the only cool dress trend he set – he also introduced a unique denim look while he was still in high school.
As a teenager he noticed that the underside of denim had an interesting silverfish hue. "I asked my father (then Levi Strauss & Co.'s president), if the company had ever thought of making jeans out of reverse-side denim," Bob remembers, "and he said that they hadn't."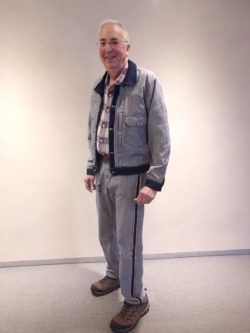 Bob's father asked the nearby Valencia Street facility to make an inside-out jean. Says Bob, "I was excited when he brought it home and I proudly wore it to school. The different look caused quite a stir."
When Bob returned home from school that evening, he discovered that his legs and underpants were an indigo blue. "The dyestuff had come off during the course of the day," he explained. "Very embarrassing! And the end of commercializing my idea."
Yet over time and after numerous washes, the wicking of the indigo subsided. Bob's jeans developed a unique silver sheen and became among his favorites.
Bob would later relay this story to Jonathan Cheung (SVP, Design Innovation) who later shared it with one of Tokyo's most influential fashion brands, BEAMS. 
Revisiting Bob's experimental high school style, Levi's® and BEAMS would go on to collaborate on a five-piece Inside Out capsule collection that combines Levi's® design and craftsmanship with BEAMS' distinguished Japanese style. 
Inspired to pull off Bob's look?  Check out the Levi's® x BEAMS collection available now at levi.com.