July 10, 2019
Despite a difficult retail landscape, Levi Strauss & Co. brands are continuing to deliver – second quarter net revenues grew 5 percent on a reported basis and 9 percent on a constant currency basis.
All of our brands grew again this quarter. The Levi's® brand led the pack with 10 percent growth, our Signature and Denizen® brands collectively delivered 9 percent growth and Dockers® grew 1 percent globally.
"Our second quarter and first half results reflect the continued strength of our diversified business model as we delivered broad-based growth across all brands, regions and key product categories despite a challenging retail and macroeconomic environment," said Chip Bergh, president and chief executive officer of Levi Strauss & Co.
Here are other key takeaways (all in constant currency and versus prior year unless stated otherwise):
Our total men's bottoms business was up 5 percent for the quarter. Performance-focused fabrics with higher stretch content and tapered silhouettes continue to resonate with consumers. The 502, 512 and 514 styles drove global growth, while newer products such as the Levi's® Engineered Jean performed well internationally.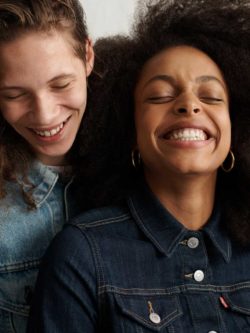 Our women's business remains a major revenue driver. Our total women's business grew 16 percent in the quarter – the 16th consecutive quarter of growth in this category and the 10th quarter of double-digit growth. What's more, the business grew across all regions and channels, fueled by the success of our high-rise fits and healthy sales of women's tops.
Women and men are feeling our tops. Our total tops business grew double digits again this quarter at 14 percent, driven by strong sales of sweatshirts and Trucker jackets. While graphic tees continue to drive big business for us—we're still selling a graphic tee per second—our growth in other tops this quarter demonstrated the strength of our ongoing diversification in this category.
Consumers are finding us everywhere they like to shop. Our direct-to-consumer business grew 14 percent for the quarter in total and has now grown double digits for 13 consecutive quarters. Revenue growth from our brick-and-mortar stores was up 12 percent and our e-commerce growth was up 25 percent for the quarter.
Beloved the world over… Each of our regions grew revenues and profits, with Europe and Asia growing revenues by double digits this quarter. That growth reflects our strong performance across traditional wholesale and direct-to-consumer channels across these regions. And globally, our wholesale business was up 6 percent.
Find the full press release here.