June 24, 2019
Dockers®is teaming up with celebrity stylist Karla Welch, putting a fashion-forward spin on its khakis.
For more than 30 years, the brand has been the proud creators of the American classic, providing men with innovative and comfortable clothes for every occasion. For this collaboration, Welch has combined her own artistic vision with Dockers® khaki heritage to create an inclusive and versatile line of product.
"I have a real khaki obsession, and I always have," Karla said. "It's such a staple of a man's wardrobe, and I was always thinking…well, where are mine?"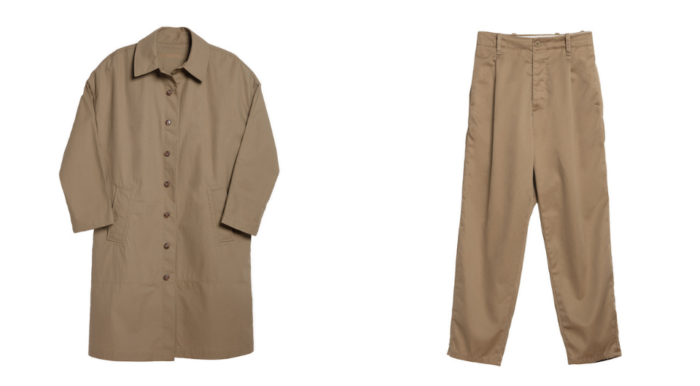 The Dockers® x karla capsule collection features a lineup of timeless staples and accessories tailored to be worn by all: wide-leg and tapered khaki pants, a trench coat, a white oversized dress shirt, a cotton piqué pocket tee, a bucket hat and a utility belt-bag. Each piece strikes a balance between tradition and innovation, inspired by vintage styles from Welch's childhood and old films while playing with proportion and a modern, minimalistic aesthetic.
For example, the collection features a bucket hat that is a riff on the headwear she's worn since she saw one on the TV show Gilligan's Island. The piquépocket tee is a nostalgic nod to the shirt her uncle wore when she was a kid. And the wide-leg pants are inspired by the full-cut trousers worn by screen legend Fred Astaire, as well as the designer's own collection of baggy pants. 
"Karla has a talent for zeroing in on people's individual style balanced with her creative and bold vision," says Karyn Hillman, SVP and Chief Product Officer for all Levi Strauss & Co. brands. "Her authentic style and our khaki expertise was a natural collaboration that resulted in a range of product that is effortless, confident and inherently Dockers®.
This isn't the first time the creative visionary has joined forces with LS&Co. Last year she partnered with Levi's® to celebrate 501® Day – the birthday of blue jeans – with a nine-piece collection that redefines the future of vintage, including a leather fringe Trucker and boiler suit. She was also one of 50 global influencers chosen to rock a customized Trucker for the jacket's 50th anniversary in 2017. 
Shop the collection now, available in stores at Dover Street Market New York, Los Angeles and online at xkarla.com.