December 7, 2018
Office birthdays can often be mundane celebrations – cake and a bit of chit chat in between the hustle of the work day. But there was a rare celebration recently at our Philadelphia Mills Levi's® store where our stylist, Ruth Fauntleroy, celebrated a true milestone – her 90th birthday!
"She has touched everyone who has worked here," said her store manager Alberto Morales. "No one can believe she's 90. You would never guess her age."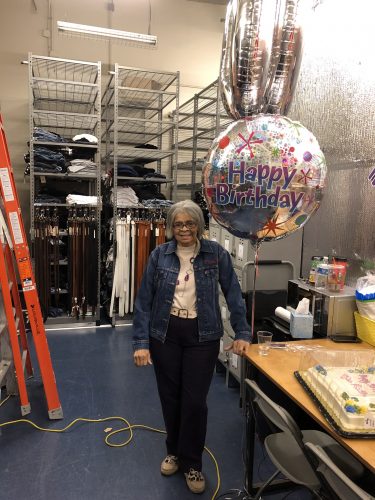 Her teammates didn't want this milestone birthday to go unnoticed so in addition to the cake and singing, they got her a customized Levi's® Trucker jacket to mark the occasion.
Miss Ruth, as she's known, has worked at the Levi's® store in Philadelphia Mills for a decade, but has been a mall employee for the last 30 years after seeking a change from her secretarial job.
While Miss Ruth only works on Saturdays, it is meeting new people that keeps her coming back. In fact, in her previous retail roles, she tried management but found she liked selling better so she could connect with consumers.
She has also developed a special bond with her teammates, who look forward to seeing her every week and listening to stories of what working was like "back in the day."
"She likes to gloat that she has never been late," said Alberto. "It's something she is very proud of."
When asked if she had any advice for people just starting out in their career, she offered simple guidance – "Don't give up so easily. If you love it, stick with it."