December 6, 2018
Recalling her teenage years growing up in the New York, Christine Rucci remembers walking home every day in a school uniform looking longingly at students from other schools dressed in Levi's® student-fit cords or 501® jeans. "I begged my parents to buy me a pair of Levi's 501s," she said.
Unable to switch up her school's clothing requirement, she instead chose to rock her rebel style in the form of her Levi's® denim tote bag.
T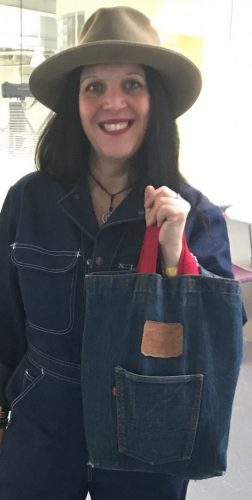 hat bag was part of a promotion in the 1970s, when Levi Strauss & Co. partnered with Soft & Dri antiperspirant. Women's magazine ads featured two women in Levi's® bell bottoms holding Soft & Dri in one hand with a Levi's® denim tote slung over the shoulder of the one in front. "Save $2 on a Levi's® Tote Bag," the ad offered with the testimonial, "Soft & Dri is in my bag because it really helps keep me dry."
The Levi's® denim tote bag included a pocket that looked like the back of a pair of 501® jeans with a red Tab and Arcuate design stitching. The bag had red handles and a leather-like patch.
Although Christine towed the line at school by wearing her uniform, she soon adopted the Levi's® tote as her school book bag despite a ban on denim. "I carried the bag with pride to St. Rose of Lima and later, St. Agnes," said Christine, "much to the chagrin of the nuns."
Christine filled the bag with books and school papers—a visible reminder at classes that she was defying school rules.
Christine's Levi's® bag fueled her lifelong passion for denim that continues today. After high school, she was finally able to purchase her Levi's® jeans – "You could buy them at the Army-Navy store," she remembered. Eventually, she surrounded herself in denim, designing her own line of jeans and carrying denim-decorated business cards.
Some 40 years later, Christine still totes her Levi's® rule-defying denim bag everywhere. It has become more than just an accessory – it is a symbol. As she puts it, "Levi's® was my form of rebellion."