August 27, 2018
In today's collaboration-saturated market, it's easy to forget that the Levi's® brand has been at the forefront of fashion partnerships for almost 20 years. From art and high fashion to new tech, we've worked with a number of legendary brands, resulting in cool collaborations with iconic names like Stussy and Supreme.
Here's a look at five top Levi's® collaborations since 2000. For discerning collectors, consider it a guide to some elusive pieces you may want to hunt down and add to your personal collection.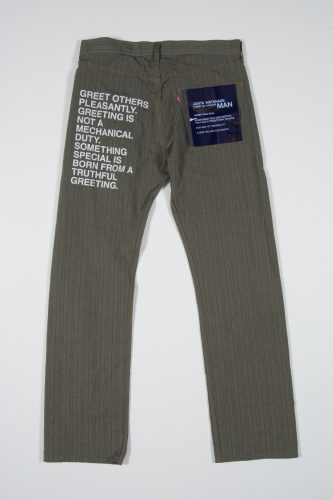 Comme des Garcons, 2002. Using the iconic patterns for a Levi's® classic 5-pocket jean and Trucker jacket, Designer Junya Watanabe reinterpreted the set in non-denim gray herringbone suit fabric. His concept? Take items with history and a traditional shape and create a new kind of basic. You won't find rivets on his pieces, but you'll find plenty of provocative and inspiring text.
Jordan Brand, 2008. Two American originals, the Levi's® and Jordan Brands launched limited-edition co-inspired collections, known as 23/501® in 2008. It paired co-branded Air Jordan retro 1 style sneakers with a signature T-shirt and a pair of Levi's® Original Button-Fly 501® jeans. The 501® jeans, made with premium selvedge denim, were lined with the signature Jordan Brand elephant print. The jeans featured a gold metallic button fly, the Jordan Brand signature logo embroidered on the pockets, the Jordan Brand name on the leather back patch and a sneaker protector at the cuff to reduce the transfer of indigo dye to the very limited and very stylish shoe.
Neighborhood X Stussy, 2010. The Boneyards II: Conspiracy Trucker jacket combined a Levi's® traditional denim body with black leather sleeves reminiscent of a motorcycle jacket. The classic red Tab and raised metal buttons offered a welcoming and familiar contrast to the smooth quilted lining and front pocket 'Conspiracy' patch, indicative of the collaboration between Stussy, a California brand, and Neighborhood, a Japanese fashion brand. The limited-edition jacket was released in September 2010.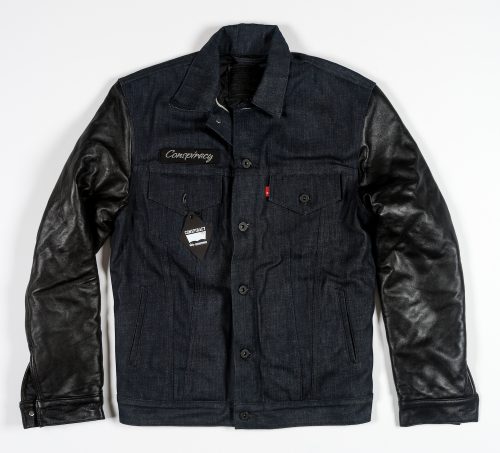 Supreme, 2012. While Levi's® andAmerican skateboarding-brand Supreme has had several collaborations over the years, the two first worked together back in 2012 to produce a capsule collection. The brand created several signature streetwear styles like a zebra print Trucker jacket and matching Levi's® 505 zip-fly jeans in a fleecy soft fabric. The collaboration also included a range of polka dot Western wear shirts. These U.S. made pieces were a hit in New York, Los Angeles, London and Japan.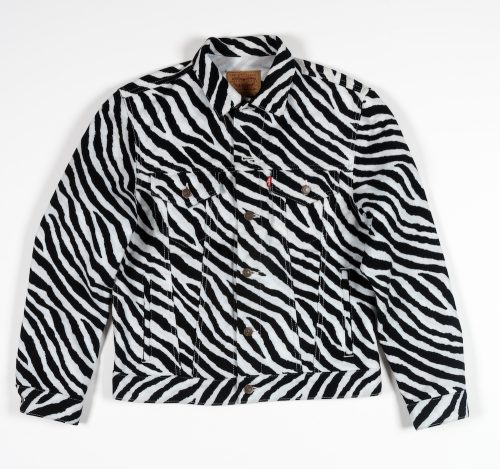 Vetements, 2017. The Levi's® brand teamed up with Parisian design collective Vetements to create refreshed and reimagined versions of celebrated denim products. Classic 501® jeans emblazoned with the "VETEMENTS" logo front and center were embroidered in bold black lettering that stretched across the front. The end result was literally a statement pair of jeans.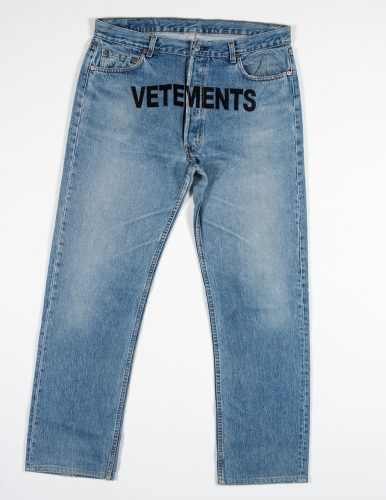 See the complete exhibit, Levi's® X Files: A Look Back at Cool Collaborations, on display through the end of September 2018 at Levi's Plaza in San Francisco.