August 13, 2018
When we announced our new denim finishing operating model known as Project F.L.X. (future-led execution), we knew it would be an industry game-changer that ushered the process into the digital era. And now we're looking at the technology to revolutionize the customization experience, allowing denim lovers to create their own jean finishes from start to finish.
Levi Strauss & Co. has opened a limited-edition customization studio in Los Angeles using the power of Project F.L.X., a laser-powered technology that digitizes the design and development of denim finishing, enabling the Levi's® brand to take its customization experience to new, previously unimaginable levels. While allowing Levi's® fans to pick their denim finish – rips, fades, distressing, and more – Project F.L.X. also offers the ultimate in denim personalization–from wash to whiskering – in order to create a truly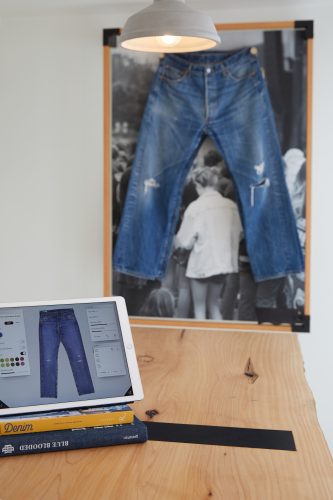 unique pair of jeans.
The customization studio, which is by invite and appointment only to friends of the brand, will run until October 15th. Throughout the 10-week window, notable friends of the brand will create limited-edition pieces at the studio for giveaways on the Levi's® brand Instagram platform.
While this will serve as a limited opportunity for now, there are plans to put Project F.L.X. technology in select Levi's® stores in 2019.
"By utilizing these new methods and tools offered by Project F.L.X. we are able to speed up our ideation and creation process while delivering authenticity with advanced agility," says Chief Product Officer Karyn Hillman.
Self-expression through customization has always been a fundamental part of the Levi's® brand experience. In the 1970s, the brand encouraged DIY-creativity through open customization competitions, and an exhibition at the Museum of Contemporary Crafts in New York City called "Denim Art," which opened in March 1974. The Levi's® custom experience was later elevated with the Lot No. 1 program for made-to-order jeans, followed by the Levi's® Tailor Shop for personalizations–including pins, patches, alterations, repairs and chain stitch embroidery. Now, Project F.L.X will offer the next level in customization, enabling Levi's® fans to design their own one-of-a-kind pair of Levi's® jeans.
With support from Jeanologia, the leader in denim finishing technology, Project F.L.X. was built in-house at LS&Co.'s Eureka Innovation Lab by a team of designers, developers, chemists and engineers passionate about revolutionizing the apparel industry to better meet consumer needs while also doing right by the planet and the people who work in the apparel supply chain. The laser-based technology helps the Levi's® brand achieve efficiency and sustainability without sacrificing Levi's® standards of quality and craftsmanship.
Stay tuned – the future is coming soon to a Levi's® store near you.