July 9, 2018
Selected from more than 350 applications from 75 different design schools worldwide, these three design students have made their way to San Francisco for the summer for one incredible internship.
Da Eun Lee and C'era Wolffe were selected as the winners of this year's Levi's® x ARTS THREAD Design Challenge. Keun Il Choi, a finalist, was given an opportunity to work with Dockers®. They each scored a 10-week internship where they will get the opportunity to work with a group of designers led by Jonathan Cheung, Levi's® Senior Vice President of Design, and take advantage of the LS&Co. Archives. They'll also spend time at the Eureka Innovation Lab with Bart Sights, Vice President of Technical Innovation.
"One of the best pieces of advice for anyone or any organization is to surround yourself with the best, most diverse talent," said Levi's® Senior Vice President of Design. "We're delighted to welcome C'era, Da Eun and Keun to join us this summer."
Get to know this year's selected interns:
Da Eun Lee
Fashion Institute of Technology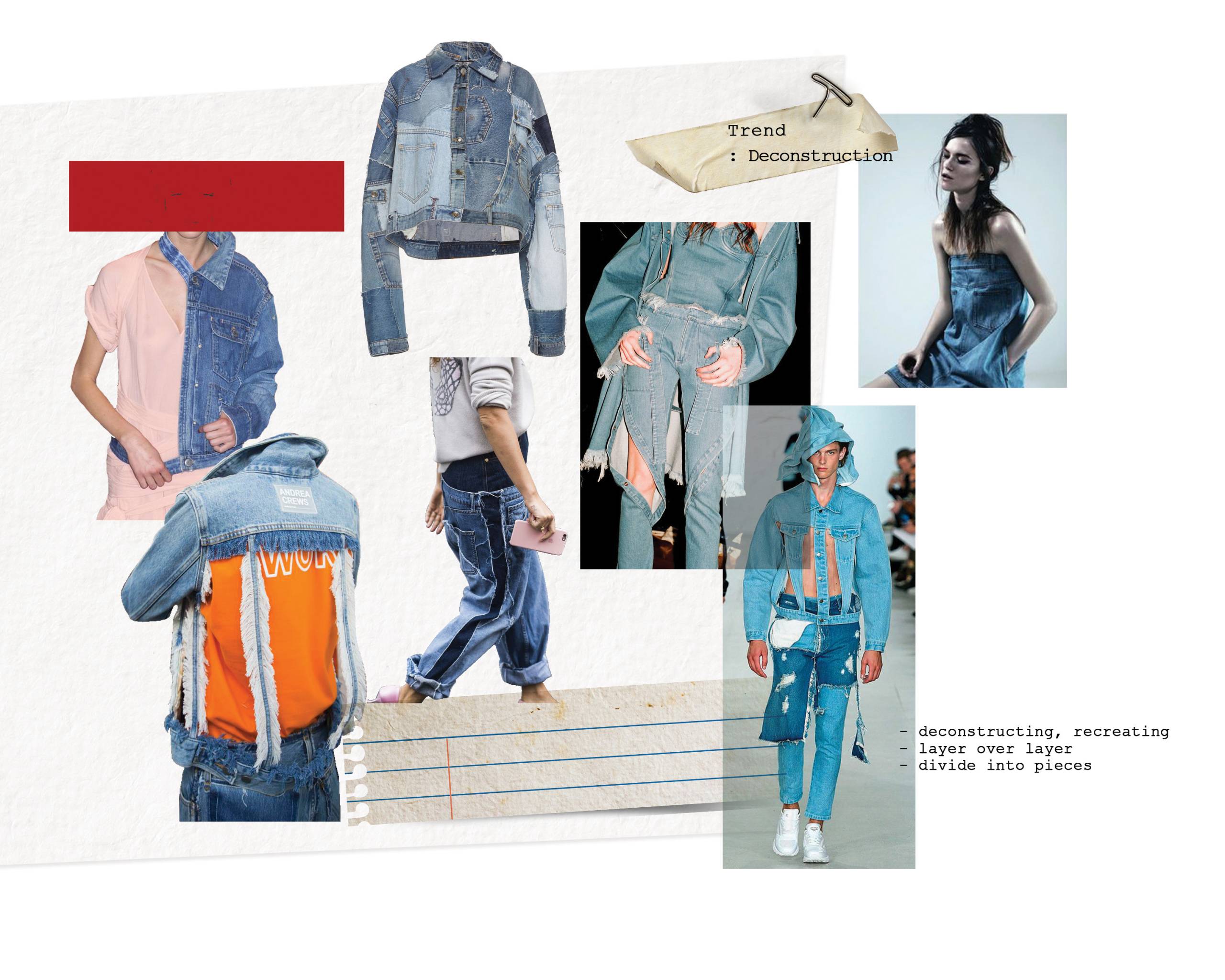 Da Eun is specializing in women's sportswear at Fashion Institute of Technology in New York. Her love of fashion design dates back to childhood, when she says she would draw a 10-look collection on a letter-sized paper almost every day while sitting next to her mom, who also liked to draw. "At first, I just sketched figures wearing clothes I designed, but a few years later I started to name those garment pieces and write my imaginations of where those girls would go out to hang, and where they might work." Her mom kept those collections, which Da Eun still looks back on for inspiration – and as a reminder that she's held a passion for the work for as long as she can remember.
Q: How would you describe your design style?
A: Fun, colorful, and gender-neutral. I study womenswear but like to design clothes that both men and women would want to wear.
Q: What or who inspires you in your work?
A: My ideas usually come from my random imagination. My imagination is like a Disney fantasy. There's the main character, and the story begins with its journey. It tells a story. And I want my designs to do the same. I want to design things that talk to people about a person that's wearing them, not just simply talk about what the person does, but show his/her personality and hidden desires.
Q: What are you looking forward to most during your time with Levi's?
A: Levi's® is a brand that has been around for decades and was at the center of many innovations in the fashion industry. I still can't believe that I will be working at this historical place and get to see its archives and work with denim at the Eureka Innovation Lab. I'm very much looking forward to contributing my creativity to the company and obtaining knowledge during this internship.
C'era Wolffe
University of Salford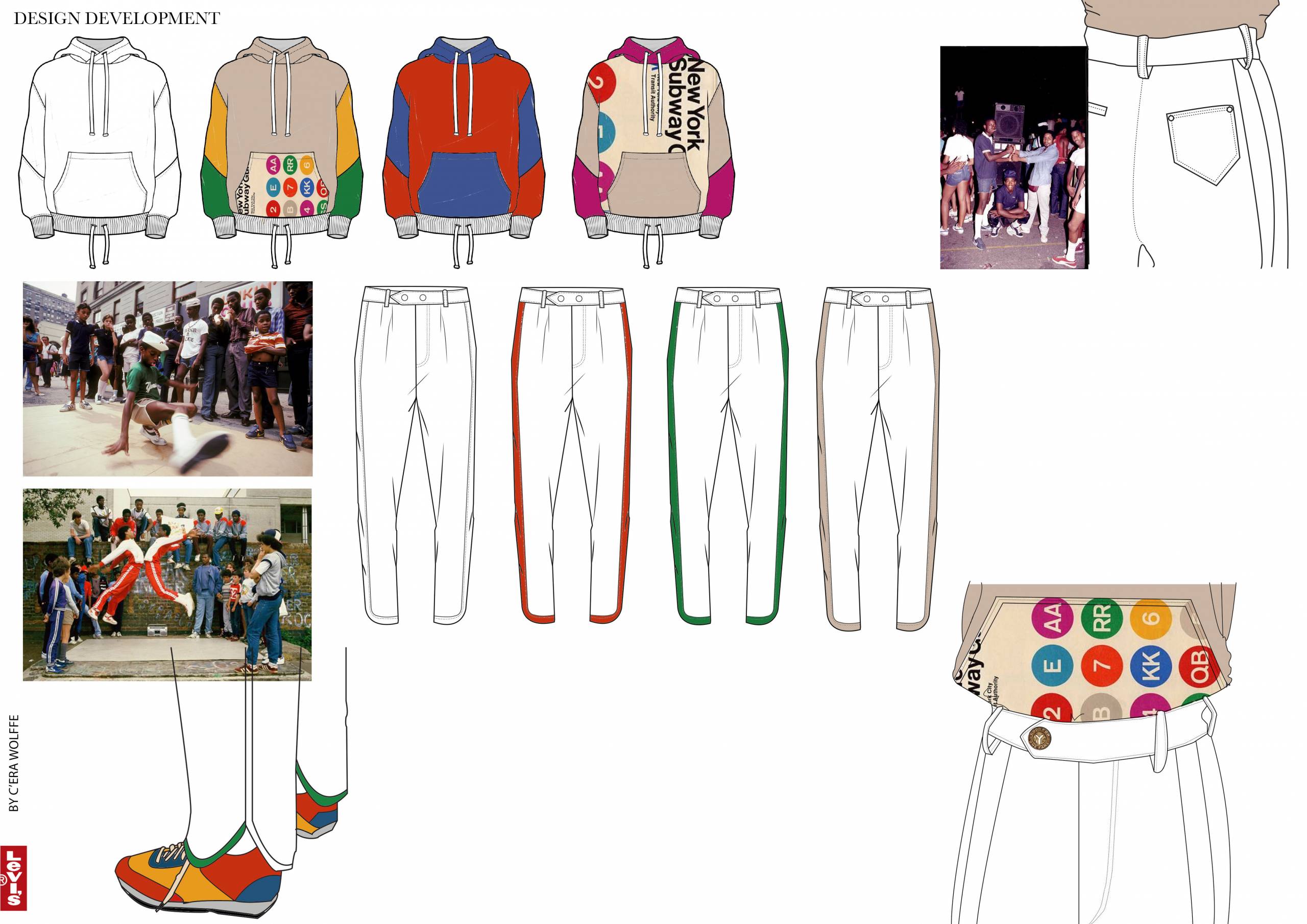 From a very young age, C'era was interested in designing thanks to the front-row seat she had watching her grandmother work as a seamstress. "By the age of 10 I had already sewn through my finger about five times because I was so curious of how a sewing machine worked," she recalled.
She describes herself as an artist who gives her very best to reach her full potential on each project or task given. "One of my favourite quotes is 'Success is not final, failure is not fatal: it is the courage to continue that counts.' I am excited for where this new journey will take me both in my career and personal life."
Q: How would you describe your design style?
A: I would describe my design style as eclectic; I enjoy the use of graphics, prints and colour. Usually I start with an idea and try to research as much as possible into that topic. For example, if my idea is something crazy like hair clips, I would then research into hair clips. Where did they originate from? What was the first purpose for them? How are they used now? And I would try to merge these ideas and eventually design from the silhouettes, textures, and colours found through my research.
Q: What or who inspires you in your work?
A: I usually find myself being inspired by communities, cultures or people. I believe anything can be inspiration if you're open to it. I like to include a feeling or story behind my work. I believe that's what keeps people and consumers intrigued. Anyone can make a jacket but it's the message or story behind it that makes the design process enjoyable and diverse each time.
Q: What are you looking forward to most during your time with Levi's®?
A: I am looking forward to getting more work experience with Levi's® and being able to gain knowledge in fields that I have never studied, such as advertising, which is a big component of the Levi's® brand. Their advertisements grab you while also being diverse and inclusive. I'm also excited to be able to have one-on-one talks with the staff and mentors at Levi's® about their journeys and hope to return to my last year of university gaining extensive knowledge and contacts.
Keun Il Choi
Fashion Design at Savannah College of Art and Design
Before choosing his educational path, Keun, who is from South Korea, says he chose to travel the world to discover himself, his strengths and what he wanted to do with the rest of his life. It was fashion that called. His travels allowed him to experience various cultures and gain broader perspectives. "I am a guy who loves to take a risk, take on challenges, and break traditions with a borderless mindset," he said.
Q: How would you describe your design style?
A: I love avant-garde designs which can challenge the status quo. Experimental designs really make me excited. I am still a student who still needs to learn many things, but I hope to design clothing that can make people say "wow." Ultimately, my goal is making exciting clothing that can express my emotions and represent my identity.
Q: What or who inspires you in your work?
A: I get inspired by some interesting constructions or details, such as architecture, paintings, sculptures, nature, or whatever. In addition, I love to travel and see people in the streets, cafes, museums, parks and hostels. Each person has their unique way to express themselves with their styles. So, it is helpful to get some inspiration.
Q: What are you looking forward to most during your time with Levi Strauss & Co.?
A: This is my third week as an Intern at Dockers®.  I am learning many things with our design team, merchandise team, licensing team, and fit-developing team. What I am really looking forward to is presenting some of ideas or designs that can be helpful for the Dockers® teams.