May 29, 2018
When Esin Yildirim and her family immigrated to the United States from Turkey in 2015, she was excited about the opportunity she and her husband would have to provide a better life for their young son. As a textile engineer with six years of experience, she worked with big apparel and retail brands in her home country — most recently managing product development, production and quality.
But landing on her feet professionally in the U.S. would prove to be tough.
"It's a challenging place because [the Bay Area] is mostly for technology companies and technology jobs," she said. "I'm new here. It's a new country, a new culture, and it's quite challenging to be here as a textile engineer in a technology city."
For help, Esin turned to Upwardly Global (UpGlo) — a nonprofit organization that helps college-educated immigrants who are unemployed, or significantly underemployed, make the transition back to work in their professional fields. It offers support ranging from resume writing, interviewing skills and networking.
UpGlo is an organization that is near and dear to our hearts at Levi Strauss & Co. It has been one of our volunteer partners on Community Day, and it received our Levi Strauss legacy grant for its commitment to helping immigrants — something we think our Bavarian-born founder would have applauded.
To further our commitment to cultivating a diverse and inclusive environment, our Human Resources team is now embarking on a yearlong partnership with the organization: LS&Co. will provide networking opportunities for UpGlo's job seekers, and UpGlo will submit qualified candidates to open positions.
To kick off the partnership, LS&Co. recently hosted "speed-interviewing" sessions at the Plaza to give job seekers practical experience delivering their professional elevator pitches and honing their overall interviewing skills.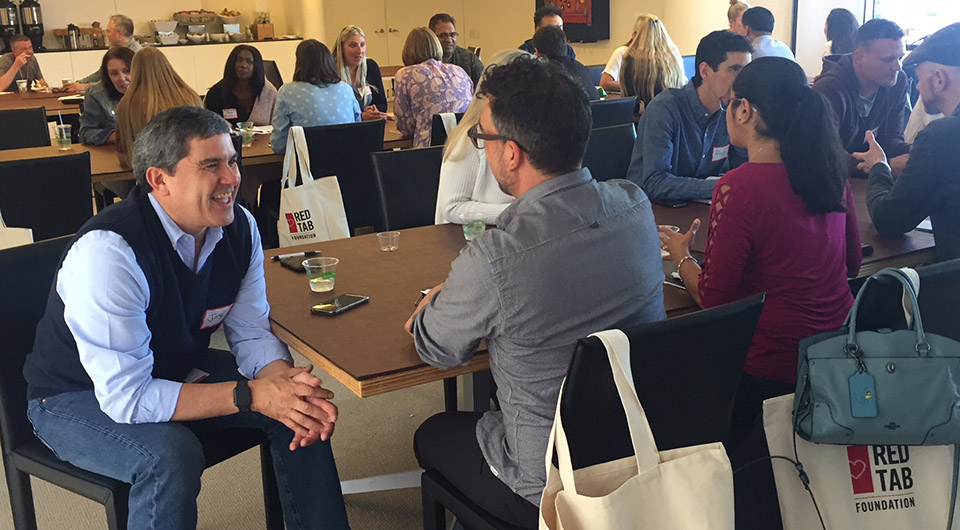 "It's such an awesome jumping off point," said James Hudson, director of talent acquisition at LS&Co., who partnered with Diversity and Inclusion on the event. "The hope is that we will be able to leverage the talent pool that UpGlo has to fill some of our roles here in the Plaza and elsewhere in the US."
That's what UpGlo job seeker Greg Clark hopes as well.
Born and raised in New Zealand, Greg worked in the U.K. for the last 20 years before falling in love, marrying American artist Uriél Dana and moving to the Bay Area. A media and entertainment professional, he kept many of his UK-based clients when moving to California, but post-Brexit began searching for work closer to home.
"I have no network here," Greg said. "In New Zealand and the U.K., I had a professional network I could call. In fact, most of my work in the U.K. was through personal relationships. Coming into the U.S., I had nothing."
Greg said the speed interviewing event at LS&Co. exceeded his expectations.
"It was brilliant!" he said. "I was initially not going to come to the event because I didn't feel it would necessarily fit into the kind of roles I was looking for. But [my wife thought] Levi's might have some opportunities because it's so plugged into the music and entertainment scene. … I had a great time; it was a great experience."