May 2, 2018
Nordstrom has gone all in on men's attire in Manhattan with its opening of a stunning 47,000-square-foot men's store — the first of its kind for the retailer — and the Levi's® brand is taking denim's center stage with unprecedented tailoring services.
The Levi's® Tailor Shop – the first permanent shop outside of a Levi's® Store – serves as the crown jewel of the denim floor in the new Nordstrom Men's Store.
"It seemed logical for us, the inventors of denim and a truly iconic brand, to be the anchor on the denim floor," said Dan Dahl, VP of specialty wholesale at Levi Strauss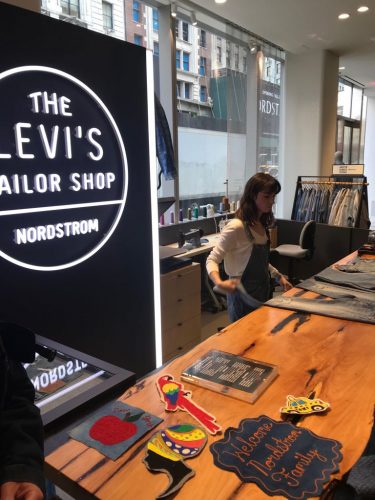 & Co. "Levi's has so much momentum across the marketplace, and they wanted to bring that energy in their flagship men's store.
"We are excited to be partnering with one of the few retailers expanding its footprint in a competitive marketplace," Dan added. "Nordstrom's commitment to customer service is unparalleled. They've trained their customers to expect a high level of service, and now that service has extended to authentic denim tailoring."
Located in New York's popular Columbus Circle at 57th Street and Broadway, the Nordstrom Men's Store carries all of Levi's® high-end collections, including premium Red Tab, Levi's® Made & Crafted, Levi's® Vintage Collection, as well as Levi's® Authorized Vintage. Through the Tailor Shop, consumers can get free, authentic denim chain-stitch hemming as well as embroidery services, novelty chain stitching, patches and other decorative work done for a nominal fee.
"Self-expression has been part of Levi's DNA for years and we are really excited to see how customization can bring that to life with a partner like Nordstrom," Dahl said. "We aren't just offering customization for Levi's products. People can bring anything in and if we can sew on it or heat on it, our tailors will add it."
The partnership is a boost to LS&Co.'s premium division, which primarily operates through a market of around 500 small specialty boutiques and a handful of high end wholesale retail customers in the U.S.
While the store just opened, the response is already exceeding expectations.
"This is the best litmus test to see if this works. And it's already working," Dan said. "These first few weeks have been so unbelievable that Nordstrom had to hire more tailors. They've truly been a phenomenal partner."
Main image by Ben Gabbe/Getty Images for Nordstrom.