April 30, 2018
We are nothing without our people. The people who are driven each day to build upon the long legacy of Levi Strauss & Co. Since 1873, our jeans and those who contribute to their design and production have been an inspiration — and a symbol — for unwavering originality. We're 'In Good Company.'
The team at Eureka Lab – a creative space dedicated to driving innovation at Levi Strauss & Co. – made big headlines recently with Project F.L.X., a game-changing laser technology that dramatically reduces the time and chemicals that go into making a pair of jeans.
While Project F.L.X. allows us to automate the time-consuming, labor-intensive and chemical-reliant process of hand-finishing, we remain very much invested in the real people behind the lasers who are bringing new skillsets to the job at hand.
A number of LS&Co. team members were retrained and reskilled in software development and laser operations. People like Ray Crisostomo, an unabashed denim-head with a deep appreciation for a good whisker pattern, and Ben Bell, a former Navy sonar tech whose fascination for sewing led to a job with LS&Co. Both recently took on a daunting task: not just reinventing jeans, but also their own jobs.
From Sales To Lasers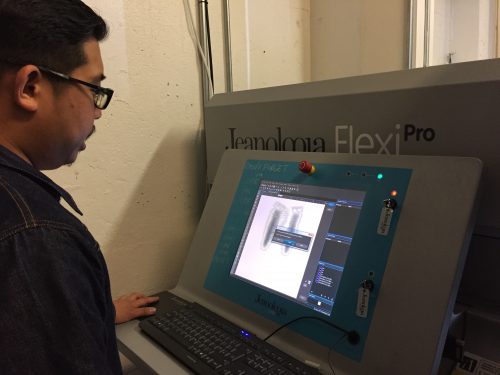 Ray was fascinated by denim from a young age, and jumped at the chance to join the industry when he took a seasonal retail job at the Levi's® outlet store in Napa, California. That turned into a manager's position, and in 2013 he was referred to a job at the nascent Eureka Lab – "an original Eurekan," as his boss, vice president of technical innovation Bart Sights, calls him.
His job was finishing technician – which means he worked the jeans by hand, sanding them down, spraying them with bleach, applying pigments or dipping them in resin to recreate the worn-in looks that are prized by denim lovers. It's a blend of chemistry and artistry that he loves – in part because, well, "it's really cool to do all of these things to jeans, rather than just sitting at a desk."
But when Bart needed volunteers to go to Spain for training in laser technology on just a few hours' notice, Ray didn't hesitate.
"I come from small family, and I'm first generation – my mom immigrated here," he said. "So that's big, to be traveling to Spain for work." He sat in his hotel room on that trip and got a little choked up at the thought of his own good fortune.
So, he learned how to use technology to do the same things he used to do with chemicals; today, he sketches a pattern on a digital screen, and then watches the lasers recreate them on the jeans, fading and feathering and distressing the fabric in seconds.
"I'm pretty passionate about denim," he said. "I feel like someone like me – who really appreciates a good whisker pattern and a local fade – should be there making sure these jeans look authentic, that they're true to our aesthetic. For some people, work is work. For me, it's a dream come true."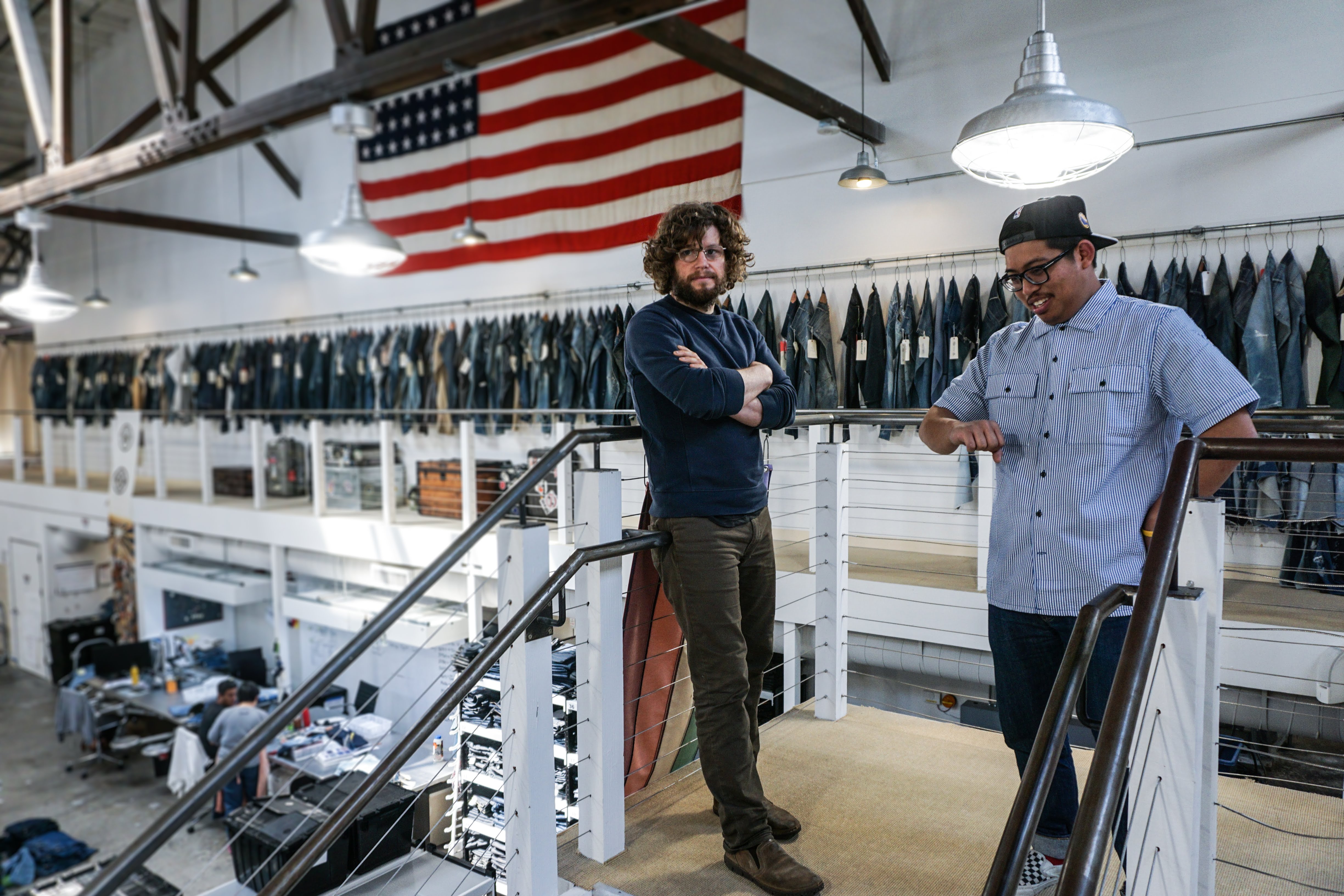 From Submarines To Sewing Machines
His colleague Ben took a very different, but similarly eclectic, path to the Eureka Lab.
Ben spent five years in the Navy – four of them underwater on a submarine. After getting a degree in economics, he hopped in his car and moved to San Francisco, where he landed a job at a recruiting company that turned out to be life-changing.
Not because he loved it – he definitely didn't. "But it was motivating, because I hated what I was doing, and that feels terrible," he said. Determined not to get stuck in something he loathed, he looked around for alternatives.
He'd always been interested in making things, building things, creating things with his hands – in fact, his tiny apartment is largely occupied by an industrial-sized sewing machine – and he figured maybe following his passion might lead to something more fulfilling. He was sewing backpacks for fun on the side, so he started attending an apparel design merchandising program at the College of Alameda. "After the first class I was hooked," he said.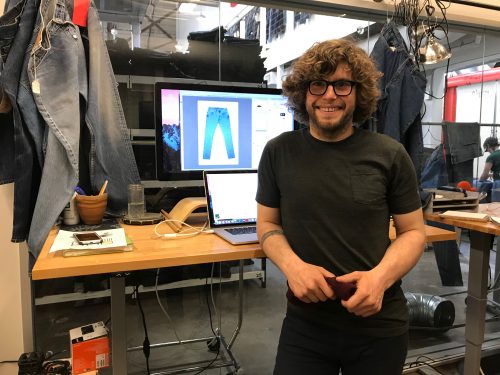 That led, eventually, to a job as a wash technician at the Eureka Lab – stonewashing and bleaching and applying all the chemistry that goes into a pair of jeans.
And then Project F.L.X. changed everything.
F.L.X. means that much of that chemistry is no longer necessary – but rather than head back to the job boards, Ben stayed nimble. Bart and the Eureka team tapped his maker skills and dogged knack for problem-solving to start building out solutions to the challenges that cropped up as the F.L.X. Project developed.
"He's like a Swiss Army knife – every day, he's got a new skill or tool," Bart said.
The team needed a way to photograph fabrics under the exact same lighting conditions – "so I was like, 'Oh, I can do that,'" Ben said. He brushed up on his Photoshop skills, figured out how to build a photo booth, and got to work.
"With something this big and complex, every time we develop a process, it disrupts a lot of other things – and then we have to figure out, what are we going to do about that?" Ben said. "There's just endless problems that need to be figured out."
Flexing with Project F.L.X.
Ushering in denim finishing into the digital era doesn't come without its fair share of disruption.  It requires a new mindset to embrace a process that ultimately enables a responsive and sustainable supply chain at an unparalleled scale and radically reduces time to market.
Ben understands the qualms that people might feel about a shift this seismic in the industry. "It's changing a lot of people's jobs, and when you change people's jobs there's going to be a lot of resistance to that," he said. "But the benefits and the opportunities are freakin' huge! We can transform our operating model, and do it in a better, faster, cleaner – super clean! – way. We won't be making inventory that never gets sold and gets destroyed, because now we can wait and figure out what people want and print it as soon as they order it. That's definitely what gets me excited. It's massive, and if we do it, other people are going to do it – and if we can change how denim is finished around the world …"
"I'm just really excited to see where it could go," Ray chimed in. "We were on it from the beginning, so it's almost like our baby. To see our baby grow is probably going to be the most exciting thing."