April 5, 2018
Cowboys were among the earliest to wear our waist overalls, the original name for blue jeans, so it's no surprise that Levi Strauss & Co. has historic ties to the rodeo. From the cowboy who wore our 1890 Spur Bites waist overalls to current world-ranked bull rider Derek Kolbaba—rodeo is in our jeans.
Rodeo started informally as a test of skills among cowboys who drove large herds of cattle over the plains. "Rodeo," or rodear in Spanish, means to "round up." The phrase comes from the Spanish vaqueros of the early American West. By the 1880s, rodeos were being held as professional tournaments. Many of the cowboys who entered the various contests wore Levi's® overalls.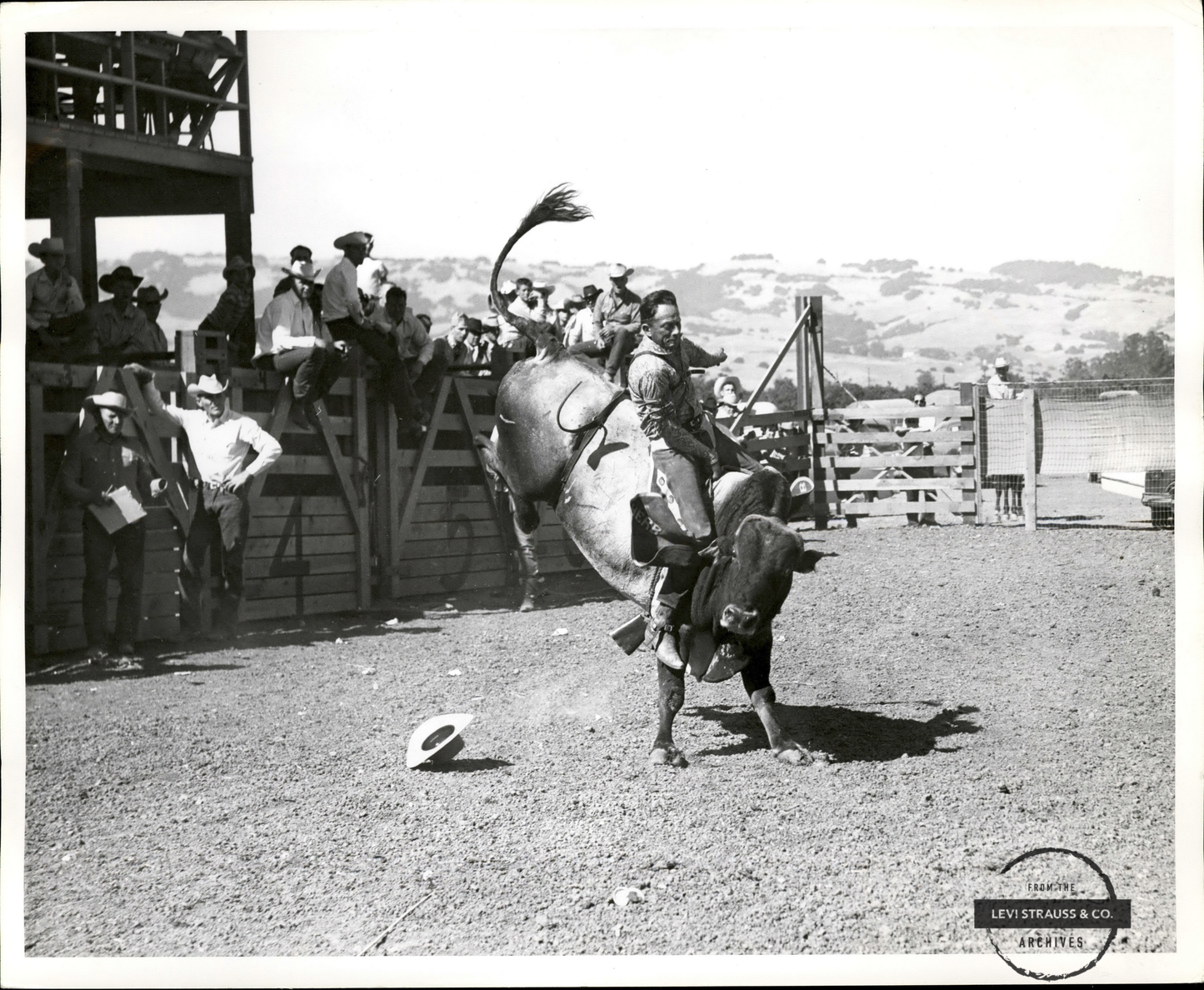 Levi Strauss & Co. began to sponsor both rodeos and rodeo riders back in the 1920s, and used the sport's popularity to advertise the 501® jean. In 1926, Arizona native Lawton Champie won the "World's Championship Bronco Busting Contest" at Prescott Frontier Days. LS&Co. put his image – and that of his horse, Firebug Fits – on a flyer that salesmen gave away to retail customers throughout their territories. The flyer was translated into Spanish for the stores that served the large Hispanic populations of the Southwest.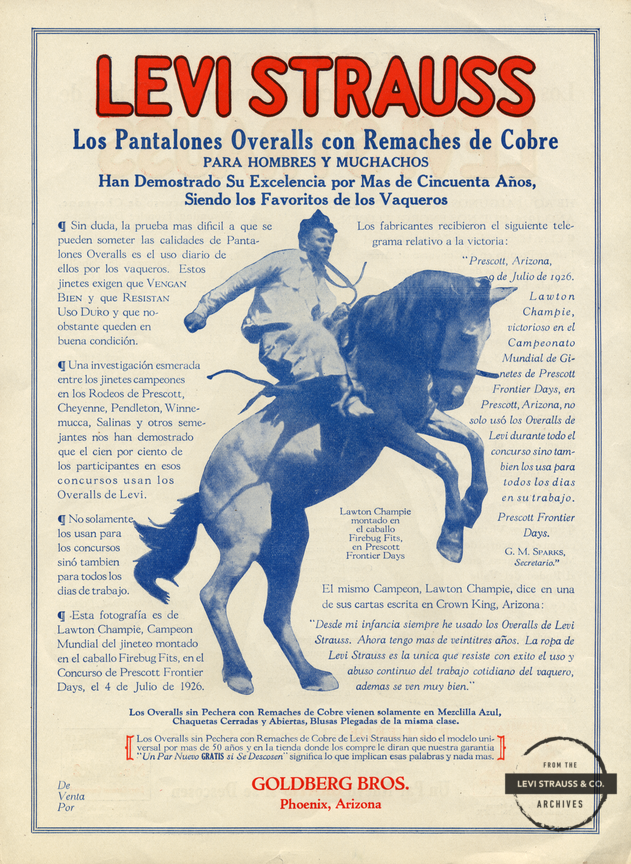 In the 1930s, LS&Co. selected the cowboy as its icon to represent its brand and products.  Cowboy imagery was featured on counter cards, billboards and flyers, many also promoting rodeo. "$200 Cash Prize to be given by Levi Strauss & Co. to 1934's Grand Champion Cowboy," noted one flyer. "The overalls displayed here are genuine Levi's worn by all cowboys."
LS&Co. also created custom belt buckles for select award-winning rodeo champions. In 1959, World Champion Cowboy Jim Shoulders of Henryetta, Oklahoma, was named the first four-time winner of the all-around title by the Rodeo Cowboys Association. Shoulders displayed his winning abilities at events from bareback riding to bull riding. To celebrate, LS&Co. presented him with an oversized silver display buckle measuring about 10-by-8 inches engraved with horse heads and the words "World's Grand Champion Cowboy," and "Levi's Special All-Around Award."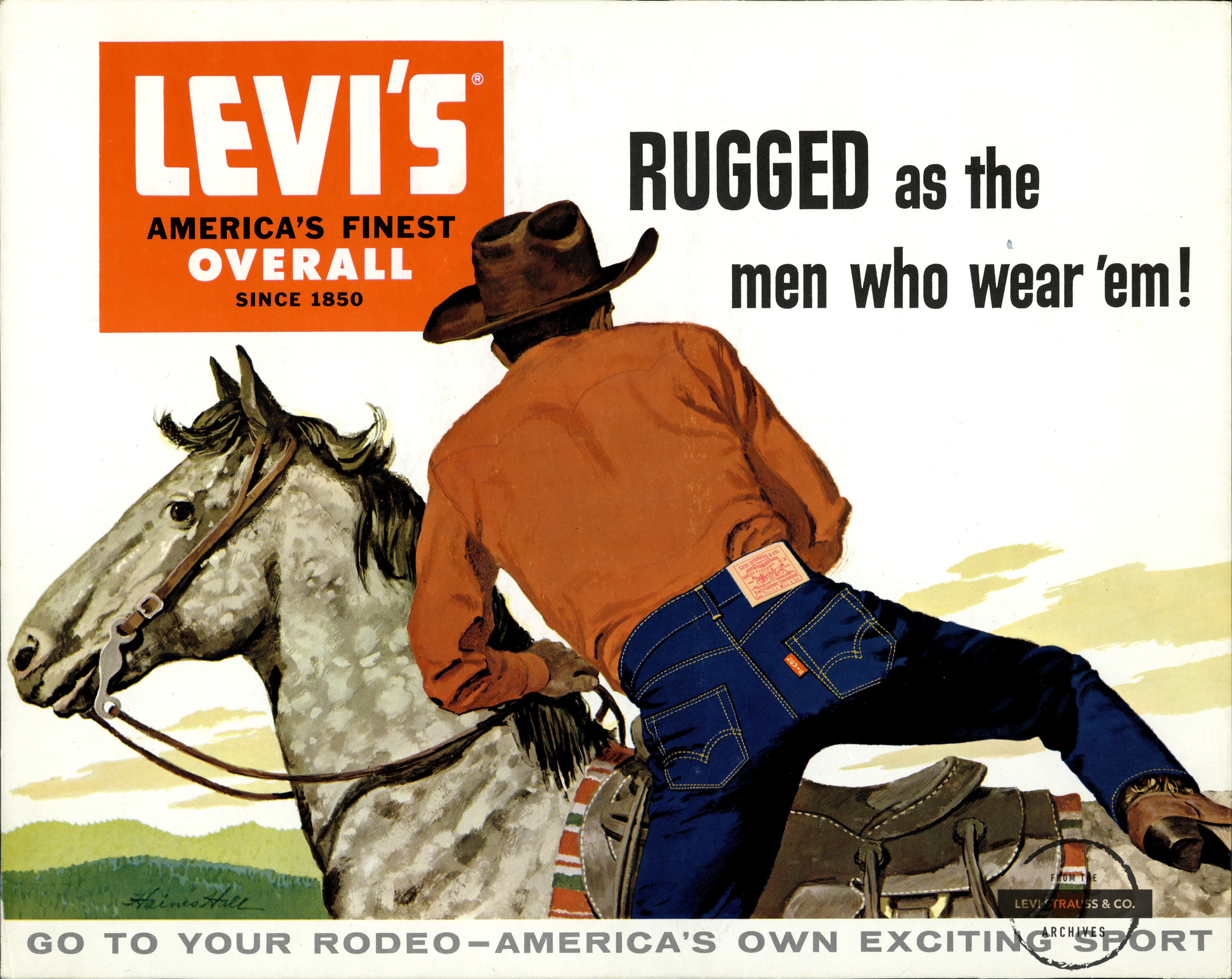 LS&Co. encouraged fans to "Go To Your Rodeo—America's Most Exciting Sport" during the 1960s through billboards and posters touting the brand as the "First Choice of Cowboys." Although the company began shifting its focus to a rising youth market by the end of the decade, it kept up its rodeo and cowboy ties. LS&Co. sponsored events ranging from the Cowboy Poetry Gathering in Elko, Nevada to the National High School Rodeo Association in the late 1980s and into the 1990s.
Today, we're back in the saddle working with several world-ranking professional bull riders: Derek Kolbaba, Cody Teel, Chase Robbins and Cody Campbell.
For Derek, Levi's® is part of his family's DNA—his grandfather wore Levi's® jeans. While recently riding in Oklahoma, a bull caught Derek's arm under its hoof. Derek was fine, but his Levi's® shirt was a loss. However, that torn top was a gain for the LS&Co. Archives—it is one of the newest additions to our collection. Just one more recognition of the company's long-time association with rodeo.
Want to keep up with the LS&Co. Archives and other cool LS&Co. heritage news? Follow Tracey on Twitter, @TraceyPanek, and stay tuned to Unzipped!
*Main photograph by Bull Stock Media/Matt Brennan.