February 15, 2018
From inventing the blue jean in 1873 to launching our Jacquard jacket in 2017, LS&Co. has always been an innovator in apparel. So it's no surprise that in the 1960s we found a way to put a permanent crease into trousers — no iron required.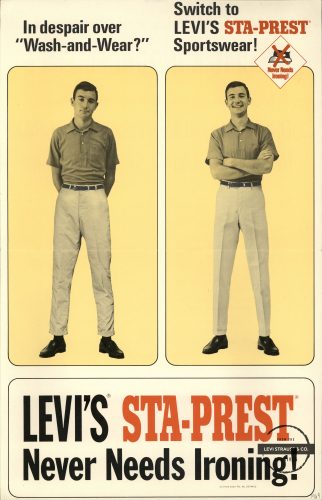 The process was called STA-PREST™, and it was an immediate hit, becoming an iconic look of that era.
Koret of California, a women's garment manufacturer, first came up with the idea, patenting a system for permanent pleats in 1961. A finished product was coated with a chemical resin and a catalyst. Creases were made with a steam press and then the garment was baked (yes, baked!) in an oven at 300° Fahrenheit, triggering the catalyst that made the resin bond with the fabric. Result: a permanent crease.
LS&Co. Sportswear Merchandise Manager Mel Bacharach decided to experiment with the permanent pleat idea and came up with his own process for garments, which he named STA-PREST™ clothing. Curing ovens were installed at the company's Knoxville, Tennessee, factory — and a few managers were heard to mutter, "If this doesn't work, we're going to be baking a lot of bread in Knoxville."
The first STA-PREST™ garments were produced in 1963: trousers made from 100 percent cotton twill and sateen. These high-end slacks were offered for sale for the 1964 season. Although they were immediately popular, it was soon discovered that all-cotton clothing could not withstand the curing process. Eventually, all products had to be made with synthetic fabrics, or blends of synthetic and natural fabrics (usually a 65/35 blend).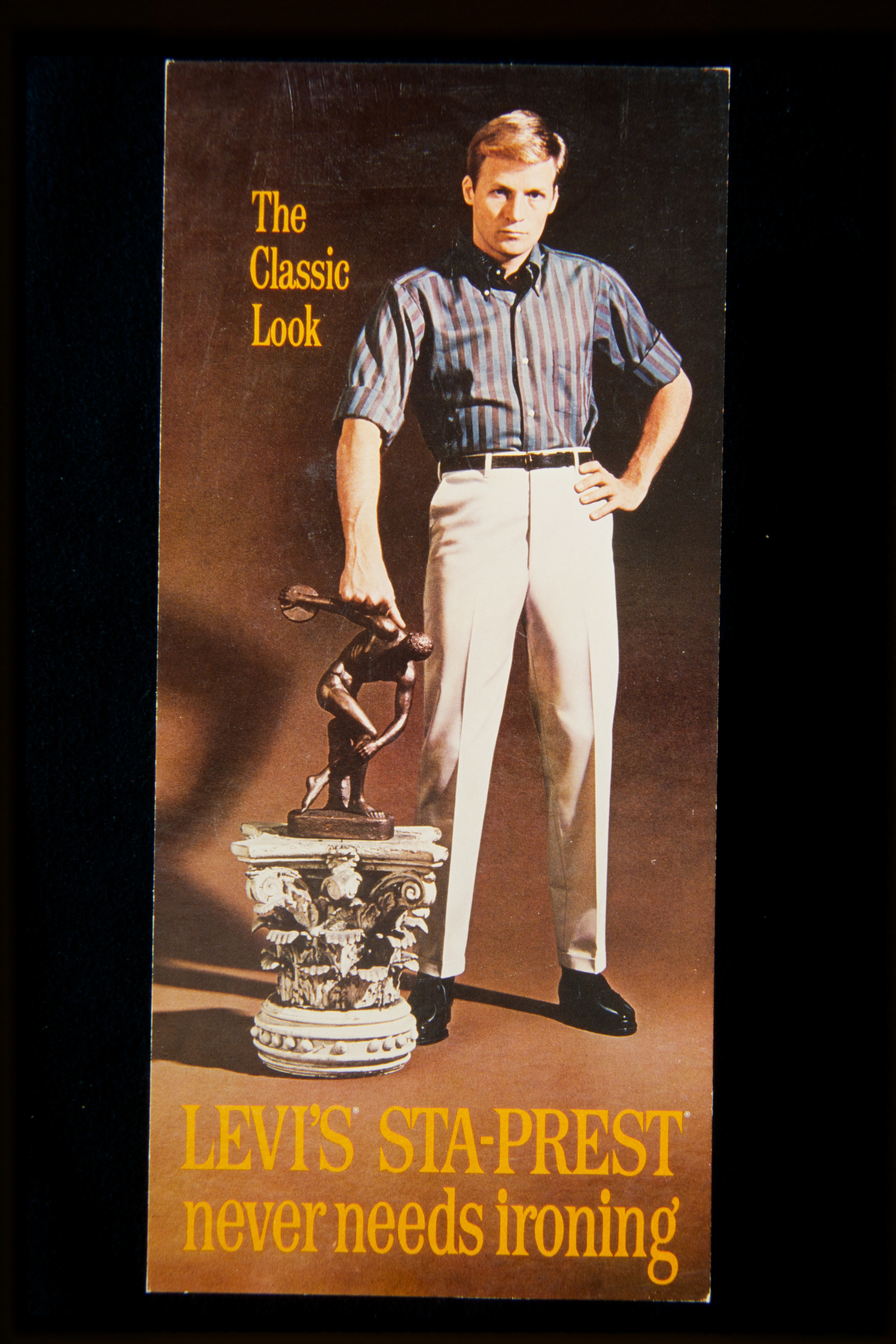 "Never Needs Ironing" was the company slogan, aimed at both retailers and the buying public. Some sales reps actually took off their STA-PREST™ trousers and threw them into portable washers and dryers to demonstrate the permanent crease.
In the late 1990s the STA-PREST™ name was revived for a sharp-looking collection of tops and bottoms — and with the '90s having a comeback this year, it's only right that STA-PREST™ is back again too. Check it out on Levi.com.
Want to keep up with the LS&Co. Archives and other cool LS&Co. heritage news? Follow Tracey on Twitter, @TraceyPanek, and stay tuned to Unzipped!