September 7, 2017
At Levi Strauss & Co., innovation is woven into the fabric of our designs. Take our Levi's® Commuter™ Trucker jacket, designed with Google ATAP's Project Jacquard technology. It recently made the cut for the Design Museum's annual Designs of the Year awards—prizes for original and exciting products. But our innovations have received top marks dating all the way back to the 1800s.
One of our earliest innovation recognitions came in 1890, when LS&Co. was awarded the Grand Silver Medal for Riveted Overalls and their Manufacture at the Industrial Fair hosted by the Mechanics' Institute of San Francisco.
Between the years of 1857 and 1899 the Mechanics' Institute of San Francisco hosted 31 Industrial Fairs that displayed and promoted the products of local entrepreneurs and inventors. These fairs bolstered the local economy, encouraged the demand for local goods and, "were a manifestation of quintessential 'San Francisco' traits: optimism, outstanding creativity, and the plucky courage to innovate the answers to the region's problems," said Mechanics' Institute Archivist Taryn Edwards.
Plucky courage to innovate perfectly paraphrases LS&Co.'s creativity in manufacturing durable riveted work pants.
LS&Co. proudly displayed its Grand Silver Medal in the top left corner of its Guarantee Ticket that adorned each new pair of 501® jeans from 1892 onward. The shield-shaped Silver Medal, a regular feature of the Guarantee Ticket, represents one of our earliest and long-recognized symbols of our innovation.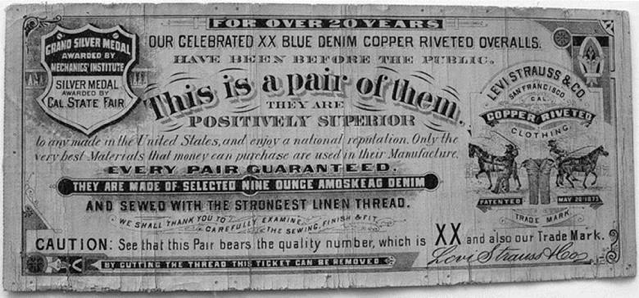 Want to keep up with the Archives and other cool LS&Co. heritage news? Follow Tracey on Twitter.