September 5, 2017
Levi Strauss & Co. encourages employees to take five hours a month of paid time to volunteer in their communities. Here's how one employee, Elise Richieri, uses that time.
Elise Richieri has seen first-hand how volunteerism can help transform people's lives for the better.
"The fact that we can volunteer five hours a month, I think it's great, especially with everything that's going on in our country," Elise said. "There are so many amazing groups in the San Francisco Bay Area doing meaningful work and there is never enough help."
A product developer for collections and specialty products for nearly three years, Elise gives her time at the SF-Marin Food Bank, Make-A-Wish® Greater Bay Area, and Homeless Prenatal Program.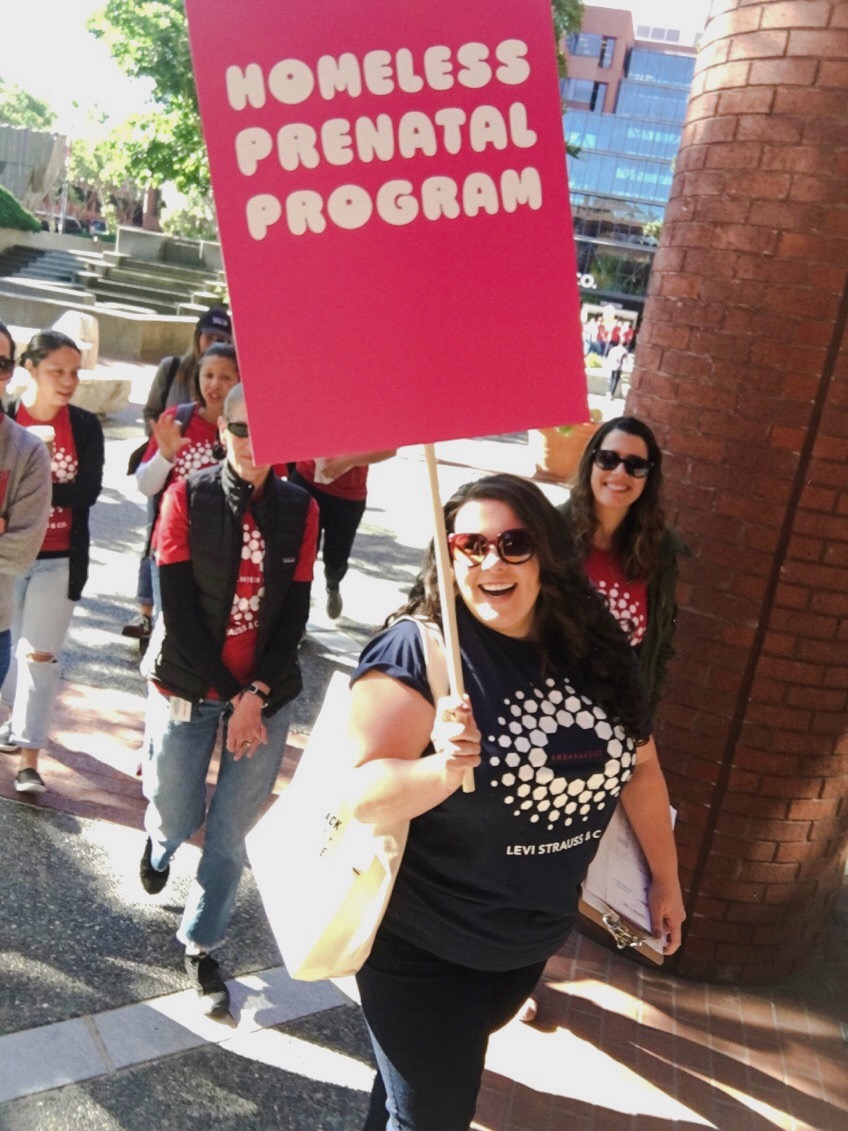 She first got involved with Make-A-Wish® Greater Bay Area through a good friend who works as a volunteer coordinator. The nonprofit organization grants more than 375 fulfilled wishes each year to Northern California children battling a life-threatening medical condition. It's also the chapter notably known for famously turning a 5-year-old cancer patient into "Bat Kid," who was credited with saving the city of San Francisco in 2013.
Through her volunteering efforts at their fundraisers, Elise learned from the children and their parents how these wishes can change a child's entire outlook on life. Sometimes volunteers get to be part of the experience, like cheering at an aspiring fashion designer's runway show.
"It's unimaginable what these families are going through," Elise said. "There is not a dry eye in the house when you hear these kids and their parents talk."
Elise shares the story of one mother whose son's wish was to tour New Zealand. Before his wish was fulfilled, when he would talk about the things he most wanted, it would be those that were immediately attainable, like a toy. "After the wish, he said he wanted to be a father. That wish made him feel like he could look into the future and actually see a future for himself," she said. "It gave him hope."
Elise first discovered the Homeless Prenatal Program in San Francisco during a Levi Strauss & Co. annual Community Day. Impressed with their work helping women and children to break the cycle of poverty, she volunteered to be an ambassador the following year.
"We were setting up for their gala, and clients were coming up and raving about the organization. It made me want to do more," Elise said. "These are women and children whose lives are getting better. When you can see the impact that volunteer work can have, that's really special."
Elise's time spent with these nonprofits has only enticed her to want to do more, finding inspiration from the people who benefit these nonprofit groups as well as the volunteers, and her own colleagues. She refers to the first time she organized a silent auction gift from Levi's® for a Make-A-Wish fundraiser.
"It wasn't part of anyone's job to help me out but I found that people were excited to help," she said. "That's just the culture at Levi Strauss & Co."