September 1, 2017
Are you ready?
From landing that first date to nailing that coveted job interview, Dockers® makes sure you're prepared for the moments that matter most, both big and small.
That's the heart of the brand's new "Always On" campaign, which aims to ensure guys aren't just dressed for the occasion but have the confidence to seize any opportunity.
"It's a timely and timeless concept of being ready for anything," said Karen Riley-Grant, Global VP of Marketing for the Dockers® brand. "The idea of 'I don't know what's going to happen … am I going to be in the elevator with the CEO today and get 50 seconds to tell him my idea?' You don't know, but if you're dressed and sorted, you'll have the confidence you need in the moment."
The campaign aims to celebrate the brand's enduring legacy and the men they have helped dress since launching Casual Fridays 30 years ago.
"We draw inspiration from our history because we have rich roots. We launched in 1986 and inspired men to show up differently at work," Karen said. "The 'Always On' campaign is set to inspire men and reinvigorate the Dockers® brand by connecting with loyalists and new fans around the world."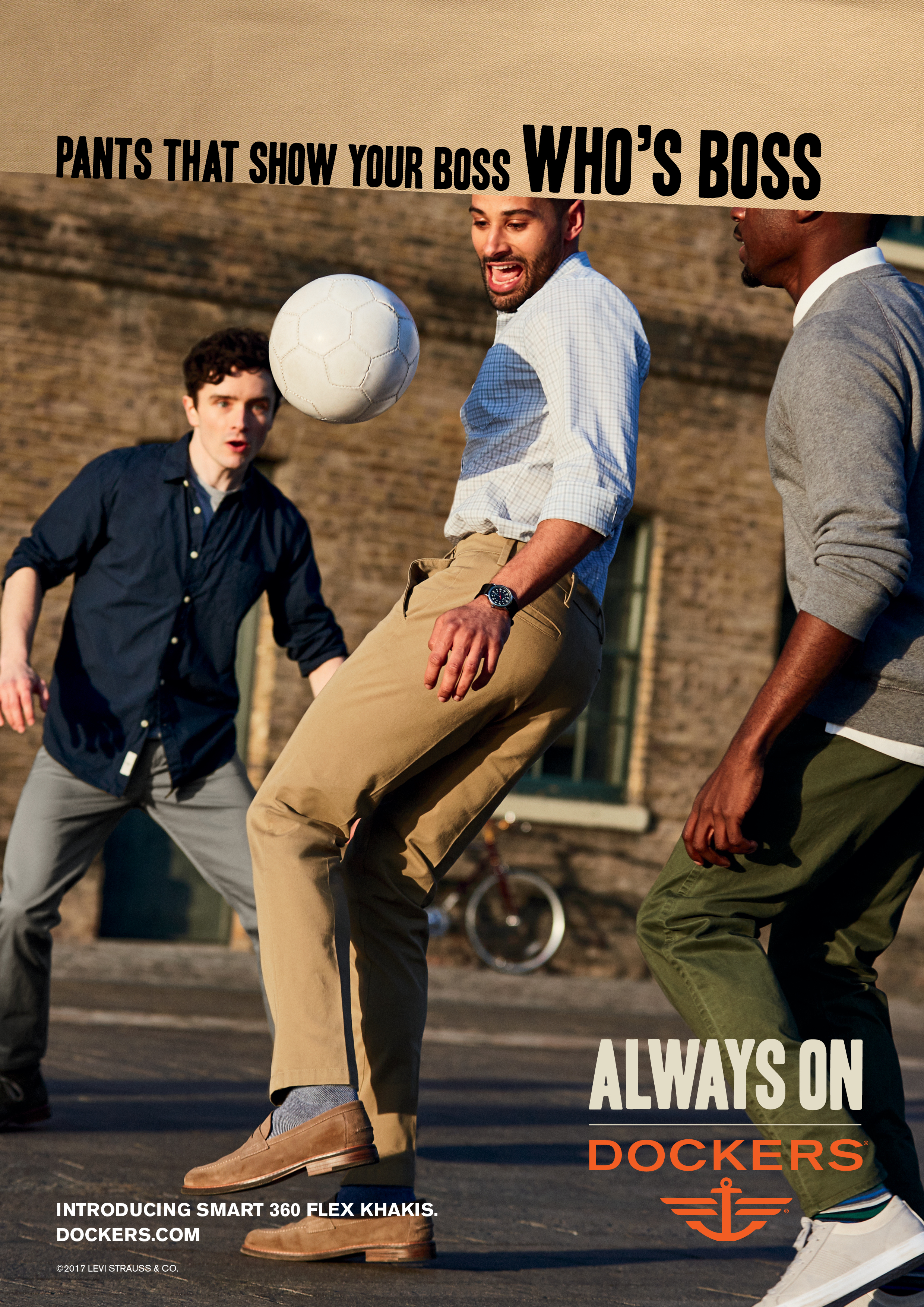 The fall campaign will kick off by introducing the Dockers® Smart 360 Flex Khaki — a new collection constructed with innovative four-way flex to stretch both horizontally and vertically, delivering maximum comfort. The soft khakis include a stretch interior waist, covert security pockets for smartphones and other valuables, and stretch internal pocket bags — giving you the freedom of movement and peace of mind to be Always On.
The campaign blends a sense of confidence with the wittiness the brand has been known and loved for. Taglines like "Pants that Turn One Night into a Weekend" and "Pants that Show your Boss Who's Boss" are paired with creative to tell a story of a guy ready for anything.
Check out the first video — "How To Get the Raise" — on Dockers.com and look for the campaign to roll out on TV, cinema and online globally over the coming months.