June 28, 2017
We are nothing without our people. The people who are driven each day to build upon the long legacy of Levi Strauss & Co. Since 1873, our jeans and those who contribute to their design and production have been an inspiration — and a symbol — for unwavering originality. We're 'In Good Company.'
If Lance Relicke has done his job right, you'll never want to leave the store.
"It's really satisfying when I'm in a Levi's® store and someone walks in and they say, 'It just feels comfortable in here,'" he says.
That satisfaction is earned – after all, it is a scene his team sets.
Whether it is inside of a Levi's® store or a standout Dockers® shop at Macy's, Lance's team is responsible for making sure you're not just seeing clothes but experiencing what the brand stands for.
For Lance, a store is not just a place to shop. It's a place to connect with a brand as much as the  product. It evokes a feeling or mindset – shorts and tanks set against a simple glass display conjuring warm days spent at outdoor concert festivals; or nondescript mannequins clad in Dockers® khakis in soft hues of browns, pinks and whites triggering thoughts of city strolls or casual happy hours with friends.
Lance is the vice president of our global brand environment, which essentially means he oversees how our product and campaigns show up in stores, outlets and wholesale spaces, affecting everything from structural components like architectural layouts and wall fixtures to seasonal elements like window displays, product signage and most importantly, visual merchandising. "We have to work with the touchpoints of the brand, whether it's logos, colors, materials or photography. Those sorts of things have to be brought to life," Lance says. "Anywhere that the consumer physically experiences the brand would be through brand environment."
'It's all rich content'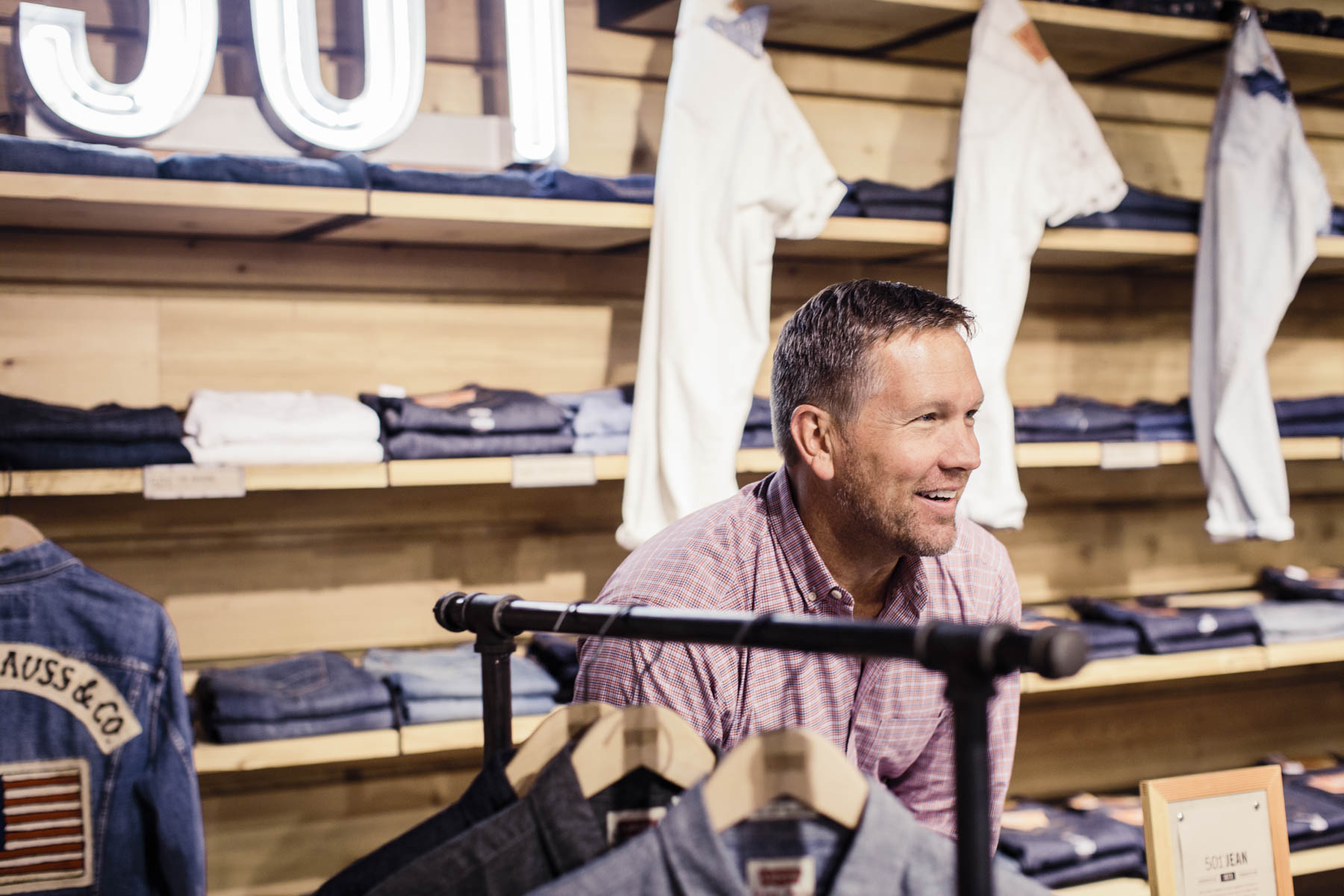 As Lance sees it, his work is about telling stories. And in order to sell the story – and the product – it's important to have great material to work with.
"Luckily, we have an amazing brand with a rich history that has put out some of the most iconic products on the map," Lance points out. He often taps into that legacy when he's creating a setting for, say, the latest 501® fit. "One of the great things about working with our history is discovering people's stories about Levi's® and how they lived in them, what they've been through… It's a sentimental piece of clothing that means something to them based on what they did in those jeans. It's rich storytelling. It's things that matter to people, so it's up to us to convey those stories."
Our history coupled with story direction from the brand marketing teams provides the context for Lance and his team to create a "brandscape" that befits the product. These days, Lance favors less clutter and noise to allow the clothes to really shine through and speak to the consumer. It's all about a more bespoke experience – think Tailor Shops in Levi's® stores tailored to their neighborhoods for the ultimate personalization that is unique to our brand.
"We ground everything in the business as much as we do with the consumer in mind," Lance said. "Ultimately we're responsible for really enhancing the space for the consumer's experience while simultaneously bringing sales in."
Inspiration all around
When seeking inspiration, it helps to live in one of the most culturally rich cities in the world. From the graffiti art of the Mission District to the architectural installations at the de Young Museum, San Francisco serves as one of Lance's greatest muses. He also pulls from music – he will often take in a concert from a favorite band just to see how they continually evolve their approach to their musical library.
Lance is also inspired by the culture he has created for himself here at Levi Strauss & Co. "There are a lot of opportunities for us to plug-in and make a difference. I think together we make the network that is this company and it really comes through."
As a gay man in an executive role, Lance made a point to get involved with the LGBTQ employee community here when he first arrived six years ago. He was instrumental in resurrecting LS&Co.'s involvement in San Francisco Pride and has weighed in on the Levi's® brand's annual Pride collection. He is also currently featured in this year's Levi's® Pride Collection campaign with his partner, Stephen, and he once again helped coordinate the company's presence at the parade this past weekend in San Francisco.
"It's just a great celebratory month," Lance said. "People are so enthusiastic about Levi's®, usually shouting out 'We love Levi's' and 'Thanks for being there for us,'" Lance recalls of marches past. "It's just amazing… but it's also putting into action our support for the community."
Personal Picks
So, how does Lance himself live in Levi's®?
"I have a ton of Trucker (jackets)," he says. "I probably have one in 15 to 20 different fabrics. You can wear it with anything and it looks great with everything."
Nostalgia is also built into his wear.
"When I was a kid growing up in Florida, as far as I can remember, we would go to our local store and we were allowed to buy basically five bottoms for the whole school year. That included two pairs of jeans, which always had to be Levi's® because that's what fit me best," he recollected. "And that was it. You felt comfortable in it. You were cool. And you we're part of the club."
It's a club Lance relishes being a part of to this day.
See who else we've kept 'Company' with:
She's Crafty: Melanie Rumpel Brings An Artisan's Touch to Levi's®
No Drop Left Behind: Our Water Strategist Talks Shop
Like this story?
Sign up for the Unzipped newsletter to get the best of the Unzipped blog — company news and views, employee profiles, innovation and sustainability stories, behind-the-scenes and Archives highlights — sent straight to your inbox weekly.