November 7, 2016
It's a shared aesthetic rooted in eccentric, thoughtful designs with streetwear as a visual language.
Levi's® Made & Crafted® has partnered with OFF-WHITE c/o Virgil Abloh for an exclusive collection of 11 silhouettes reflecting the above vision – all done through a Levi's® lens. It is the first wave of the Fall/Winter 2016 collaboration, focusing on women but really embracing Abloh's gender-neutral design approach.
"Denim as a fabric and jeans as a category are integral to a modern sense of dress," Abloh recently told Women's Wear Daily. "For me the idea is, you know, as long as it has two legs, they're a pair of jeans. You can fit them. Male or female. They fit you."
The baseline of the Fall/Winter 2016 collection aesthetic is heartland Levi's® with an emphasis on the vintage 501® look. Virgil then added his architectural-DJ take on Levi's® classic jeans and trucker jackets by remixing them, splicing them up and adding clean, modern and contrasting colors.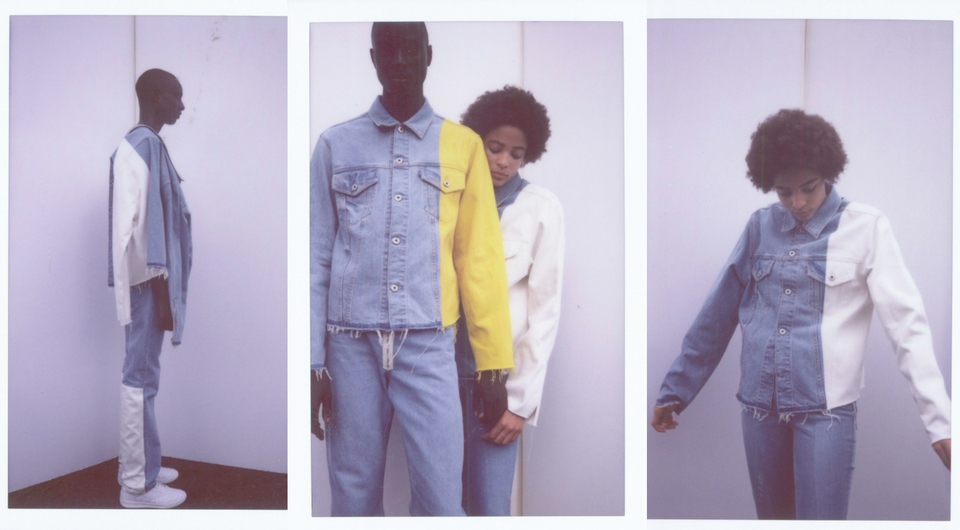 "The goal [of the collection] is maintaining relevancy, which Levi's® has managed to do in its almost century-and-a-half existence. There are very few other apparel companies that can say they've survived for that long, because we've evolved," Jonathan Cheung, head of design at Levi's®, told Glamour. "It's not the strongest that survive, it's the ones that are adaptive to change. Doing this with Off-White is part of that."
The collection, now available online, first debuted on the Paris catwalks earlier this year. It was born out of the Eureka Innovation Lab, where Abloh worked closely with Jonathan on the collaboration.
"It's a microwave," Abloh said of his time at Eureka. "In the traditional sense, you send it to a supplier and it takes a month before you see your idea. From working in that environment [at Eureka], you can realize in a day your idea. It just expedited the whole process."
He elaborated with WWD that the ethos behind the collaboration was "to offer up some new silhouettes of denim that complement the history but also lead to a new direction forward."
The next phase of the collection will hit Spring 2017.
Go inside the collection with Women's Wear Daily.