November 4, 2016
More often than not, they come by mail – handwritten thank-you notes, that nearly forgotten social grace, which are embraced by the writers as dearly as the helping hand that changed their lives.
Some, like Evelyn, a Levi Strauss & Co. retiree, are simply happy to be able to put pen to paper again.
"I received your check and took it to Low Vision and got my magnifiers, one large and one small. I can't thank you and all who had a part in it enough. You have changed my life. I've got to catch up on my reading now…"
Then there are those like Lee, who is grateful for regaining the ability to fully express herself thanks to assistance.
"Thank you so much for making it possible for me to get new upper and bottom teeth. I needed them for a long time but could not afford them. Able to eat and smile, Lee"
From the smallest support, like money for eyeglasses and hearing aids, to initiatives like preventive counseling and college-match programs, the Levi Strauss & Co. Red Tab Foundation has been that helping hand, for current and retired employees, who have faced financial emergencies for the last 35 years.
Former company leader Gerald "Jerry" O'Shea established the Red Tab Foundation with $60,000 of his own money in 1981. When he passed away, the organization was kept alive through the efforts of the Haas family because as Peter Haas, Sr. put it, "It has been a custom of the company to look out for people."
The foundation's core service – emergency assistance – has remained largely unchanged: When unexpected circumstances put a member of the global LS&Co. community at risk of not meeting basic needs, RTF provides a grant to get the employee or retiree through the difficult time.
"They give you hope, they give you a way out from the problem you have," said Pamela, an employee based out of South Africa. She reached out to RTF following a fire that destroyed her house and took her husband. Following a colleague's advice, she reached out to RTF, which helped her get clothing and a roof over her family's head. "After the help from Red Tab, I felt strong. I feel like I'm born again and somebody else now."

Power in the impact
For Peter Haas, Jr., President of the RTF board since the 1980s and a direct descendant of Levi Strauss, the domestic violence prevention program that RTF implemented in the manufacturing facilities was particularly impactful.
"One of the most touching stories involved a woman who was in a physically abusive relationship. She was being abused not only by her husband, but also by her children," Pete shared. "And she was hard of hearing. She could not hear them coming. Not only did we help with the counseling, but we also provided a hearing aid to her. So for the first time, she was able to know that it wasn't her fault, know that she didn't have to continue to experience this, but now she could also hear people coming and be warned."
As part of this program, the company also took small steps, like providing security in parking lots so female employees impacted by abuse could, for the first time, "go outside and eat their lunches and take breaks without feeling that they were going to be harassed by spouses or boyfriends," Pete said. "For me, it was one of the most important programs that RTF ever was able to put together."
When Ann Ure stepped in as the foundation's Executive Director in 2001, her job was to ramp up the outreach of the organization and take it to the next level by creating an infrastructure for the operation. It came at a time when plant closures had quickly turned employees into retirees.
"We started to talk to the Red Tab Foundation board more and more about what we could do to build a better support network for these manufacturing retirees who built this company," Ann recalled. "So we went out to the cities where the highest concentrations of retirees lived, asking how we could improve the quality of life for these folks who gave their entire lives to this company, and in many cases through generations. No one had the length of service and as much need as they did.
"We ended up getting these phenomenal responses from folks who couldn't even afford a pair of eyeglasses," Ann added, which lead to the creation of the "Do More Now" program.
The program included ongoing support to provide life essentials – such as eyeglasses, hearing aids, and funds to offset dental work costs – to those in need. The foundation also started the financial literacy program to give guidance on how employees could save money for their future and their children's college funds.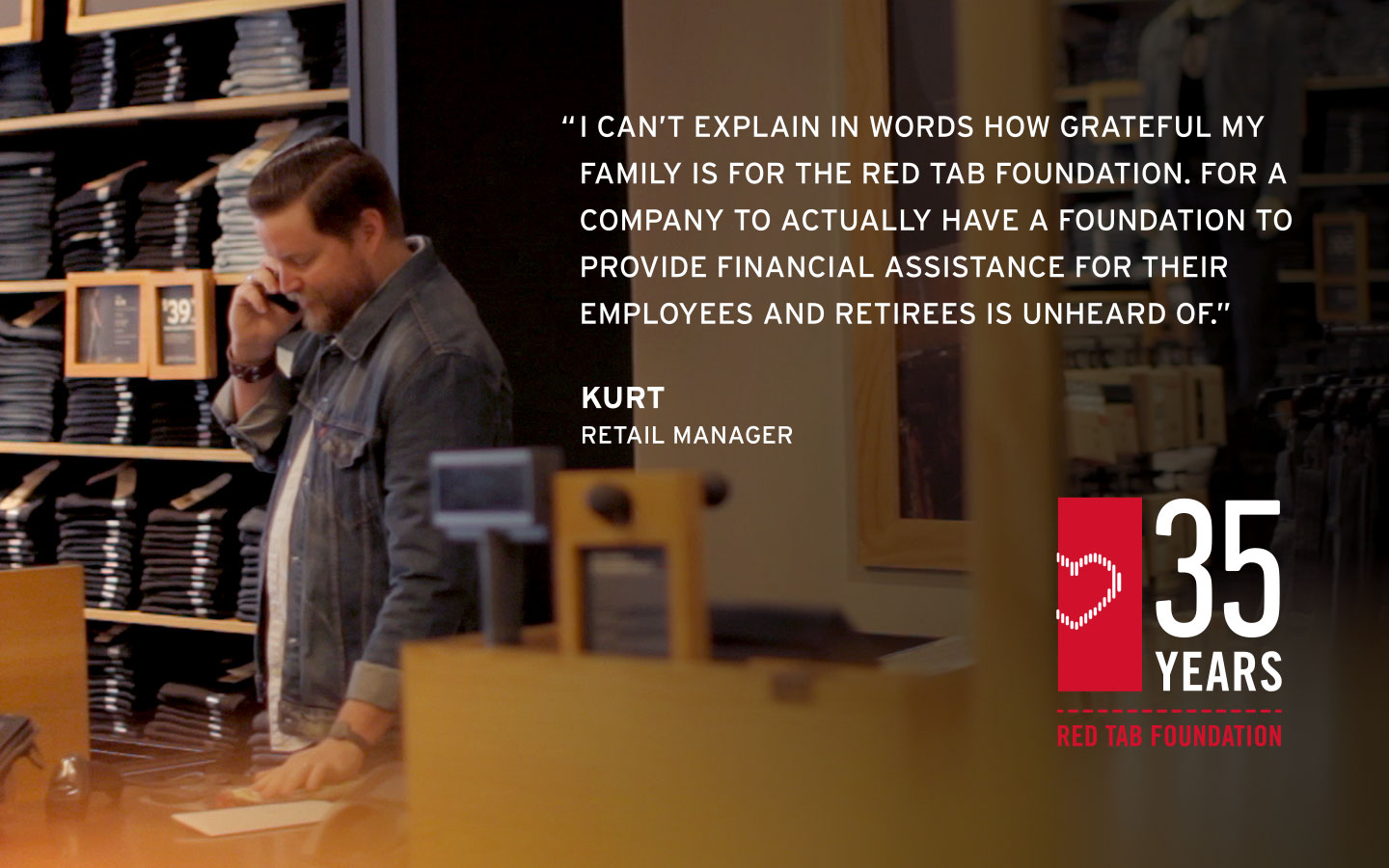 More than three decades, and counting…
To date the foundation has issued nearly 19,000 grants totaling more than $17 million in direct aid to members of the LS&Co. community facing financial emergencies. And that doesn't include its proactive programs: financial counseling, scholarships and an innovative matched-savings program for retail and distribution center employees in the U.S.
The bulk of these programs are funded by our own workforce – today's employees are supporting this work with their time, energy, and money at a higher rate than ever before in the foundation's history, allowing us to keep the spirit of "employees helping employees" alive and well for years to come.
"Not only has [Red Tab] endured, but it has gotten even stronger over the years," Pete said. "I think it's a combination of how compelling the mission is, really employees helping employees, and making people aware of that. I think that we've done a really good job of getting the word out, of what it is that Red Tab does."
Current Executive Director Mary Palafox references a quote her predecessor Ann once told her. "Ann said to me 'We can't fix problems for people, but we can give them hope.' I just love that because I think it encapsulates what this foundation is all about."
As Destiny, an employee from South Africa, shared, "The Red Tab Foundation shows you there is a light at the end of the tunnel that gives you hope. Who else would give you support and help when you thought you had nowhere else to go?"