August 4, 2016
Meet Melody Sabatasso—better known in design circles as Love, Melody. As a designer, she used Levi's® jeans to transform her work—and her life.
In the 1970s, Melody was a budding fashion designer living out of the back of her Marin County boutique. She lived in her Levi's® jeans, so when she needed something to wear to a wedding, she had to get creative. Melody decided to take apart a pair of her Levi's® jeans and reconstructed the denim pieces into a patchwork dress. Her ensemble was a hit at the wedding and she began getting requests for similar outfits for her friends.
Melody's rise to fame happened by chance when her customized Levi's® dress was spotted by none other than Hollywood legend Lauren Bacall. Lauren had to have one. Melody was a little surprised when she got the phone call from Ms. Bacall, who arranged for a private fitting to take place in her room at the Huntington Hotel in San Francisco. Melody didn't have a car, so she hitchhiked with all her sewing tools and fabrics. Once completed, she signed her name in red on the inside: "Love, Melody."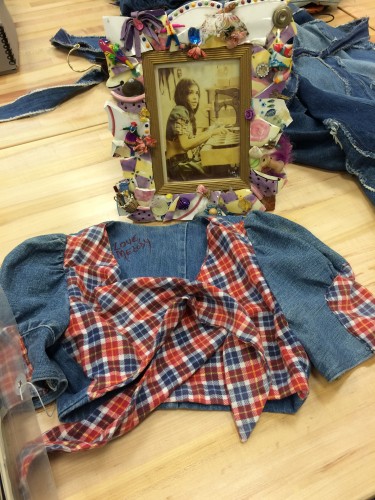 That chance meeting with Ms. Bacall led to a couture career. Melody has designed customized Levi's® outfits for celebrities from Cher to Elvis, and has been featured in publications like Rolling Stone Magazine.
Sourcing Levi's® jeans to make her designs was an initial challenge. "It takes nine pairs of jeans to make one pair of my customized creations," Melody said. She ultimately found a unique source for her Levi's®—San Quentin prison. Melody sorted through truckloads of jeans that arrived, pulling out only Levi's® to create her recycled denim clothing. "Levi's® jeans were the best denim around," Melody said.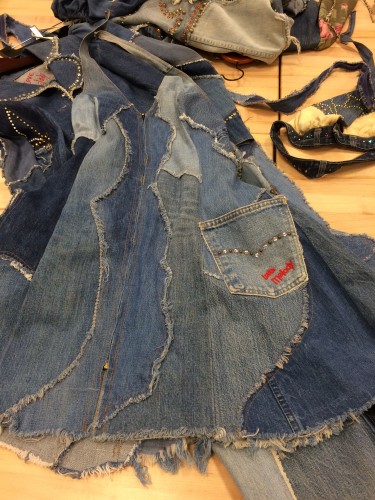 She continued to make her denim patchwork pieces, adding rhinestones with shapely silhouettes. Melody even sourced the same cotton thread that Levi Strauss & Co. used at the Valencia Street factory to match the seams.
Today, Melody is still designing, creating, and transforming Levi's® jeans in the Bay Area. Her iconic customized Levi's® denim bikini, created in 1973, is one of the newest additions to the Levi Strauss & Co. Archives.
Perfect for summer, here's a look at our Love, Melody addition.