May 12, 2016
It's Bike to Work day here in the U.S., and a lot has changed since we first launched our Levi's® Commuter line in 2011. We recently chatted with the design team — Erin Heiny, Henry Lefens and Nobutoshi Nakao — to find out how the product has evolved with the consumer and what's on the horizon.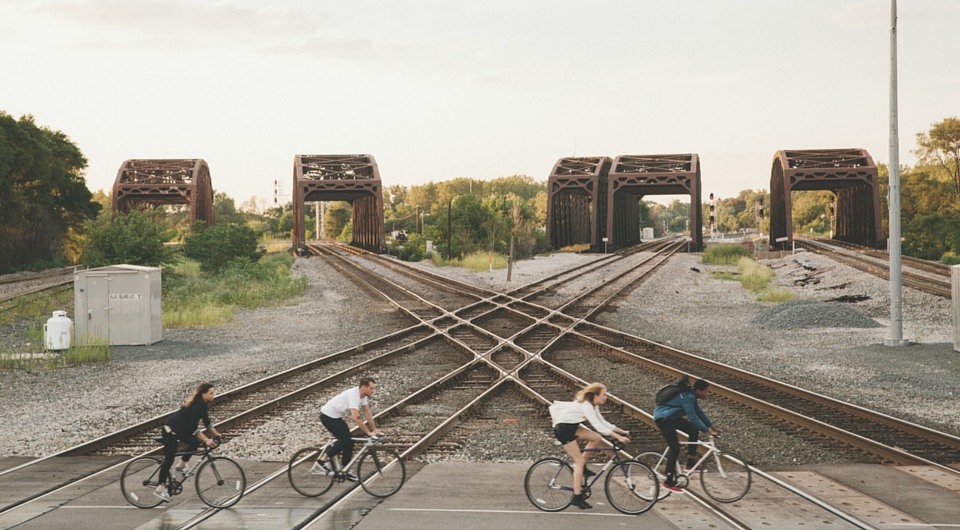 What's new for this season?
This is the first season that we're introducing Cordura into our bottoms fabric. It gives extra strength while keeping stretch and comfort. It's really exciting because it negates the need for reinforcements in certain areas.
For example, we hear a lot from riders about "blowouts," so in the past we would put reinforcements in the crotch area. To try to make our clothing more transitional from day to night, we wanted to take away that detail. In adding the extra strength into the fabric, we were able to do so.
In general we're trying to make our garments cleaner and more wearable for the everyday person, which is also why for Spring/Summer we've woven reflective threads into a plaid shirt. You can't see that detail when it's not needed, but when the light shines on it, you can see these strips of reflective thread.
It's all about stealth performance. That's what our customer wants — for the functionality to not be seen when they don't want it to, and to still be able to wear the garment and look trendy, but have the performance they need. That's something we're constantly working on across tops and bottoms.
So it's about getting that perfect mix of style and performance?
What we're learning is that the consumer has transitioned from the core cyclist that we were designing for in the beginning to this person who is a city dweller with an active lifestyle. They want to go from biking to work and be able to wear those same clothes at work, and then go straight to the bar and be able to wear those same clothes at the bar.
They need their clothes to work from day to night, from social situation to work situation. Cycling or not, they have a busy, active lifestyle within a city and are commuting in some way, some form.
When Commuter first launched, the world was different. Commuters were different. People are transitioning the way they're commuting, and bike culture is changing. Uber has been invented. General athleisure has a different lens than it had in 2011. We have to be nimble.
In other words, it transcends commuting by bike?
Absolutely. We're doing a huge focus just on the idea of motion — whether it's your legs moving in a cycling motion or some other form of physical motion, or even being cramped in an airplane for 20 hours. We're essentially trying to make clothes as comfortable and easy as possible without you having to wear a pair of leggings or something that looks like you're about to go to the gym.
Whether you bike or not, you identify with the aspiration to do that, or you identify with an active lifestyle. That said, we always keep the bike commuter at the center of our design. The theory of it is if you can design for the most core person, it trickles down.
How do you keep your finger on the pulse of the cycling community?
We go out and we bike with them. We go to bars with them. We go travel around the world and talk to them face to face. We have them test our product and give us feedback.
Cyclists are not quiet — they always have to fight for their rights, like getting bike lanes. They will be vocal with you as well.
We recently took a trip to Seattle and rode all around the city and invited people from all different types of cycling communities to come chat with us about our product — what they liked, what they don't like.
We also browse blogs that post about Commuter and give reviews. Those are places where people are brutally honest. They know they're not talking directly to the people designing it, so they have no filter whatsoever. It's great to hear those things, whether they're good or not.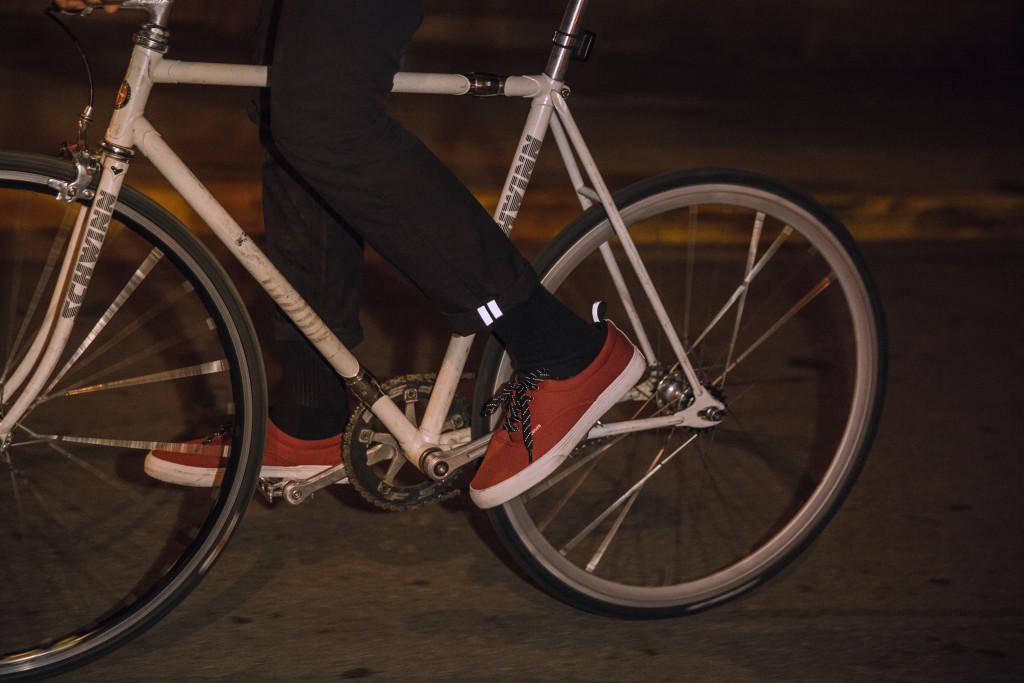 Getting the balance right must be a challenge.
What's intriguing about Commuter is that it's not in one niche. There are a lot of brands that play into aspects of what we do, and you can peg those into active or performance or streetwear or casualwear. We're touching all of those in some aspect.
Pretty much no one in the entire industry does this same balance of fashion — or, style, or trend, or just looking normal, whatever you want to call it — and performance.
It's also great to be a part of a performance line with the ethics and morals that Levi's® has backing it. We have a certain standard when it comes to what types of materials and chemicals we're using in our product. We can't just use anything. We've got to stick to those standards that LS&Co. sets in place, which is really nice. It's a challenge, but it's great to have that backing behind you. Really, it speaks to LS&Co.'s integrity. It forces us to get creative.
How do you know when you've gotten the design right?
It all goes back to the whole Levi's® aesthetic of being effortlessly cool, you know? Being effortless is being comfortable and easy and not getting in the way of whatever you're trying to do in that day.
That said, you get a lot of people geeking out on the Trucker jacket. You'll get people obsessing over the details, which is always great to design to.
A lot of people also wear our Commuter Trucker who don't cycle or anything. It's just because there are so many pockets and it's so convenient. It's cool to hear those stories where people who aren't doing active things are appreciating it.
It's also really cool to see people wear Commuter in unexpected situations. Friends in the chef industry say they're the best pants to wear in the kitchen because they're water repellent and stretchy and comfortable and they last. They're easy to take care of. They love wearing them.
Bike to Work Day must be like a holiday to you.
It is really exciting when you bike to work on a regular basis and then this week you see so many more bike commuters. People to come up to us and are like, "I think I'm going to start biking to work now."
A lot of the limitation has been what to wear when you cycle and then when you get to work. Being able to take out that part of the issue for somebody is really cool.
Levi's® Commuter can kind of be a gateway drug to biking. It's not as big of a commitment as spandex and clip-in shoes. It's like buying a yoga mat. It's just a little thing, but it can make a huge difference.