March 8, 2016
It may be hard to imagine facing risks to your own safety or your family's well-being as a result of your efforts to create positive change in the community.  But in every corner of the globe, courageous women activists are putting their lives on the line to ensure that marginalized voices are heard in the political process. They are speaking out against spates of gender-based violence and challenging discriminatory laws.  For following their passions to empower or transform their communities, some face intimidation and threats, while others are targets of brutal violence.
To commemorate International Women's Day, we're spotlighting Urgent Action Fund— a grantee of the Levi Strauss Foundation — for its outstanding work protecting and strengthening women and transgender human rights defenders working at the forefront of global change. To gain insight into this pioneering foundation and its unique operating model, Unzipped spoke with Shalini Eddens, Director of Programs at Urgent Action Fund.
Since 1997, Urgent Action Fund has awarded over 1,300 grants to human rights defenders around the world — including $900,000 donated in the past year. Its core work is to support women and transgender women who face immediate danger for their advocacy work, often in the crosshairs of religious and political extremism.  In addition to fostering safety in urgent situations, the organization bolsters the long-haul campaigns of its grantees to end violence, change bad laws and organize communities.
A commitment to serve the most marginalized
Shalini Eddens is concerned about an alarming pattern affecting advocates for environmental justice in Southeast Asia. In recent years, hundreds of women activists have been jailed, defamed as threats to national security or suffered discrimination and violence. A recent report by the Urgent Action Fund, "In Our Bones," brings to life the stories of women in the Philippines and Indonesia facing cruel backlashes for their advocacy around gender and climate justice.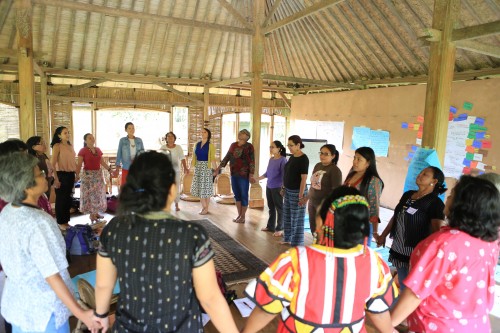 One longtime partner of Urgent Action Fund, Bai Ali Indayla, sees that violence against women is escalating in the Philippines, but this only serves to deepen her resolve: "It will not be true if I say I am not afraid — because I am." She continues, "If I let fear take over, the lives that were taken before will lose their meaning."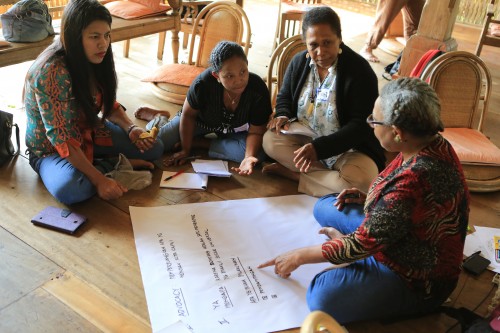 Eva Bande, an Indonesian activist and mother of three, spent more than four years in prison for organizing peaceful protests against land rights violations affecting local farmers.  Bande reflects: "To lead is to take risks. The violence I experienced in jail definitely left a mark on me, and it shook the community as well. We have to continue to strengthen the community because the fight is far from over."
Signed. Sealed. Delivered.
Unlike other organizations, the Urgent Action Fund eschews bureaucracy: through a highly streamlined process, funds are typically dispersed to grantees in under a week.  This speed allows women's and trans human rights defenders to be highly responsive — dodging threats and preventing backsliding in their long-term campaigns for access to education or clean water.
Plus, it is one of the few U.S. funding organizations with strong regional affiliates.  "Over the course of our existence, we've allowed ourselves to evolve," says Eddens. "We now have Urgent Action Fund-Africa and Urgent Action Fund-Latin America, and we're exploring a similar vehicle in Asia. We've heard from our human rights defenders that it's incredibly beneficial to have a vibrant physical presence in the areas that we serve."
A reason to celebrate
Levi Strauss & Co. applauds Urgent Action Fund's outstanding efforts because giving back is at the core of our philosophy. For decades, we've aimed to serve and contribute to disadvantaged communities worldwide. Last year, the Levi Strauss Foundation celebrated a milestone of donating $300 million over the last 63 years to its pioneering nonprofit partners.
We salute the Urgent Action Fund for its brave, innovative efforts to make the world a better place for women and girls — one responsive grant at a time.

Like this story?
Sign up for the Unzipped newsletter to get the best of the Unzipped blog — company news and views, employee profiles, innovation and sustainability stories, behind-the-scenes and Archives highlights — sent straight to your inbox weekly.