November 10, 2015
At Levi Strauss & Co., we follow the Silicon Valley mantra: fail fast, fail small, fail often. After all, we're a 160-year-old startup. We've led the denim industry since the California Gold Rush because we're constantly adapting, learning from our mistakes, and delivering quality, durable, stylish products.
The Bay Area innovation ethos permeates our approach to making the best products possible. It's a mentality that leads to experimentation, testing, failure, iteration, and ultimately success.
Our brilliant people at the Eureka Innovation Lab in San Francisco drive innovation, coming up with a better way to design and craft iconic American apparel. What you might not know: sustainability catalyzes innovation for us. We want to make the best denim on the market and we want to make it the right way. That means we consider people and the planet at every step of the life of a pair of jeans. Simply put, sustainability is an engine of progress for us.
That's why we recently launched the Levi's® Wellthread™ collection. It's our most sustainable product to date while serving as an innovation lab at the same time. Taking a systems approach, our designers pushed the boundaries of what can be done within our supply chain. They considered the full lifecycle of a pair of jeans, identified points of disruption, and then acted to make great products even better.
For instance, through our lifecycle study, we know a pair of jeans consumes nearly 3800 liters of water from cotton to consumer care. That's why the Wellthread™ collection is the first line to include Water<Less™ fabric which uses 65% less water in the denim dyeing process. We then gave Wellthread™ products the look our fans love with Water<Less™ finishes that save up to 50% of the water normally used in denim finishing.
We're also looking down the road to how we can save water in the future by harvesting cotton from closets rather than the field. That's why the entire Wellthread™ collection is made of 100% cotton for easier recyclability. So, your old jeans could one day provide the cotton for a new pair of 501® jeans – leading to dramatic water savings. (By the way, you can now drop off any unwanted clothes and shoes at any Levi's® store and we'll recycle them for you.)
And we didn't stop with water. We crafted all Levi's® Wellthread™ products at Worker Well-being facilities in Haiti, Bangladesh and Sri Lanka. We invest in the people who make our clothes. From providing access to water purifiers and solar lamps to health and financial literacy education, we want to benefit their lives beyond the factory walls so that their communities are better places to live and work.
It's this holistic approach – one in which we consider people and the planet – that sparks creativity among our designers. And from making this collection, we intend to learn a great deal, endlessly striving for improvement, never sacrificing quality or aesthetic, and determining how to scale the best innovations.
From these experiments on a small scale with Wellthread™, we will discover which innovations to scale across our products to amplify our positive impact. That means every season, the Levi's® Wellthread™ collection will be different – each season is its own limited edition. And as the collection evolves, we'll pluck the top advances and weave them into other products. We'll test the latest sustainability activities and receive feedback from the supply chain and our fans. What better way to weave sustainability into the fabric of the brand than by making it the engine of innovation?
ABOUT THE AUTHOR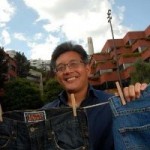 Michael Kobori is the Vice President of Social and Environmental Sustainability at Levi Strauss & Co. He leads the development of LS&Co.'s environmental vision and strategy, our efforts to collaborate with other brands on sustainability, and extend our standards throughout the supply chain, including mills and sundry suppliers. Follow him on Twitter @KoboriGrillsCSR.
Like this story?
Sign up for the Unzipped newsletter to get the best of the Unzipped blog — company news and views, employee profiles, innovation and sustainability stories, behind-the-scenes and Archives highlights — sent straight to your inbox weekly.