November 2, 2015
The Levi's® Commuter™ collection is a favorite among cyclists because it offers comfort, coverage and durability, all in Levi's iconic styles. From 3M reflective details to water repellent fabric and added pockets, the line features amazing functional details built with a cycling-based lifestyle in mind.
There's one detail, though, that had us stumped: the green pocket bag in the Levi's® Commuter™ jeans.  Turns out there a perfectly rational, cycling-related explanation.
At the time the Commuter™ collection was initially being designed (it launched in Levi's® stores in July 2011), San Francisco was undergoing a major effort to add protected bike lanes to busy streets.
The color of these lanes? You guessed it! A green hue very similar to the Commuter™ pocket bag.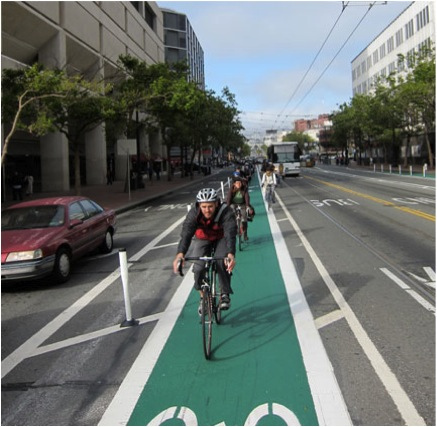 Just as these green lanes were a cyclist-friendly innovation designed to keep riders more visible and safe, so was the Commuter™ collection. The green pocket bag is a nod to that.
As to why it's only the one pocket … we don't have an official answer,but we can't help but wonder if it's so the infamous stamp of quality and authenticity remains clearly visible on a white background.
Like this story?
Sign up for the Unzipped newsletter to get the best of the Unzipped blog — company news and views, employee profiles, innovation and sustainability stories, behind-the-scenes and Archives highlights — sent straight to your inbox weekly.