September 18, 2015
You probably wouldn't buy a car without taking it for a test drive. As it happens, the same goes for pants. Armed with this important insight, the team at Dockers® wanted to make it even easier for guys to try on what might become their new favorite pants.
Enter the Dockers® TRY.FIT.GO. program, which launched in airports and stores in the U.S., Canada and Europe this month. The program gives on-the-go guys the opportunity to try on the Dockers® new stretch for performance styles that are perfect for life on the go.
Because the Dockers® guy is always on the go, he spends his fair share of time in airports. Dockers® TRY.FIT.GO. lounges, popping up at Chicago O'Hare (ORD), Dallas Fort Worth (DFW), and Toronto Pearson International (YYZ) airports this month, bring the pants to him. The lounges give travelers from all over the globe the chance to try on Dockers® top selling styles, including Dockers® Alpha Stretch Khaki, the 5-Pocket with Stretch and Signature Iron Free with Stretch.
The TRY.FIT.GO. program also will be available in stores through the month of September. This includes J.C. Penney, Kohl's, and Macy's stores in the U.S.; select Hudson's Bay stores in Canada; and more than 200 stores in eight countries across Europe. Spain, France, Portugal, Italy, Turkey, Switzerland, Belgium, Netherlands (visit www.tryfitgo.eu for European locations).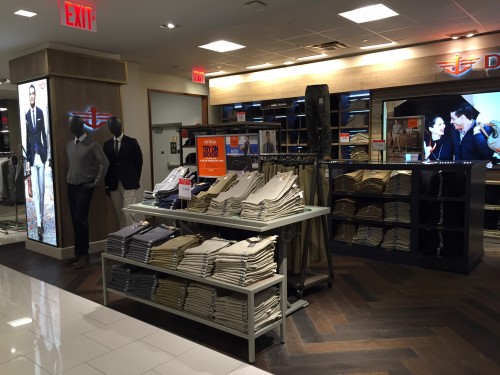 Those who try on Dockers® pants at participating airports or retailers will have a chance to win a variety of prizes, including offers for dockers.com, Visa® rewards and Expedia® travel vouchers.
Launching a successful program has required collaboration with many partners internally at LS&Co. and externally, according to the Dockers® team. Close coordination, paired with an ability to be flexible and adapt to changes on the fly, has resulted in a successful cross-functional program.
So far, we hear consumers are jumping at the chance to try out Dockers®, whether in the airport at their local store. Get in on the TRY.FIT.GO. fun by visiting your local store through Sept. 30, or stopping by a TRY.FIT.GO. airport lounge through Sept. 20.