September 14, 2015
Like many good ideas, the initial concept for Yerdle started with a small ah-ha moment. Andy Ruben, former head of sustainability at Walmart, was sitting at his five-year-old daughter's soccer game when he looked around the field and noticed a sea of shiny new shin guards. That got him thinking … why do five-year-olds need brand-new shin guards when hand-me-downs could do just fine? He began to wonder how many pairs of nearly new shin guards were sitting, unused, in closets and garages.
From a macro-level consumer goods perspective, it's a lot. In fact, Americans spend more than $1 trillion on consumer goods each year, even though the average item gets used less than once per month. The result is a whole lot of idle, underused things shoved in the back of closets, boxed up in garages and hidden away in storage units.
Andy and co-founder Adam Werback started Yerdle to help solve this stuff conundrum. They want to change the way people think about things by making reuse as easy as online shopping. In addition to the high volume of underused stuff out there, there are two other factors the co-founders think will make their dream a reality: a population that's increasingly interested in extracting value from a sharing economy and technology advanced enough to enable sharing at scale.
At Levi Strauss &Co., not only do we have deep respect for Yerdle's sustainability-focused mission, but we appreciate the love that Yerdle's community has for Levi's® products. The quality and durability of our clothing items make them fast-moving items on the site, and ones that can be yerdled multiple times in their lifetime, according to Andy and Adam. A Levi's®-focused newsletter Yerdle distributed to its community this summer was one of its best-performing to date.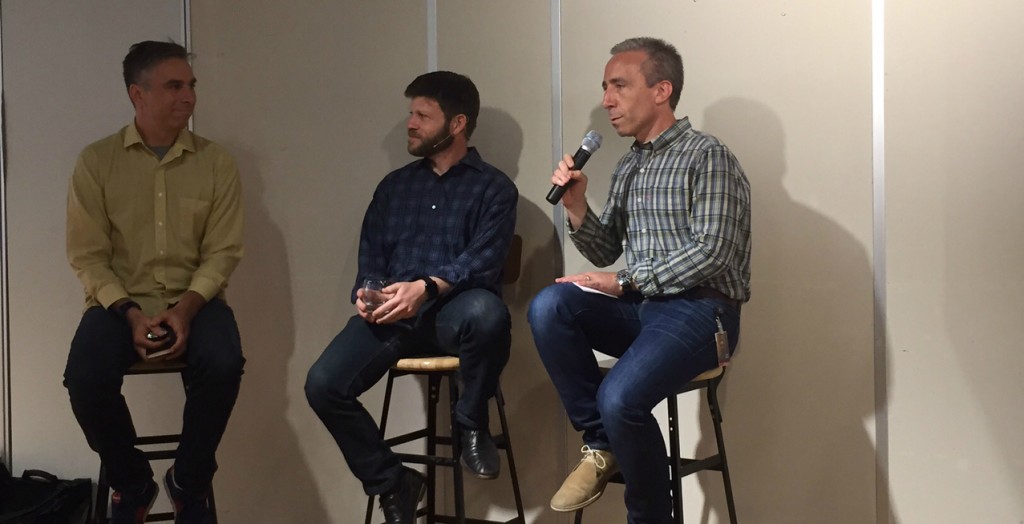 Recently, Adam (pictured above left) and Andy (pictured above right) paid a visit to our San Francisco headquarters and shared a few of the ingredients that are helping make their fast-growing startup a success:
Dream big. Adam and Andy started Yerdle with the goal of having a significant effect on the consumer economy. They recognize that solving big problems at scale — i.e. changing the way consumers shop in order to slow climate change — requires setting a big, hairy, audacious goal. That's precisely what they've done. Their mission is to reduce the number of new things we all have to buy by 25%. Big, hairy, audacious. Check, check and check.
Let purpose be your guide. Having a big goal not only helps steer the organization toward true progress, but also serves as a rally cry for Yerdle members. Adam and Andy found that having a clear purpose-based mission was critical in creating an authentic, dedicated community eager to spread the word and committed to achieving Yerdle's goal.
Focus on impact. As a sustainability leader at Walmart, Andy made meaningful changes, but also recognized that a big opportunity for impact came after consumer purchase. After all, two people wearing an item instead of one cuts the item's environmental footprint in half. It's nearly impossible to achieve that level of impact elsewhere in the supply chain. So, for founders looking to create meaningful change, it only made sense to focus efforts there.
Break the mold. In a short amount of time, Yerdle's founders have learned a lot about what consumers like (and don't like) when it comes to sharing their stuff. Using these insights and being willing to experiment with unconventional ways of doing things has helped the business overcome some significant friction points. They've taken actions like ditching traditional currency and allowing users to trade in "Yerdle dollars" and started using terminology like "giving" instead of "selling." These types of changes have helped shifted the mindsets of Yerdle members to embrace the concept of sharing and saving by not having to buy something new.
Curious about the name Yerdle? They made it up.
Like this story?
Sign up for the Unzipped newsletter to get the best of the Unzipped blog — company news and views, employee profiles, innovation and sustainability stories, behind-the-scenes and Archives highlights — sent straight to your inbox weekly.