May 19, 2015
"I'm always impressed with what young people can do before older people tell them that it is impossible," said David Brower, the prominent environmentalist who spent the later years of his life mentoring youth.
Driven by the desire to support youth who show innovation, vision and leadership, The Pollination Project recently teamed up with Levi Strauss & Co. to make seed grants that give a leg up to young heroes working on environmental solutions all over the globe. Our shared goal is to develop the next generation of global environmental leaders who will conserve, protect, restore and advocate for the ecosystems upon which our civilization depends.
Youth are facing a situation no generation has faced before: they aren't growing up asking if the planet will undergo environmental disaster, they are growing up asking when? They have learned — at the ripe old age of 9, or 16, or 20 — that no one is going to save the planet for them. They know it is up to their generation to model and inspire the changes that need to happen for us all.
In the few months since the program launched, the team at The Pollination Project has reviewed nearly 100 applications from all over the world. The decision-making team includes a range of impressive grassroots environmental leaders and Pollination Project grantees like Susan Silber of the newly-created Northern California Community Resilience Network; Rev. Marjani Dele of the youth environmental training program Nature's Friends in Washington DC; Thomas Ponce, a 13 year old animal-rights advocate and founder of Lobby for Animals in Florida; Adriana Bueno, founder of Bibliovan, a literacy program on wheels in the Colombian Amazon; and Poornima Joshi, a young entrepreneur in India who created a revolving loan fund for environmental projects in her community. Together the team reviews and evaluates applications on a rolling basis.
Grant evaluator Poornima Joshi explains what we are looking for in a youth environmental grantee: "A sense of purpose towards a reasonable cause. Dedication and self confidence. Concrete goals and clear vision. Flexibility in mind to alter plans during execution without changing the essence of the purpose…preferably supported by a mentor to guide."
Twelve amazing young people have already fit the bill, and several more are in process. By the end of May, just five of the 20 seed grants will still be available.
Here are just a few inspiring examples of extraordinary young environmental heroes who have received grants thus far:
Nine-year-old Kirsten Chavis has been an activist since age five. She explains, "I have been involved in all sorts of outreach and have attended a lot of council meetings, events, fundraisers, and workshops alongside my mother. My experiences range from taking notes in Board Meetings to collecting food for families and running green lessons." Kirsten runs the Youth Earth Club at her inner city Los Angeles middle school. Her project brings environmental and health education and events to the school's population of primarily low-income Latino and African American families, including kids with special needs, and kids in foster care. Kirsten's club teaches kids much more than recycling. "Now kids can tell you about indoor and outdoor composting, e-waste, and different ways of saving water like by turning off the running water while brushing your teeth."

Building on his experiences with the 4-H Million Trees project, 16-year-old California student Julien Levy founded Seeding Malawi to create an immediate win-win solution to rampant malnourishment among students in Malawi. Julien explained that while he was working in Malawi to establish tree nurseries in schools, the children were so malnourished that "tree planting events had to be in the morning, because they were too hungry and had no energy by the afternoon." Seeding Malawi is establishing permaculture gardens at schools throughout the country. Participating villages will set aside a football field-sized plot of land on school grounds and students and residents will be given instruction in permaculture techniques. Each garden will provide food for up to 3,000 children, and will also serve as a means of teaching best-practice permaculture and agriculture techniques to youth and the communities they live in.

Naaz Fatima is a tenth grader living in India who initiated a waste clean-up and recycling project, Let's Clean, in her village in Northern India. Her original goal was to protect the street animals who eat the garbage and then often die from disease, causing further health concerns for the community. With the grant, the project has expanded to address proper waste disposal in seven surrounding villages. "My project is needed because it is damaging not only the environment but also very harmful for the next generations," Naaz explained.
Starting in Fall 2015, these grantees will be eligible for up to $5,000 in additional funding to expand and grow their projects, plus a scholarship to attend Youth Empowered Action Camp in Summer 2016.
Thirteen-year-old animal advocate and grant evaluator Thomas Ponce said, "These young people are not just standing witness; they are stepping up and creating solutions. They are speaking up and showing the world that this is their future and they are committed to making it one that has a chance of surviving and flourishing."
There are still five more grants to award, and an application and criteria can be found on The Pollination Project's website.
---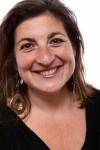 Alissa Hauser is the founding Executive Director of the Pollination Project, a foundation that gives daily $1000 grants to up-and-coming changemakers around the world. Prior to her role with the Pollination Project, she co-founded and served as co-Director of The Engage Network, a social venture nonprofit that provides best practices in citizen-driven organizing.  From 2001-2007, Alissa served as Executive Director of Julia Butterfly Hill's Circle of Life, leading efforts to create and produce We the Planet, the most eco-friendly large-scale rock concerts in the U.S., which at the time became the primary model for "green events". Alissa is also the former Executive Director of the women's philanthropic organization, Resourceful Women. She proudly serves on several nonprofit advisory boards and boards of directors, including Youth Empowered Action Camp, Bread for the Journey, Go Inspire Go, Veg Youth, Philanthrogeek, and Food Empowerment Project, and regularly provides strategic and business consulting to a wide variety of philanthropic and social change efforts. She holds an MBA in Nonprofit Management from the University of San Francisco and a BA from Oberlin College. Alissa is also a mom and a passionate advocate for her local foster care system.
---