May 18, 2015
Berlin may be most known for its infamous wall, but the city is also home to another must-see destination: Levi's Berlin, which just re-opened after a major renovation. Now, we might be a smidge biased, but we think the flagship store is a can't-miss sight to behold. The new outpost is both stunning and easy for shoppers to navigate, and its success will serve as a model for future Levi's stores.
"The Berlin store is on a great street, in a great city, with great neighbors, and so we wanted to make it feel really special," said Levi's VP of global creative services, Chad Hinson who helped oversee the renovation.
According to Chad, the successful renovation had everything to do with the stellar team behind it. "We had alignment from all departments," he said. "From operations to finance to brand environment and creative, both global and local—everyone worked together to make it a huge success."
Mission accomplished, in our opinion, but we'll let you be the judge. Chad recently took Unzipped on a photo tour of the new space. Short of hopping on a flight to Berlin (we're tempted!) you can peep the photos and Chad's account of the renovation below.
STORE FACADE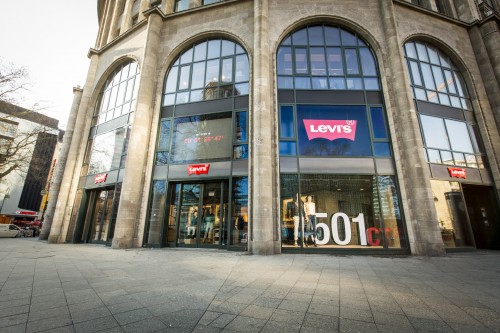 "The store is in an historic building so the architecture was left as is. During construction, store design and the regional brand environment team used LED monitors in the windows to count down to the grand opening."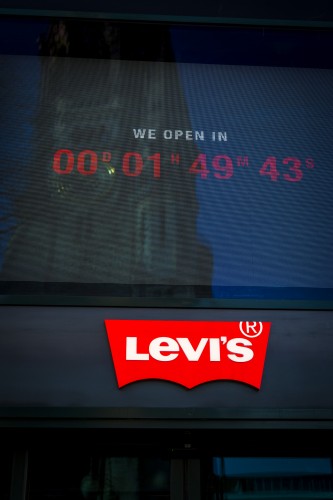 "The LED monitors were a great way to speak to the people on the streets and build up excitement. Now, the same screens are a way to bring our digital storytelling to the forefront of the store."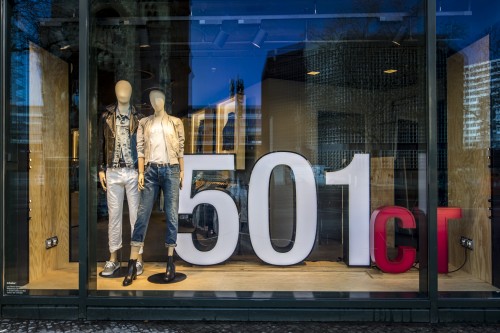 "A front window is dedicated to telling the Levi's® 501® CT story. The regional brand environment team developed these light boxes to make an impactful statement about our number one product."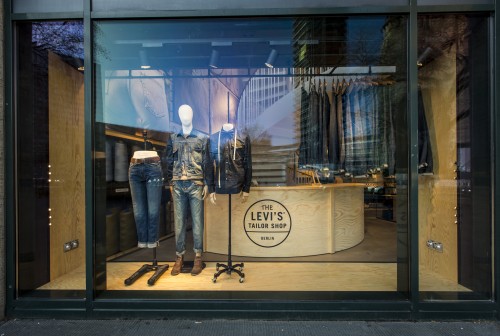 "Another window offers a view into the new full tailor shop, which offers everything from hems to tapers to patches to embroidery."
GROUND FLOOR
The ground floor showcases the Levi's icons — including 501 jeans, trucker jackets and western shirts.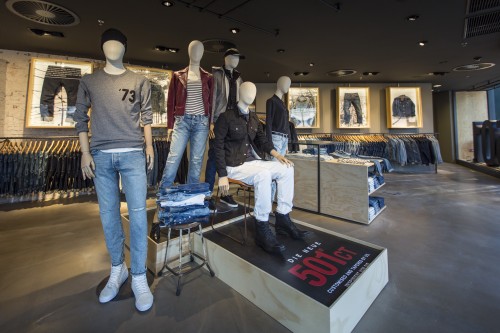 "One thing that sets the Levi's brand a part is our long, rich history. We were there for all these really impactful moments in culture, and that's something we want to share with our consumers. That's why we dedicated the whole ground floor to telling the stories of our Levi's icons."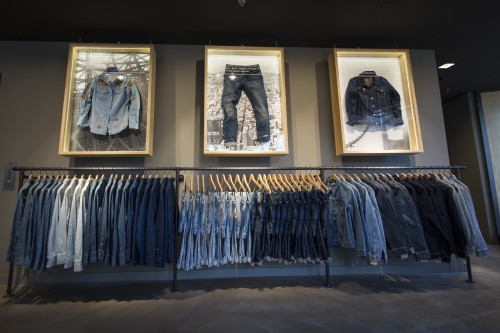 "All along the perimeters, you see these lit display boxes with vintage product in them. For instance, this customized trucker was from Berlin. We tried to get really specific and tell regionally relevant stories. At the same time, we also share the Americana side of things that interests consumers in Europe, which is why all the background shots in the shadow boxes are San Francisco landmarks."
STAIRCASE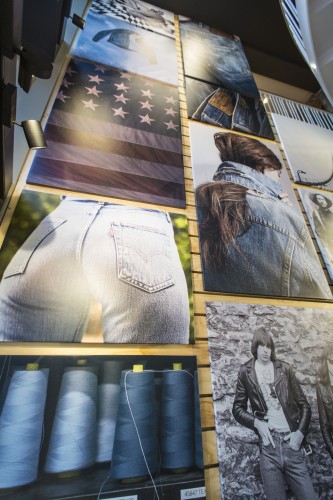 "We created this really beautiful storytelling moment of iconic Levi's imagery alongside the stairwell. Whether it be a shot of the Ramones wearing Levi's or a spool of thread that shows the craft that goes into making a pair of jeans, to see these images on such a large scale is really powerful."
MEZZANINE
The Mezzanine level is focused on the Levi's 501 jean along with other icon product selections.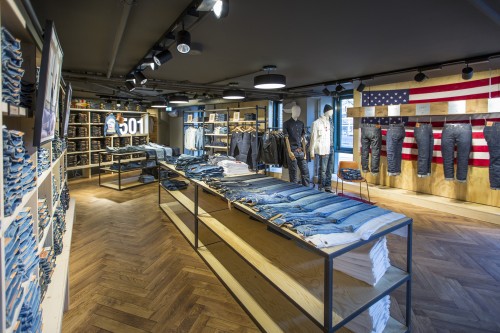 "We created a table focused on the 501 and all the available washes. We merchandised all the trucker jackets in one place and all the western shirts in one place. There is such a sweet spot for how all these elements come together and feel uniquely Levi's, and the display was brought to life by the regional brand environment team."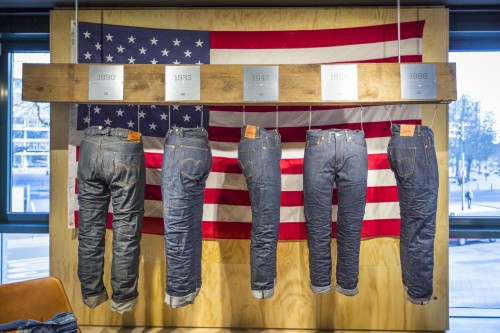 "This display shows the seminal moments of the 501. They're jeans from Levi's Vintage Clothing that we dip in resin to give them dimension. We created metal plaques to tell the stories about each specific jean."
FIRST FLOOR
The first floor features a variety of distinct areas featuring product for both men and women. There is space dedicated to core products, seasonal deliveries, the Commuter collection, the MADE & CRAFTED collection, and accessories.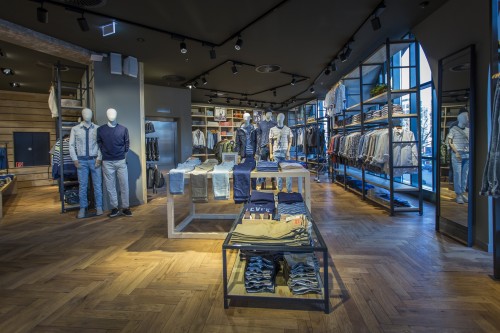 "The brand environment team brought the men's seasonal shop to life with new visual techniques and different combinations of hanging and folded product."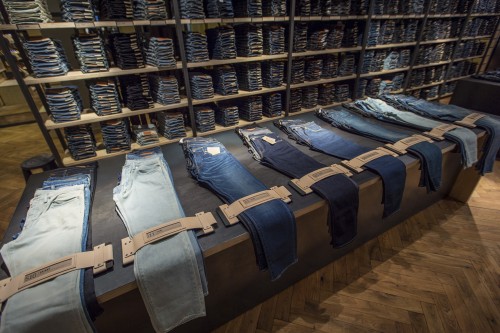 "The fit and finish tables are really important in Europe. We designed leather straps with signage that talks about the fit. It's that nod to craft and materials that are important to us as a brand."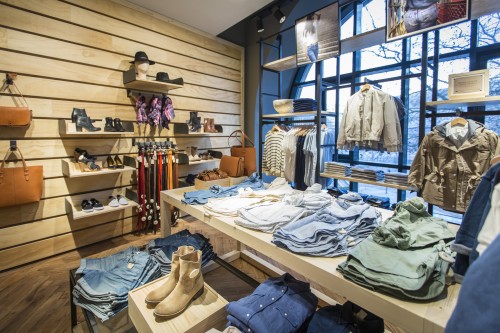 "We pulled all the accessories together in one place, creating a single destination for consumers to shop for them."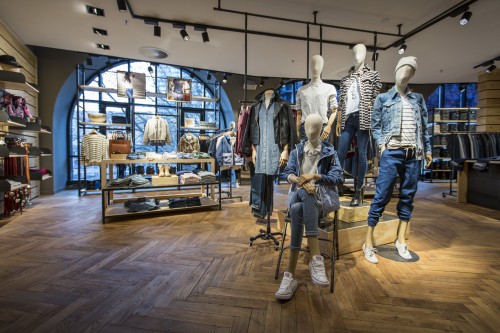 "Groups of mannequins were used throughout the store to tell the seasonal styling point of view. Brand environment also did a great job using techniques in women's that were a bit different than what they did in men's, using more hanging than folding and considering how women shop. Generally, we know women want to be able to look at the full garment and touch it, so we tried to play to that sensibility."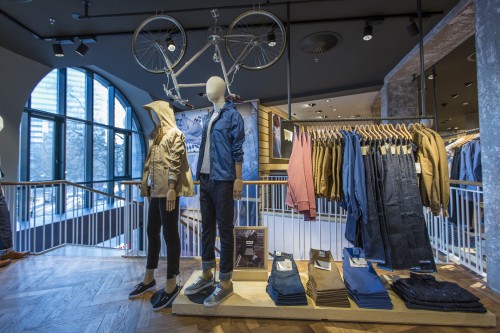 "Berlin is a huge Commuter market, so it was cool to be able to tell that story in a simple and dominant way. We had to look at what was important in the market and figure out how to celebrate those things."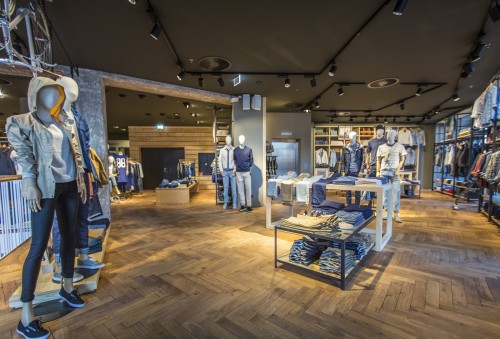 "What we always ask ourselves when working with the product is: What stories did design want to tell? How did merchandising pull those stories together? And how can we best express those ideas on the floor? It was great to have the space to bring all these things to life for the consumer."
For Chad, the success of the renovation comes down to one word: teamwork. "I'm so proud of what this team was able to accomplish — the global and regional teams worked hand-and-hand every step of the way and it shows in the quality of the finished store."
Here are a few more details to enjoy: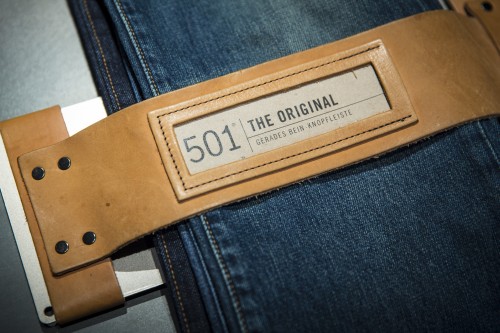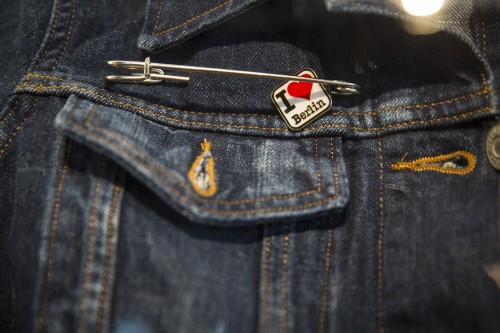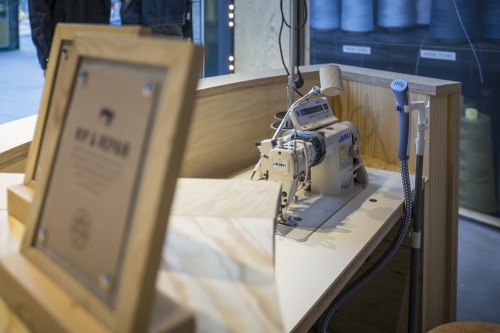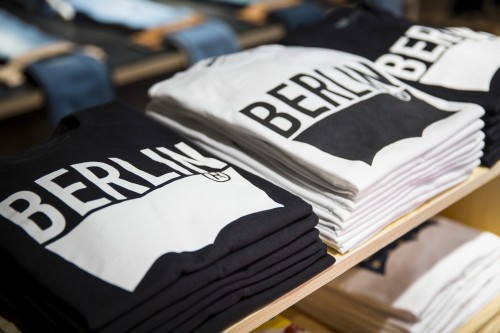 >> Sign up for our Unzipped newsletter to get the best of the Unzipped blog — company news and views, employee profiles, innovation and sustainability stories, behind-the-scenes, and Archives highlights — sent straight to your inbox weekly.