April 22, 2015
The following article was originally published on LinkedIn, where LS&Co. leaders periodically share their perspectives and expertise on business trends, industry issues, careers and the workplace. Have thoughts or reactions to this piece? Head on over to LinkedIn to share them.
"Sustainability." The term is overused. Misused. And for many, it's just a buzzword. At Levi's, however, sustainability remains core to our brand, becoming even more embedded, not just on Earth Day, but every day. It's no less real today than when we began our sustainability journey decades ago. We believe our products must be made of progress, a sentiment woven into the fabric of our company from the very start, more than 160 years ago. And we're excited to continue to lead in sustainability, to demonstrate a better way of doing business.
On our journey, we've learned a lot. During the 2000s, there was market energy around sustainable products. Many believed consumers wanted to vote for the environment with their wallets. We responded by transforming our iconic red tab into a green tab for a line of eco-jeans. The product didn't take off. Though they were made with materials good for the planet, our green tab jeans simply didn't match the style or durability core to our value proposition. They simply didn't measure up – and didn't sell either.
Our lesson was that targeting the niche environmental market with a one-off product wouldn't put the company on a truly sustainable path. And we realized that for most consumers, sustainability wasn't something they were willing to pay more for, but a fundamental expectation of a global brand. So we re-directed our efforts, strengthening our brand along the way.
We re-started by ingraining sustainability into the way we make our products, not just the products. From our two lifecycle assessments, we now know that water is one of the most critical resources to our business. And most of the water used in the life of a pair of jeans comes from cotton production and consumer care. So we asked ourselves, even though we don't grow cotton, how could we help cotton farmers be more sustainable? In 2010, we joined the Better Cotton Initiative to reduce water and chemical use and improve farmers' livelihoods. We've seen tremendous results. For example, Better Cotton farmers in countries like Pakistan reduced their water consumption 14% while increasing profits 42%. Better Cotton now accounts for nearly 9% of the global cotton supply, making it one of the most successful sustainable commodity initiatives.
We also took a hard look at how our products are made. Though the manufacturing process, which we have direct control over, consumes only 9% of the total water in a pair of jeans' lifecycle, we seized the opportunity to improve. We launched theWater<Less processes and created a water recycling and reuse standard which have saved more than 1 billion liters of water and more than $1.5 million in the last four years alone.
Finally, we took on the most intractable challenge: changing consumer behavior. With our Care Tag For Our Planet, we encourage consumers to wash less, wash cold, and line dry their jeans. And the impacts could be substantial. If Americans washed their jeans once every 10 times they wore them instead of the current average of every two, they could achieve 77% water savings. If we washed cold, we would reduce our climate impact 24% and if we all used a clothesline, we would reduce our energy use in clothing care by 64%.
So here are some lessons we've learned as we've engaged our consumers:
Make consumers aware. Recently, we launched a campaign to make sure people understood their own impact. The quiz, which launched on World Water Day, lets people know exactly where they stack up relative to other people. It establishes behavioral norms. When people take the quiz and learn their habits are only better than 34% of people, we give them simple actions to improve: wash less, wash cold, line dry.
Embed sustainability into your brand identity. Back in high school, I started my environmental journey by leading grassroots recycling in San Jose, California. But nobody cared – except my parents. I was missing a key ingredient: getting others to care. To scale impact and reach the market, you must tap into your brand identity, not just the environmental one. When we discuss why people should wash less, wash cold, and line dry, we don't always speak about the benefits to the planet. Levi's denim looks best when it's worn regularly – without washing too often. The fade and the pattern become unique to each person and their style. And most importantly, Levi's jeans will last longer if they're washed a little less often. So, caring for jeans properly will help keep a great fit and feel, a great look, and help their durability. Thus, we deliver a core sustainability message by speaking to what matters most to consumers.
It's all about the attitude. Environmentalism 1.0 focused on doom and gloom. Malthusian sentiment pervaded holier-than-thou do-gooders who would chastise anti-eco behavior. It's not that our challenges are not serious; it's just that sometimes we get overcome by negative news. That's why tone is so important. Despite the dire projections, I must remain hopeful about our future — sometimes, it's the only way to get through the day! I believe it is important to share that optimism to inspire action. And I want to make sure that even when facing environmental challenges, Levi's motivates consumers in a fun – even irreverent – way. For example, we're proud to have a CEO who claims his jeans have never seen the inside of a washer.
Ultimately, we are all about connecting with consumers while making our supply chain better for the planet. Our brand aficionados and others in apparel know Levi's pioneering status as a leader on both environmental and social sustainability. And we see tremendous opportunity to connect with the environmental layman. Have we done enough? No. There's always a lot more we can do for people and the planet. And, for now, we see the next breakthrough in sustainability as connecting with consumers. We want to meet them where they are and speak with them on their terms, in ways that matter to them. We want to bridge the gap between those who care about the environment and those who may not…yet.
ABOUT THE AUTHOR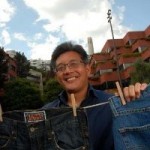 Michael Kobori is the Vice President of Social and Environmental Sustainability at Levi Strauss & Co. He leads the development of LS&Co.'s environmental vision and strategy, our efforts to collaborate with other brands on sustainability, and extend our standards throughout the supply chain, including mills and sundry suppliers. Follow him on Twitter @KoboriGrillsCSR.