April 1, 2015
We demand high function and real-time results from our technology. Shouldn't we expect the same from our pants? Enter: Dockers On-the-Go, the innovative "smart pants" designed for a mobile lifestyle.
"The creative innovations we've come up with in the On-the-Go series surpass anything we've done in recent memory," said Dockers' Senior Vice President of Global Design — and On-the-Go aficionado — Doug Conklyn.
It's a bold statement, as Dockers has long been known for performance in its pants — whether in the form of stain and wrinkle resistance or a comfort waistband. Today, the technical features of Dockers On-the-Go are less about protecting the wearer from sloppiness in the form of a spill or a rumple, and more about catering to the demands of the modern jetsetter.
True, the initial impetus for On-the-Go pants was to provide consumers with a stylish alternative to sweatpants for a cross-country plane ride. But the concept has evolved to provide consumers the ease and comfort they crave — plus great style, even in the form of a slim fit.
"People commute to work on foot, bicycles, skateboards, scooters, planes, trains, and automobiles — people are on the move constantly," Doug said.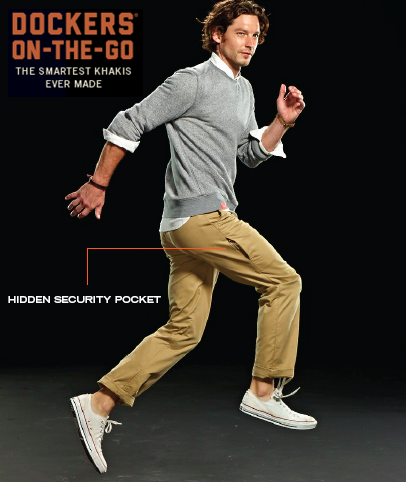 And whether you're a blue-blazer-and-loafers guy or an everyday-is-the-weekend type, Dockers On-the-Go has something for you. The casual Pacific collection incorporates heavier stitching and more hefty fabrics, while the more refined styles look exactly the same as their classic counterpart—for instance, the Dockers original Signature Khaki, which also comes in an On-the-Go version.
In the Pacific collection, the technical features of the pant might be visually evident — mesh interior pockets and a knit jersey waistband, for example. Other innovative features are more subtle, creatively incorporated by the design team.
"These are not 'Inspector Gadget' pants," Doug said. Rather than add cargo pockets, pants might have hidden pockets inside side seams (the perfect place for that smart phone that perfectly complements your smart pants).
Inspired by the On-The-Go line, 90 percent of the entire Dockers collection will have some degree of stretch by Spring 2016. In addition to considering fabric treatments to provide performance intrinsic to a pair of On-the-Gos, designers and producers focus on sourcing the most advanced fabrications from the most cutting-edge mills. "We really rely on fabric and fiber and construction to provide performance, as opposed to chemistry," explained Doug.
For these futuristic pants, the future is bright. On-the-Go will soon grow into a ready-to-travel, entirely packable, and ultimately comfortable capsule collection that utilizes innovative technological advancements while still maintaining the proud history and classic heritage of the Dockers brand. And while we're pretty sure you'll wind up sporting these puppies on your daily commute — a new pair is also the perfect excuse to book a plane ticket somewhere fabulous. Bon voyage!