March 2, 2015
A profile of Frederic Wilmotte, Sr. Manager, Global Brand Environment, Levi's
Frederic Wilmotte's job requires him to create a 100+ page reference tool every month. Is he teaching people how to assemble Ikea furniture? No. In the past year he has easily visited more than 60 shopping malls around the globe. Shopaholic? Guess again.
Frederic is a Senior Manager of Global Brand Environment for the Outlet Division at Levi Strauss & Co. The monthly product directive he develops — called "The Rig" — contains everything a Levi's outlet store needs to know about what to do with a new delivery. The Rig fully explains how to merchandise, style mannequins, set-up windows, position their floor fixtures, present promotions and more. According to Frederic the goal is to be precise and instructive while also allowing room for local interpretation without deviating from the overall directions.
"Every store is uniquely different, so we must create and deliver a document they can all understand, while also allowing them to adapt according to their environment, but without deviating from our brand expression," he said.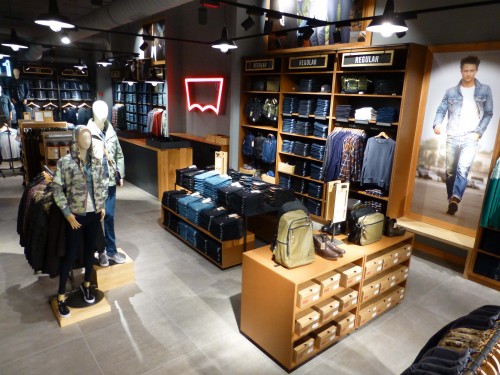 Building Bridges and Shared Understanding
Creating The Rig is a labor of love for Frederic, but the document itself is only the beginning. He and the Global Outlet team visit outlet stores around the world to provide support and training, gather necessary feedback, and to help with execution. Frederic aims to foster a true-partnership by listening to the challenges each store encounters while simultaneously working with them to create and develop solutions.
Frederic says visiting stores is one of his favorite parts of the job. He loves connecting with the teams and seeing first-hand whether concepts were translated correctly and what each store went through to get there. He's particularly interested in each store's nuanced interpretation of guidelines and directions based on the Rig. When stores have creative ideas and great suggestions, Frederic and the team will sometimes incorporate those into future documents.
"What you learn in the store is beyond valuable — I come back with an accumulation of knowledge and I incorporate what I've gathered into the building of future Rigs."
Ultimately, success means presenting a brand identity that aligns globally and tells a story that is uniquely Levi's.
"We have a unique brand with an unparalleled heritage that everyone in the world recognizes. So many people have an emotional attachment to the brand because Levi's has been a huge part of their lives," he said.
His hope is that stores will not only apply the guidance his team provides, but will also effectively tap into that excitement of the brand and its history.
Walking the Levi's Walk
Frederic counts himself among those who have a deep appreciation for the Levi's brand; however, he did not start out as a fan. His first memorable interaction with the brand was in his early teens, when he lived in Belgium. His mom took him to the only store in town where they were selling Levi's 501 jeans.
"I originally didn't go for the 501s because I was trapped in a very unfortunate European-jeans aesthetic back then. I was too young to appreciate them."
Now he's all about 501s. They've been around the world — from a Levi's outlet in Austria's backcountry, to a dude ranch in Montana, to the shores of Uruguay, and to San Francisco City Hall on his wedding day.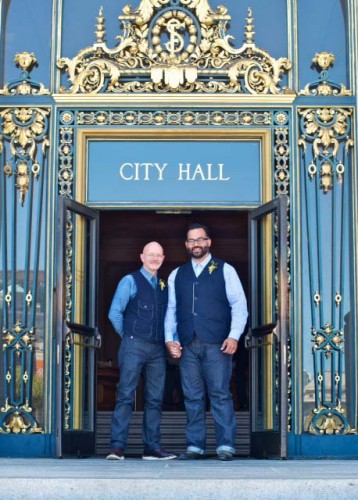 "They are almost like my armor, they are my Spanks! The more rigid, the tougher, the better… I love them. I can't stand stretch or elastic in my jeans — a basic rigid 501 that takes six months to break in is my ideal pair of jeans."
Crafting a Window of Opportunity
Before he found his niche in the retail world, Frederic worked as a teacher in Europe than as a restaurant manager in Chicago and San Francisco. Eventually he grew tired of the hours, namely working when the rest of the world was out having fun, and decided to transition to retail management. When one of his visual managers quit, he took over the implementation of the window displays and soon discovered he not only enjoyed it, but also excelled at it.
Today, Frederic gets to put that talent to work, but on a global scale. And windows are but a tiny sliver of his overall purview.
"People think I spend my life in windows. Or that my job is all about folding denim and dressing mannequins," said Frederic. "There's a lot more to it, although incredibly fulfilling, it can also be really challenging work!"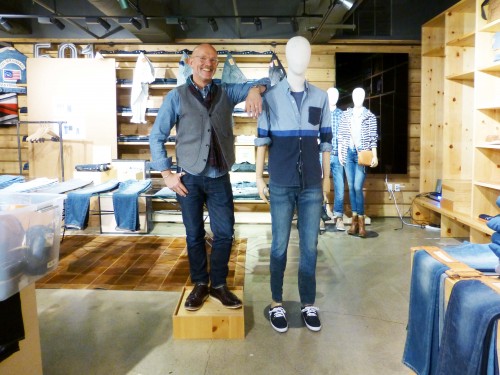 Moving dozens of mannequins, aligning countless floor fixtures, can be back breaking sometime, but it's a job he absolutely wouldn't trade.
"It's hard, but it's fun. I'm able to use my creativity while indulging in the world of fashion."