January 26, 2015
For LS&Co.'s Senior Innovation Designer Una Murphy, predicting the future comes with the territory. After working on Levi's® Vintage Clothing for two years (a role she likens to a "classical training in denim"), serving in a multitude of design positions across the company, and working on brand concept — that is, determining mood and vision for each season — Una is now part of the Design Innovation Team. Day-to-day, she proposes new ideas and technologies, explores performance-based product, and focuses on new ways of making clothing more sustainable. Who better to do a bit of 2015 denim fortune telling than the indigo expert herself? We quizzed Una about her process, the biggest denim breakthroughs in 2014, and, of course, what we should look out for on the blue jean horizon.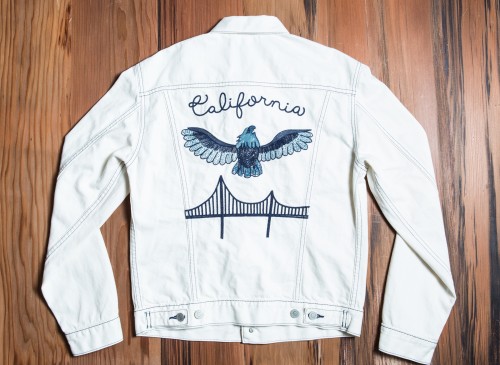 UNZIPPED: When you predict trends, what do you study?
Una Murphy: I try to be open to a broad range of influences and references. For innovation, we sometimes work a couple of years out. It's not immediate trend research in the typical sense. We look very closely at what's happening in the fields of technology and sustainability, and how that can be applied to what we do here.
In terms of fashion, there are many different categories merging, which is a great catalyst for new ideas. I love a beautiful fabric, so I enjoy materials research at yarn and fabric shows. We do a lot of global travel and visit exhibits, which is hugely inspiring. Levi's is a youthful brand, so we like to be aware of how people are appropriating their own looks on the street and what makes them interesting.
The endless feed of visual stimulation from the internet, which allows for the accessibility of so many ideas is also very exciting. Part of that process is the thoughtful edit of what's important for our brand and most relevant to our customer. For me, it's an amalgamation and balance of seeking out the most interesting parts of all of those influences.
Looking back, what were some of the biggest trends in denim in 2014?
Fashion-wise, we saw a broadening of silhouettes—moving beyond just the skinny jean to a more cropped leg and playful, loose proportions. We also saw more refined basics come onto the scene: tailored details, clean and crisp looks, and darker colors. And denims were informed by classic, refined fabrications like wool. We also saw an uptick in performance denims that enable different lifestyle choices: water repellency for commuting, and stretch for mobility and comfort. We continued to see even more sustainability enter the denim space. LS&Co. expanded on our Waterless and Wasteless platforms—and we have some very exciting new initiatives coming this year.
What are some of the biggest fashion-related trends you predict in 2015?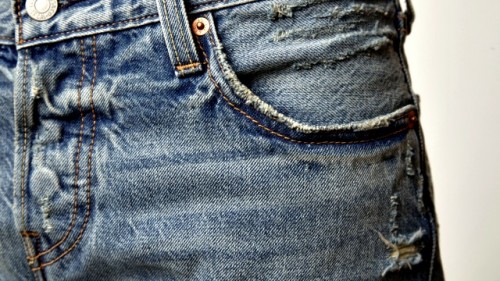 I think 2015 will be a big denim year. So many designers are experimenting. There are lots of jeans on the runway and people are having fun with how they wear their denim on the street. People want to appropriate to their own style in a more personalized way.
We will also see more classic looks that reference authentic denim—perfectly worn and broken-in. There is a return to straightforward things that that embody the attitude and spirit of our brand—like the 501. That jean is really versatile and suits most people. It's all about how you wear it. I love the new 501 CT, which looks great worn undersized, or oversized and more relaxed.
I think there is a resurgence of craft and fiber art, partly inspired by the Maker Movement. This is influencing some expressive embellishment and decoration trends in denim. I think we will see more of this treatment in 2015.
Are there larger social trends that these predicted denim trends are related to?
Today, there is an increased awareness of how your clothes are made, and by whom. Consumers have a deeper understanding that your clothes have a social and environmental impact. People are buying quality. They are looking for things that feel good, and work for different occasions—items that they can keep around for a long time. They're buying things that speak to them—not just what is being sold to them.