January 15, 2015
Levi Strauss & Co. is, of course, famous for denim: we made the first blue jeans by taking this traditional work fabric, adding copper rivets for strength, and creating an entirely new category of work clothing that has now taken over the world as a fashion item.
Throughout our history we have also made clothing in other fabrics: chambray, wool, leather, corduroy, khaki, gingham, cotton duck, rayon, jersey knit, and, unfortunately, polyester. Let's hear about two of them: chambray and wool.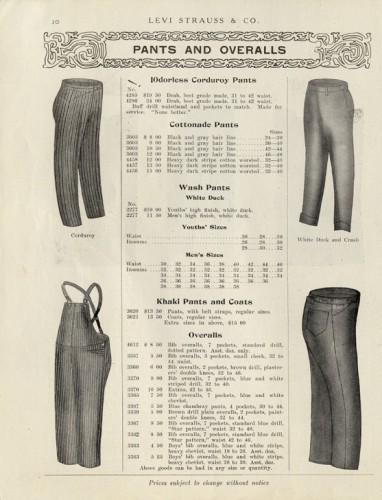 Chambray first entered company product lines around 1913, when we made light blue shirts in this fabric. But chambray wasn't always blue, and it sometimes had colorful names: Amoskeag Chambray came in plain blue, plain dark dark gray, plain light blue and plain tan. Golden Rule heavyweight Chambray shirts were offered in dark blue, heavyweight gray and heavyweight tan. Uncle Sam Chambray came in only one color: Blue. There was Ideal Chambray, and the best name of all: Defiance Chambray. We made shirts in this fabric in plain blue, plain tan, plain gray, fancy tan plaids, gray ground/white stripes.
In the 1930s we made started to make chambray playsuits for kids. In the Casuals line of the 1950s, women could buy chambray rompers. Then, in the 1970s, came chambray's heyday.  During that decade, teenage girls (and some guys) personalized their chambray shirts with embroidery, beading, paint, etc. They were doing the same to their jeans, which led LS&CO. to hold the Levi's Denim Art Contest for consumers in 1974.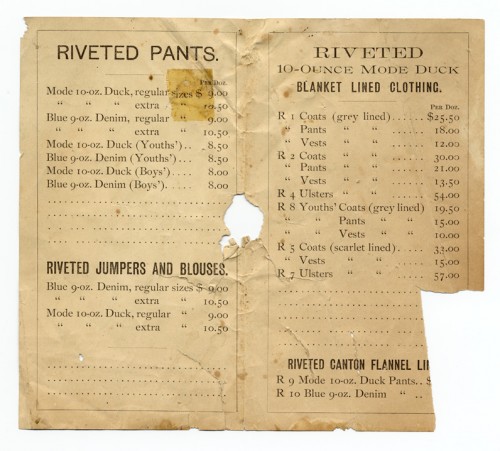 Wool is another vintage fabric that we took advantage of. In 1875 Levi Strauss and Joseph Brandenstein bought the Mission and Pacific Woolen Mills, located in the south of Market industrial district of San Francisco.  It was mostly an investment, because the following year Levi and his partner sold it to the owner of the Pioneer Woolen factory, and the name was changed to Mission Woolen Mills.  Levi remained a stockholder, and was also a director of the Pioneer factory, which is now a historic landmark near famous Ghirardelli Square on the San Francisco waterfront.
When LS&Co. wanted to make woolen blanket-lined clothing in the late 1870s, Levi had an edge on sourcing the wool he needed. In fact, we won a medal at the 1890 California State Fair for "Best Display of Woolen Goods." We made blanket-lined jackets into the 1970s, and the Archives has some beautiful examples.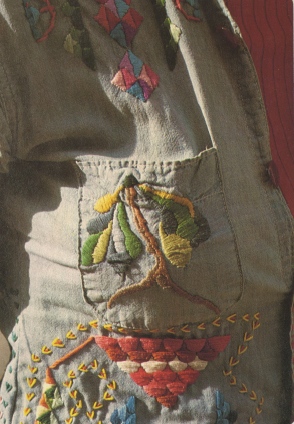 By around 1904 we were making wool shirts, and these became a staple for the rest of the century. In the 1930s and 1940s there were wool gabardine shirts for fine office wear or formal events at western dude ranches. Plaid flannel shirts were also offered, and these were everyday wear from the same guest ranches, to weekends in small town America. And in the 1950s, every dad in America wore a "shirt jacket:" long wool shirts that went below the waistline with pockets near the hem.
Stay tuned for future stories about other fabrics that Levi Strauss & Co. used and, in some cases, made famous.