December 12, 2014
If you love denim as much as we do, there's one thing your jeans definitely have: a fair bit of fading. That's because denim fades are an uncontestable sign that a pair of jeans have truly lived. Whether your jeans reflect the outline of your wallet, fading from the sun, or span decades of wear, the fades we sport are an integral part of our favorite denim pieces.
Earlier in the year, we laid out a few environmentally friendly fades. This time around, we revisit the art of sustainable fading with four fades that anyone can achieve with a little time, patience, and vision. But one thing you won't need? Fresh water.
So how can you achieve killer fades without washing? Try one of these unique and sustainable fades for an epic looking pair of jeans, custom tailored to reflect the exact way they're worn. All of the fades listed below can be achieved via sunlight, repetition, manual distressing, and a little bit of worn-denim love.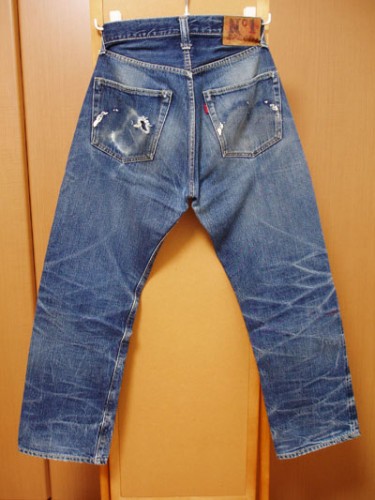 The inheritance fade: Sure, everyone wants to fade their raw denim stat, but sometimes the best things really do come to those who wait. Just check out this pair of vintage Levi's 501, featured on Heddels' Fade Friday; the jeans were initially worn by the submitter's great-grandfather, likely sometime between 1941-1945.  The result: a fantastic pair of jeans with fades that only 55 years can create. The pants have withstood the test of time, sure, but they also have incredible decades' worth of timeworn fades. It's a compelling case for seeking out the 'inheritance fade.' Parents, grandparents, and great-grandparents (and of course, thrift stores around the world) might just have a stash of old jeans waiting to embark on the next fading chapter.
The no-wash-24-7-wear fade: What happens when you don't wash your jeans and wear them everyday? Awesome fades, like this one we found on imgur. The fades are featured on a pair of Levi's 514s. We love the honeycomb fades behind the knees, the wallet fade in the back pocket—and of course, the fact that these jeans haven't seen the inside of a washing machine once. That kind of commitment to sustainability is just as impressive as the fades that ensue.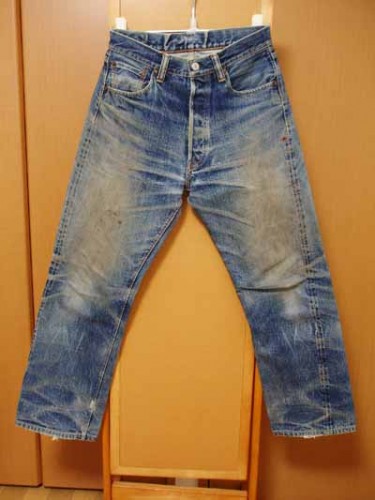 Manual distress fades: The answer to a unique distressed look on a pair of jeans might just be found in your toolshed or kitchen. Using a cheese grater, sandpaper, an old brick, or metal filing tools can give jeans a rugged and worn appearance in no time. Of course, 'de-filed' fades are a bit of a controversy: after all, it's a shortcut to achieving a worn look fast, but when it's done right, a little sandpaper or pumice stone can up the wow factor of your fades when you get impatient. And if you want to take it a step further, why not add some fashionable holes and rips? We like the advice for distressed jeans via Rachellea on YouTube. And for even more shredding know-how, see ModCloth's step-by-step DIY guide.
Beach fades: Ok, we said no water, but ocean water is an entirely different beast and a trip to the beach is a great way to fade jeans in a unique and fun way.  Plus, here at LS&Co.'s SF HQ, we're a bit partial to surfing so we're pretty enthused about any fades we can achieve with some waves and a bit of sand. Denimblog has a comprehensive set of guidelines for beach fading—but, of course, we recommend cutting out the fresh water rinse. The simple combination of sun, surf, and sand is a great way to wear your jeans and have a fun day at the beach—just make sure it's a warm day so you can dry your denim out in the sun.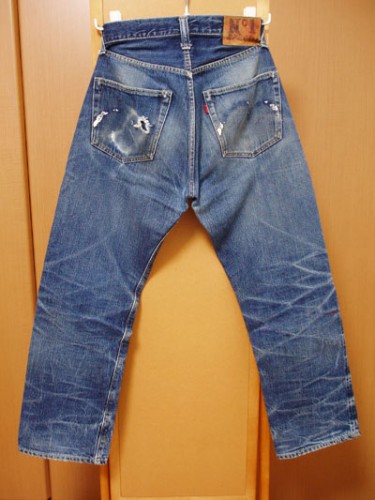 Have any favorite sustainable fades? Tell us about it on Twitter @LeviStraussCo.