December 9, 2014
What do greasers, cowboys, hippies, rock stars, and rappers all have in common? An article of clothing that stands out in America's sartorial history for being synonymous with change, independence and freedom: the jean jacket. Its seams, stitching and, of course, denim, represent revolution and hard-working American tradition.
The journey of the jean jacket began in the early 1900s, when Western workers adopted denim as their uniform for its durable yet versatile cotton textile. It was this image of the workingman—a tried and true cowboy—that sparked pop culture's interest in the jacket's rugged glory. Silver screen stars like John Wayne and Bing Crosby—known as much for the Canadian Tuxedo as his bravado—gave the jean jacket its notorious air of infamy.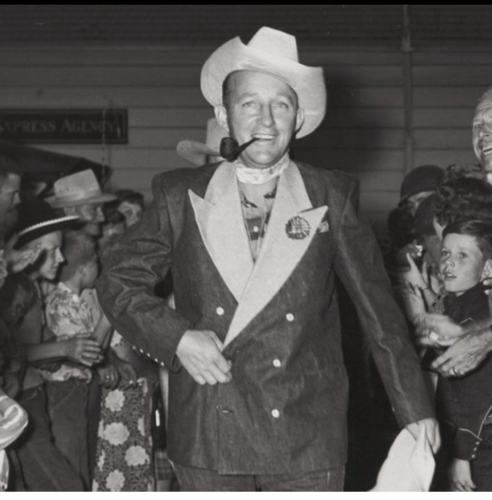 Soon after, the James Deans and Steve McQueens of the '50s and '60s slipped into the jean jacket's rebellious sleeves to go up against American society's newfound penchant for materialism, urbanization, and conformity—giving the jacket its quintessential cool status.
Taking the iconic piece a step further were the punk-rock vanguards that ruled the blue hue from the late '60s into the '80s. A denim jacket, distressed T-shirt and distressed, studded jeans became a visual representation for rock bands anti-establishment anthems.
In the '90s and early 2000s, hip-hop and pop artists gave the classic statement a current twist, while the jean jacket's underlying philosophy remained the same. The garment was a knock to the 'suits' of the world, it's informal yet edgy heritage making it the ideal item to stick it to the man.
Today, the denim jacket is still celebrated for its place in sartorial history. It has, and always will be, an outlet of expression. Trends come and go, but the jean jacket continues to reinvent itself, time and time again.
Take a look at Levi's® take on the jean jacket below—and start shopping for your next denim staple.

4 WAYS TO WEAR THE JEAN JACKET:
The Cowboy:
Channel the Wild West in the Double Stitch Trucker Jacket. Its oversized pockets and svelte silhouette give it the effortless and rugged feel that the silver screen stars mastered.
The Classic:
Keep it classic in the Trucker Jacket. Clean lines, bronze hardware and a snug fit make this jean jacket a universal denim go-to. It's led the pack since 1962, and still remains an icon of American cool.
The Rocker:
A slim fit, cropped length, and distressed denim make Levi's Authentic Trucker Jacket the ultimate punk-rock piece. Pair it with a dark skinny or flowing frock—and start rocking.
The Runway:
Reimagine the recent runway trend of sumptuous shearling in our Relaxed Sherpa Trucker Jacket. Classic denim gets an upgrade with a cozy collar and deep blue hue. Pair it with a tulle skirt or earth-toned chinos to take the catwalk to the streets.