November 9, 2014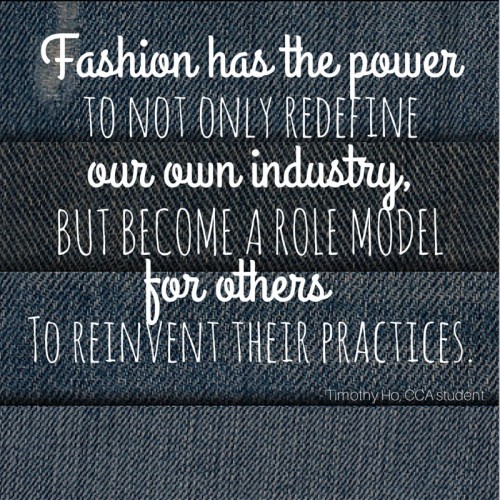 When it comes to fashion trends, no one knows exactly what the future will hold. What we do know is that next-generation designers will be critical to helping create an apparel industry that's not only cutting edge, but that also minimizes negative social and environmental impacts.
That's why we believe it's so important to support educators, such as California College of the Arts (CCA). Over the past eighteen years, CCA has led the pack in developing an undergraduate program dedicated to helping shape a new type of apparel design graduate — one that possesses the skills to design a beautiful collection and the desire to do so in a way that considers sustainability.
CCA is the only fashion school in the U.S. that has focused coursework directly on fashion sustainability at the undergraduate level. Students are required to take two core courses, one theoretical — studying and exploring the many methods of sustainable design — and one practical — in which they put their knowledge to work in the studio.
The aesthetics of student's designs are as important as the concept. CCA's Fashion Design Chair Amy Williams explained, "We are not designing pull-on pants in hemp that aren't fashion forward. We are making beautiful fashion, and we want it to be mindful."
CCA encourages their students to consider each negative impact within the industry as a jumping-off point towards a solution. Beyond teaching students to be aware of supply chain impacts and waste, they also focus on a range of issues, from product longevity — best demonstrated by a durable pair of Levi's 501 jeans — to transforming consumer behavior and challenging cultural norms — for instance, finding ways to prompt consumers to wash their jeans less, and designing garments that evolve with the wearer over time.
Lynda Grose, the faculty member and sustainable designer whom Williams attributes to revolutionizing this type of thinking at CCA emphasizes the multiple facets of sustainable design, as well as the varying degrees that a student might incorporate these theories into their work and professional practice.
"We define an arc," said Grose. "At one end we do a bare minimum…lessening impacts in current modes of designing, manufacturing and consumption; the other end might be represented by speculative ideas of all kinds, from modular garments to 3D printed garments produced by the wearers themselves. We emphasize that whilst the industry is in the midst of change from unsustainability to sustainability, working anywhere on that arc is appropriate. If you are in a place where you are able to make change, however small, that's the right place to be."
The approaches of CCA's current students speak best to the school's progressive teachings. Senior Timothy Ho won one of the Levi's 501 Award for his work with cationic yarn. The yarn allows manufacturers to create a full gradient of tones on a single piece, without the use of multiple dye baths. Since the percentage of cationic fiber in each yarn determines the amount of dye taken up, inventory can remain in undyed (greige) state until sales are received, vastly reducing inventory waste.
Senior Sophia Jain-Embry, a former LS&Co. intern also won an RSA competition for her exploration of an "Under Five" jacket, which can be sewn in under five minutes. The concept of this timesaver is that it would relieve the pressures of speed in garment making and create a high value garment at low cost, allowing more room for fair profits and better wages for workers. Sophia also notes workers could affordably make their own professional clothing, for example a blazer for a job interview.
These projects exemplify just a few of the creative ideas that CCA encourages their students to consider. Students have explored a range of strategies, from pouring entire garments from single polymer materials, to using triangular pieces to create completely "zero waste" collections. Many alumni are now working for cutting-edge thought-leaders, and driving social and environmental change within the industry.
Ho told Unzipped, "Fashion has the power and ability to not only redefine our own industry, but also to become a role model for others to reinvent their practices."
Williams says that the inspired talent coming out of CCA keeps her optimistic about the future of fashion. "They get it. They want to make a change. Their frustration is going to keep moving them — and that gives me hope."
Feature photo credit: Jim Norrena