October 7, 2014
The average person spends nearly 100,000 hours at work over their lifetime. That's more time than we spend eating (38,003 hours), driving (37,935), and cleaning (12,896 if you're a woman or 6,448 if you're a man) combined.
With that many hours logged, it's no wonder we often form strong bonds with our co-workers. The strength of those relationships often comes into clear focus when a fellow co-worker faces an unexpected emergency — especially if they're lacking a financial cushion to absorb the blow.
That was the very issue motivating Jerry O'Shea to start the Red Tab Foundation (RTF) in 1981.
Building a Financial Safety Net
As his 42-year tenure with LS&Co. concluded, the stock-boy turned marketing executive was mindful of the thousands of manufacturing employees who had also devoted their careers to LS&Co. In his mind, these men and women were the ones who made it possible for him to succeed, and he wanted to find a way to give back to them.
He saw opportunity to create a financial safety net for his former and future colleagues. By offering a way to help minimize the economic impact of an unplanned emergency, he hoped to make it easier for them to get back on their feet.
Inspired by the company's history of philanthropy — dating back to Levi Strauss himself — Jerry and his wife Claire established RTF using $100,000 of their own money. The O'Shea's also contacted other LS&Co. executives to ask for support. They agreed that a foundation started by employees, for employees, was not only a logical extension of the values inherent to the company, but also an essential contribution to the community.
Within the apparel industry, RTF became the first of its kind employee assistance foundation dedicated to employees supporting one another.
Helping Co-Workers & Retirees When They Need It Most
Fast-forward more than thirty years and RTF is still going strong. Last year, the foundation delivered over $1 million USD in emergency assistance and scholarships for the seventh consecutive year.
While this monetary value is significant, the emotional value created for thousands of individuals and their families is immeasurable. Since 1990, RTF has supported more than 6,000 LS&Co. employees and retirees around the world, helping them rebuild their lives and meet basic needs.
Consider Susan, an LS&Co. planner from San Francisco who suffered a life-threatening brain aneurysm. RTF paid her family's travel expenses so they could be at her hospital bedside and provided critical support with pressing financial concerns while she underwent intensive rehabilitation. This alleviated the family's worry so they could focus on Susan's recovery.
Or Pamela, who works in the finishing department in Cape Town, South Africa. When her home suffered a devastating fire, taking the life of her husband, RTF provided funds for food, clothing and shelter to help Pamela and her two young sons rebuild their lives.
It's All in the LS&Co. Family
Not only does RTF help people overcome challenging circumstances, but it also gives our employees a unique opportunity to support colleagues in need around the world.
In Switzerland, for example, employees from a local sales office got together to rework mutilated product samples in a creative and philanthropic way. The team designed and manufactured denim pouches for iPhones and iPads. They sold their creations at a European sales event, and donated the proceeds to RTF.
"Just think for a second about how good it feels to get help from someone when you are in need. And now think about how it feels to get help from family. The Red Tab Foundation is your second family," said one LS&Co. employee of the experience.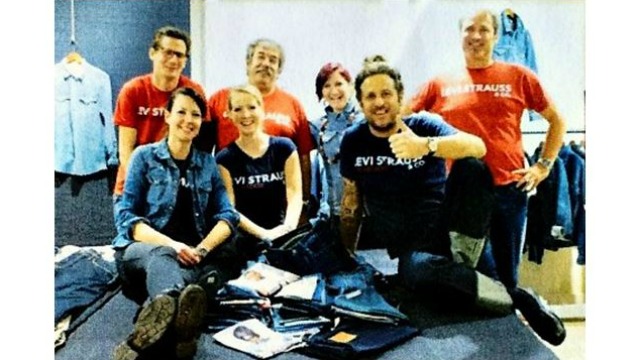 Visit redtabfoundation.org to learn more about RTF.