September 11, 2014
Eighty years ago this month, Levi Strauss & Co. forever changed women's fashion with the introduction of Lady Levi's® jeans — the world's first jeans made exclusively for women. To celebrate, we'll be sharing Levi's women's fashions from our archives throughout the month.
After World War II, Levi Strauss & Co. started selling Lady Levi's® jeans beyond the western states. It didn't take long for them to morph from dude ranch attire to de facto uniform for the suburban mom.
By the early 1950s, there was a marked change in attitude toward denim. Instead of being viewed as a fabric exclusively for labor, it was recognized as an option for leisure as well. Trade magazines of the period make this very clear; in 1956 a writer for American Fabrics said that denim is in an "entirely new clothing category: it used to be work clothes, but now it's work 'n play clothes."
This image appeared on in-store advertising cards in the 1950s: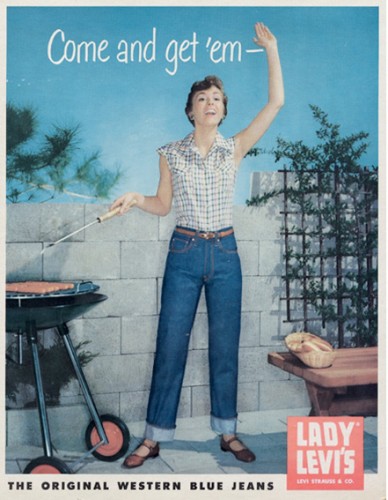 By the mid-1950s, LS&Co. was making men's and women's clothing under the Casuals label. In 1955, the women's Casuals line was so extensive it was given its own catalog, which was filled with the skirts, blouses, and "pedal pushers," popular in films and in suburban backyards.
The clothes were heavily advertised in magazines such as Glamour, Mademoiselle, and Seventeen. Here's a sample: