July 31, 2014
Right now skinnies are in, but every few years the flare becomes popular again. When wide legs had their heyday in the 1970s, Levi Strauss & Co. made flares for both men and women in everything from denim to corduroy to American-flag woven stripe. But these were only the most recent version of a style that has been around for 125 years.
In 1889, LS&Co. launched a new product called Spring Bottom Pants. Research reveals that "spring" meant "flare," and custom tailors would "cut more or less spring as desired." It was a popular style in the late 19th century, and we decided to make our Spring Bottom Pants in blue-and-gold denim. They had the famous copper rivets, just like our 501® jeans, but these pants weren't meant for laborers. They were advertised to workers such as bookkeepers and factory superintendents — jeans for middle management. By the turn of the century we were making them in black denim, as well.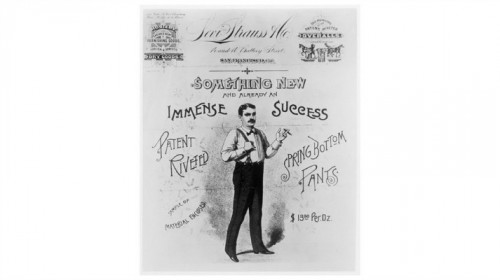 During the spring of 1889, the company sent out samples of the trousers to its retail customers all over the West. One of them was Mr. M. E. Carter of Fort Bridger, Wyoming. On April 15, we mailed him his order of dry goods and enclosed a dozen (that's right, a dozen) of the new Spring Bottom Pants. On the accompanying statement, one of the company salesmen wrote:
We have taken the liberty of adding 1 Doz of our Patent Riveted Spring Bottom Pants being something new in that line & we are sure that you will find them very desirable—There is already quite a demand for them on all sides—We enclose a size list for same.
By 1911 the fad for flares seems to have waned, and we dropped Spring Bottom Pants from our line. But we're fortunate enough to have two pairs in our archives: one from the 1880s and the other from about 1900. They are both made of the special blue-and-gold denim; maybe one of these days we'll find one in black.