May 23, 2014
This coming weekend is Memorial Day–and that means summer is officially upon us. And that means that wearing white is finally and awesomely in season.
The long running rule of when to wear white has been contested across the sartorial world. When the season officially begins remains a point of contention—some say Easter, while others believe firmly that Memorial Day kicks off the season of donning white—but there's little disagreement that Labor Day signifies the season's departure.
We love pairing our Levi's® with white linen shirts and our Dockers® with summer-centric tops, but we wondered: why, exactly, is there only one relatively short season to permissibly wear white?
Last year, Mental Floss aimed to set the record straight by providing some historical context to the trend. Their take? In the wake of the Civil War, high society wives created dozens of intricate fashion rules in an attempt to discern 'old money' from the nouveau riche. Instead of measuring wealth to determine who was 'in' or not, society women accepted others into their exclusive circles based upon whether or not they adhered to rules like sleeve length, and yes, wearing white solely in summer.
Why did Labor Day signify the annual end of wearing white? Because it became a federal holiday in 1894, and thus; an easily identifiable marker signifying when to put white wardrobes back into storage.
While it might seem like an arbitrary fashion fad fated to be righted by time, the rule of wearing white continues to carry clout over one hundred years later. Time speculates that the trend was likely perpetuated by fashion magazines such as Harper's Bazaar and Vogue, which reflected weather-appropriate attire for the cyclical weather in NYC.
Of course, there have been fashionable exceptions. Coco Chanel famously refused to follow the rule—wearing white whenever she wanted, and usually in full suits. Recently, The Huffington Post conceded that if you want to wear white after Labor Day, you should only be certain it isn't linen. Even etiquette guru Emily Post cops to wearing white after Labor Day, weather permitting.
And last year, Gwyneth Paltrow's appearance at an LA premiere received a lot of praise—and sparked an entire article on the topic over at The Boston Globe. One of the biggest insights unearthed by writer Beth Teitell? In an era when "young women wear Uggs in the summer and flip-flops in the winter," why do we still follow the peculiar rule of when to wear white?
Unanimously, the consensus seems to agree: because we've developed a habit of following it. Despite the many articles urging shoppers to fearlessly wear white after Labor Day, we still have a cultural tendency to put the white wardrobes back into the closet at the end of summer. In the end, it clearly comes down to personal preference and a fair bit of tradition.
Here at LS&Co., we love tradition, but we also hope that this is the year our white wardrobes persist well into the fall—and maybe even into winter.
Regardless of how or for how long you wear your summer whites, Dockers® has a great crop of white pants to keep you fashionable this season and hopefully, well into the next.
Here are a few Dockers® styles to add to your summer white wardrobe:
Classic guy: Signature Khaki
Classic Fit
100% Cotton
No Wrinkle Fabric
Permanent Crease
Color Bond technology keeps them looking new, even after 20 washes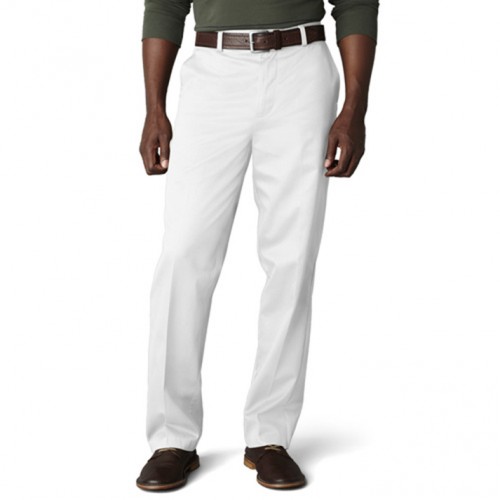 The Perfect Short –  Just like the name states, a classic short for a perfect summer day on the beach or the golf course.
Classic Fit
100% Cotton
Features on-seam mobile pocket for the guy on the go
10.5" inseam
Price $48
For the modern and stylish guy: Alpha Khaki
Slim fit with a tapered leg
Wears like a pair of jeans
100% Cotton
Price $68