May 19, 2014
Quilting is having a major moment. And denim has an unquestionable place in quilting history.
Quilts and Color: Quilts from the Pilgrim/Roy Collection is currently on display at the MFA Boston, and is not to be missed. The exhibit features 58 selected quilts from the Pilgrim/Roy collection and is designed to show how 19th century quilt makers were way ahead of the mid-20th century Abstract Expressionists in their use of color.
Gerald Roy and his late partner Paul Pilgrim initially began purchasing quilts as art consultants for designers and corporations in the '60s, and became fascinated with both the beauty and history of the medium. Over five decades, they passionately amassed what is now a world-renowned quilt collection of approximately 1500 quilts, and the only one of its kind.
Beyond being a masterful collector and historian, Roy is an accomplished quilter, preferring to use what he calls "honest materials" in his work. Yes, that means denim.
We were lucky to get the opportunity to talk with Roy about denim's role in this age-old form of artistry and his own work.
UNZIPPED: Have you seen a lot of denim throughout your collecting?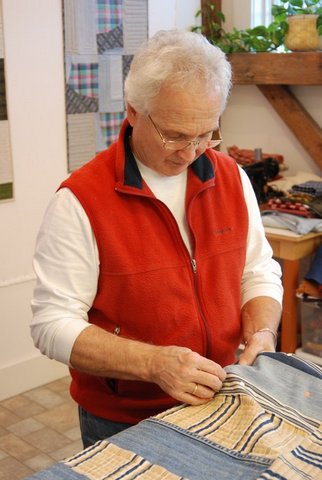 GERALD ROY: We mostly saw denim in utility quilts, combined with wool or heavier worsted materials, rather than dress weight cotton. It has to be used with fabrics that are heavy enough to be consistent with the thickness of the denim.
What are utility quilts?
Quilts that were made for everyday use, especially in the rural communities. They weren't necessarily made with the finest craftsmanship and the finest needlework. They were made for warmth and to be used.
That doesn't mean they aren't beautiful, but it is a different kind of beauty. They are rougher textured and lend themselves to bigger pieces rather than the tiny little intricate pieces that cottons do. They require bigger stitches and are tied off with a chord made from a heavier material.
Which communities made utility quilts?
Rural areas and farm communities throughout the country—places where denim was most common. There were more people working in farms and fields than there are in offices today. Denim, and Levi's® specifically, satisfied a need for work clothes. It wasn't fashionable and it wasn't a status symbol.  It was a symbol of hard work, toil and honesty.
Because of its weave, denim lasted much longer than plain cotton. Even when jeans get washed over and over, the material stays strong. The clothes were no longer functional enough to wear, but there was still enough left of the denim to be used in a second way—for quilts.
Tell us about your quilting process and when you started to quilt.
Paul and I had designed fabric collections of printed cotton fabrics for quilters for P&B Textiles in Burlingame, California. He was already famous in the contemporary quilt world for his own quilts and was teaching nationally. When he was first diagnosed with cancer, he said it was time that I seriously learn how to make quilts.
At that time my quilts were made from printed fabrics that we designed.
It was not until after he died in 1996 that my quilt making changed, and I began "reassigning" materials. Now, I like to use what I call "honest" materials in quilting. Rather than buying fancy materials and cutting them up, I hunt flea markets for antique fabrics that have never been used, usually homespuns, wools, ticking—which has wonderful bold blue and white stripes and works really well with the faded blues of the Levi's®—and rougher textures.
That's why I got into using the denims, primarily denim from leftover jeans that Paul and I both wore.
So, you cut up actual jeans in making your quilts to compliment other antique textiles?
Yes—jeans or other denim pieces of used clothing.
Paul and I shared 33 years together. When he died I saved pieces of his clothing that were meaningful to me—his Pendleton shirts, his worn blue jeans. Working with these materials helped me through the grieving process.
This is a part of quilt history. There are many records of others sharing this experience. Quilt making goes beyond what other art forms provide because it is so personal. Quilts are usually made for loved ones. They are celebratory and they have provided an outlet for quilt makers throughout their lives. Birth, betrothal, marriage, friendship, death, and mourning: there is hardly an occasion that hasn't been celebrated with a quilt.
Is your draw towards these "honest" fabrics aesthetic or utilitarian?
Purely aesthetic. For me it is the love and respect for the cloth. I choose my materials based on what I want to say artistically.
Denim's fading gives it a quality that I like. There is a gradation of color there that occurs quite naturally just from denim being worn and washed. If you cut it right and use certain parts, you get a great deal out of the material by virtue of the fact that it has experienced a certain kind of use in its lifetime.
How long do you spend on each of your quilts?
Sometimes a quilt will take me up to a year depending upon the design, size and complexity of pattern. I love the process, so I am not in a hurry. Sometimes I hate to see the process end because I have enjoyed working on it so much.
What are the challenges inherent in quilting with denim?
You have to use a bigger needle because the material is so thick. The chord I use is part wool and part polyester, so that it has strength to go through the three layers. The heaviness of the quilting thread has a relationship to the fabrics I am using. The two marry together.
The methods of construction are challenging because they do not involve straight seams and simple patchwork, so my quilts tend to be a bit more freeform. I often deal with curved lines due to the shapes of the scraps I am working with have to think more about how they work with one another.
Tell me about your piece "Pockets and Patches" that prominently features a pair of Levi's®.
It was actually a result of cutting out denim pieces that I wanted to use and tossing the scraps on the floor. Then I looked at the floor, and it was more interesting than what I was doing on the design wall! So I started working with the scraps instead, and it came out much more interesting. The quilt was in an exhibit once, and when it came home, I turned it upside down and a quarter fell out of one of the pockets. Someone had given me a donation.