May 16, 2014
Innovation is in our DNA. We've built our company on game-changing industry firsts, and last week, we gave Mayor Ed Lee an inside peek at where it all happens.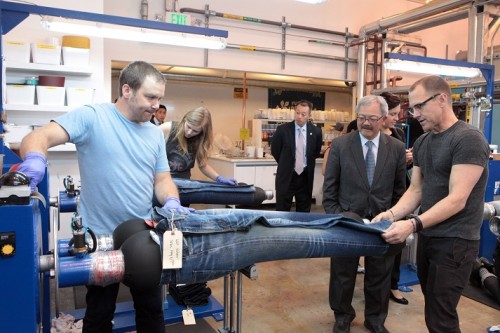 Last Friday, Bart Sights, LS&Co. Director of Global Development, and Chip Bergh, LS&Co. CEO, led Mayor Lee and members of the economic and workforce development team on a tour of the Eureka Innovation Lab. Opened last year, the Eureka Innovation Lab is our research and development facility dedicated to hands-on testing and developing prototypes. Bart explained how LS&Co. is pioneering denim innovation out of the city where the company was founded over 160 years ago.
The Mayor learned about Eureka's state-of-the-art technology and unique talent that positions us at the forefront of product innovation in the category that we created – the blue jean.
With a fondness for the industry, Mayor Lee sees apparel manufacturing and design as a growth opportunity for San Francisco. Not surprisingly, we share this desire to make sure that pioneers in the apparel industry continue to call San Francisco home, which is just one reason why LS&Co. and the Mayor support organizations like SFMade (in fact, we were a founding partner!), a non-profit that supports entrepreneurs designing and manufacturing San Francisco-made products. It's also why LS&Co. moved its Innovation Lab from Corlu, Turkey to a location just a few blocks away from Levi's® Plaza.
Apparel and San Francisco aren't the only passions that Mayor Lee and LS&Co. have in common. Early in his career, Mayor Lee led the Asia Law Caucus, a San Francisco-based civil rights organization. LS&Co. also has a connection to the Asia Law Caucus, supporting it through grants via the Levi Strauss Foundation's Pioneer in Justice initiative. In fact, LS&Co. and the Levi Strauss Foundation have made over $150 million in philanthropic contributions to the City of San Francisco.
While we're proud of our history of giving and our business presence in the city, the Mayor's visit underscored the role that Eureka and our commitment to community has on the city of San Francisco in the years ahead.