May 12, 2014
Keat Chan isn't just a denim arbiter, enthusiast, and blogger—he's a bona fide denim head, who knows the ins and outs of one of our all-time favorite fabrics like seldom others do.
As co-founder of Hall of Fade, a website known for being a major sponsor of the denim head, raw denim, and fade lovers' movement, he's well-versed in all aspects of the jeans way of life (and he might have Levi's® to thank for that, seeing as they were his very first pair of jeans!)
We were lucky enough to catch Keat in a rare spare moment when he wasn't busy connecting denim heads around the world, going on denim hikes (more on that below) and searching for his favorite fade ("the roping fades and the wear you'd get on the edge of your front pockets"). Keat gives Unzipped the low down on Hall of Fade and his immortal love for all things denim:

UNZIPPED: How did Hall of Fade come about?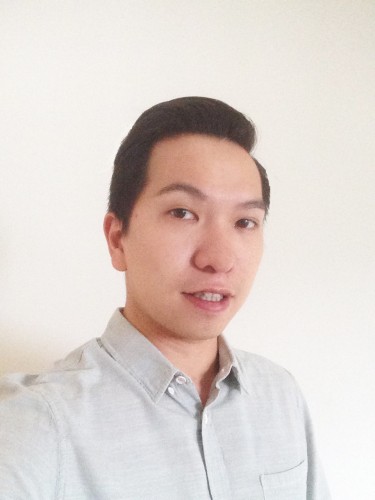 KEAT CHAN: Four years ago, Michael Hall started Hall of Fade with the ingenious idea of running an online database of faded raw denim. He had this vision that if everyone uploaded their pictures and categorized them into their respective brands and models, it would serve to be a very helpful tool for anyone looking to purchase new raw denim. To encourage the uploads, he came up with a worldwide raw denim contest that was sponsored by some of the most well known denim stores in the world, such as Self Edge, Cultizm and Pronto.
After the first contest ended, Michael reached out to me to help him with this project. Thus a partnership was born. Ever since, our blog has seen an incredible amount of traffic. We've also had great success with contests and collaborations. Now we're trying to build a community on our worldwide denim forum.

Who is the website for, in particular, and who do you think the biggest audience is?

We like to think Hall of Fade is a one-stop denim resource. It is for anyone really, be it a person that's completely green to denim, to an experienced denim head interested in reading different perspectives on the industry. Interestingly enough, we've received some emails from university students telling us they've written their thesis based on some of our articles. That's actually wonderful to hear as our articles are painstakingly researched (days of work) and written to provide accurate information. Looking at our Analytics data, our biggest fans come from the USA, followed closely by Europe, then Thailand.
What will people find on Hall of Fade that they likely won't find elsewhere?

We think that our site is very different from the rest and fills a niche that in part we created. For example, our worldwide contests don't have a start and end date. Everyone from everywhere is welcomed, so is every brand with any amount of wear.  Another example would be our Vault. No one else has put together this much faded denim from all the different brands online available to anyone for free. Stores can use our vault to sell their products to customers, customers can better understand the fabric they're buying based off various user submitted examples.
Our newly built forum is very different from the typical forums found everywhere online. The purpose of this forum is to build communities around the world and creating a more cohesive bond between denim heads all over the world. So we appoint ambassadors in different countries who will organize activities like biking, skiing, hiking, all done in denim, for their respective denim communities. Denim heads visiting from overseas will find an easy way to look up the local denim scene there and even participate in their activities. This is an idea we're sincerely hoping would catch on in a big way.
What ignited your passion for denim?

I've loved denim since I could remember. I like how crisp it feels when it's new from the starch in the finishing process, to how soft it gets after it's well worn. There's also the convenience of it all. Living in a first world country constantly chasing fashion trends, it's a welcome relief to wear that one single pair of denim day in and day out. I don't waste time wondering what to wear since the bottom half is already sorted! Another great thing to note, is that denim fades constantly. So that same pair I wore 3 months ago, looks different today and will look different 3 months from today. Denim is a living fabric, it looks different under various lighting conditions too. It's almost…magical.
What is something that most people don't know about denim?
Few people are aware that the techniques that involved extracting indigo dye from plants existed since the Egyptians in 4000 B.C. Twill fabric (which is essentially denim) was reported to have existed then as well. No one is certain when indigo and twill were combined and we might never know. Denim has seen a rise and fall through the centuries past. It was at one point blue gold, then it was the blue collar worker's uniform, now its back in vogue. It is rich in history as it is in color.
On the Hall of Fade, you recently featured a 'denim jungle hike'—that sounds awesome! Can you tell us a little bit about it?
Sure! The denim hike was the first non-profit trip we did to promote community building. We invited denim heads from both Singapore and Malaysia to come out to hike with us in the Taman Negara nature reserve in their favorite denim. Taman Negara is a protected rainforest that spans across three states in Malaysia.
A lot of people couldn't imagine what it'd be like to hike in denim in the middle of a humid rainforest, so we went as a small intimate group and filmed the whole trip down. Now everyone understands it wasn't tough to hike in denim at all. In fact, inside the rainforest it felt cooling from the shade given by the trees and the oxygen producing life all around us. It was a really great trip and we hope everyone enjoyed the videos. We're planning a yachting trip to one of the Malaysian islands next and there's a hiking trip in Thailand coming up soon as well. If I could get some passionate volunteers from other countries to run some activities like this, that would be fantastic!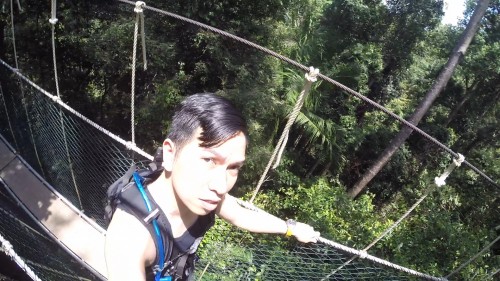 Speaking of which, what differences (and similarities) do you see regarding denim around the world, filtered through the lens of Hall of Fade?
I find that in America, Europe and Japan, the workwear look sells well and with good reason. Each of those countries have a strong history and natural affinity with workwear. In the rest of Asia for example, that is a pretty hard sell. I find that trendy brands and tight jeans do far better in Asia. Perhaps people of these countries can't relate to the history behind those looks, one can hardly fault them there. So I've noticed brands like Levi's, Rogue Territory, Iron Heart, amongst others, have taken a different approach by modernizing workwear cuts and looks to suit present day demand.
Is there anything else you'd like Unzipped readers to know about Hall of Fade?
We would like to thank all of you for the tremendous support these past 4 years! We do this completely out of passion and we'd like to encourage any one of you with the same drive to step up and be a HOF ambassador to our forum.