April 16, 2014
The legendary grunge outfit Nirvana recently received its official induction into the Rock and Roll Hall of Fame commemorating the 20th anniversary of the band's iconic In Utero album. The band, in addition to producing universally lauded rock songs, was also known for making "angst" mainstream and defining an entire lifestyle of music—right down to the plaid and denim-addled wardrobe.
But Nirvana wasn't the first rock act to don denim. Take a look at other royalties of rock who wore jeans while making music history.
THE ROLLING STONES
Sympathy for the…denim? The Rolling Stones are about as rock and roll as they come—and the legendary band opted for denim during many of their world-spanning tours. Yes, Mick Jagger performed countless jumps and slides in blue jeans of all sorts. And in 1990, The Rolling Stones gave denim jackets with their notorious logo on the back to Prague's President Vaclav Havel before their historic concert in a newly post-Communist Czechoslovakia.
Officially inducted into the Rock and Roll Hall of Fame in 1989.
BRUCE SPRINGSTEEN
There likely isn't a soul amongst us who doesn't recall The Boss' infamous and now legendary cover of his album Born in the USA, which featured the dual-pocketed backside of an iconic pair of blue jeans. (Yes, they were Levi's® 501® jeans.) And who could forget that same music video, with The Boss on a Harley Davidson, clad in a Levi's® denim jacket?  Now if that's not rock, we just don't know what is.
Officially inducted into the Rock and Roll Hall of Fame in 1999, while the E Street band was inducted last week.
THE STROKES
The band that literally launched a thousand bands in its image, The Strokes redefined denim-rock-cool when they came onto the scene in 2001, with their hit debut album Is This It. Often clad in equal parts denim, leather, plaid, and skinny tie, The Strokes set the style mold for scores of indie rock bands and Coachella crowds to come. In fact, there's an entire blog saluting the band's signature style—and a rather in-depth post on their particular penchant for denim jackets.
Officially inducted into the Rock and Roll Hall of Fame, if all goes well, in 2025.
JAMES BROWN
The 'Godfather of Soul' was also an avid arbiter of all things denim—be it blazer, bellbottom, or vest. After six decades of musical superstardom, it's easy to understand why James Brown loved the versatility of denim. And while he opted for more spacious clothing for his prolific live performances, he often donned denim for photos and album covers, like his killer denim-on-denim getup on the cover of In the Jungle Groove album.
Officially inducted into the Rock and Roll Hall of Fame in 1986.
DEBBIE HARRY, BLONDIE
Before there was Call Me Maybe, there was Call Me by Blondie. The band Blondie made rock history for fusing genres of disco, new wave, punk, and pop—and for selling 40 million records worldwide. Front-woman and, later, solo artist Debbie Harry had a particular fondness for sporting denim, whether it was double denim, jean shorts, or denim jackets. For a deep dive into Debbie Harry's love affair with denim, check out this terrific piece from DenimFuture, which showcases some of the pop star's best denim looks.
Officially inducted into the Rock and Roll Hall of Fame in 2006.
ELTON JOHN
One of rock's most regal royal members, Sir Elton John has sold more than 300 million albums during his five-decade-long career. Yes, one of the world's best-selling musicians of all time has a soft spot for denim. Case in point: "Blue jean baby" is the lyric opening to the "Tiny Dancer" ballad and you can find a pair of his infamous denim bellbottoms on display at the Hard Rock Casino & Hotel in Biloxi, Mississippi.  We're just hoping Elton John dons a seriously cool denim getup for his highly-anticipated performance at Bonnaroo this summer.
Officially inducted into the Rock and Roll Hall of Fame in 1994.
JIM MORRISON, THE DOORS
While many might remember The Doors' frontman Jim Morrison for his scandalous antics involving a lack of clothes, the provocative musician also had a fierce collection of fashionable denim duds, which he interspersed with his iconic leather pants. From denim shirts and skinny jeans to denim jackets and vests, Jim Morrison was one of the forebearers of classic rock star style. And in case you were wondering, Jim Morrison was eventually pardoned for his indecent exposure case, 40 years posthumously. The rock star showed up to the initial hearing in 1969 wearing a black denim jacket, emblazoned with the Doors logo on its back.
Officially inducted into the Rock and Roll Hall of Fame in 1993.
THE BEATLES
Any list on iconic rock denim would be amiss without a nod to four of the most legendary denim-clad rock stars of all time. Yes, The Beatles just wouldn't be the same without their denim-centric wardrobe; a symbol of both the free-spirited 1960s and one of the biggest moments in rock history. The fab four evolved from the sparkle suits usually reserved for slick Britpop super-groups, to sporting cool, faded denim jackets, jeans, and button-ups. A recent NPR story recalls a stateside visit from The Beatles, whereby the "Denim Council" was called upon to go meet the rock sensation at the airport with Beatles-decorated denim jackets.
Officially inducted into the Rock and Roll Hall of Fame in 1988.
THE RAMONES
One of the biggest stateside punk acts of all time, The Ramones also happened to be some of the biggest denim-enthusiasts in rock. The nonstop tour-machines (they toured for 22 straight years, performing 2,263 concerts) paired a whole lot of ripped-up jeans with those legendary chain-adorned leather jackets. In fact, as The Guardian pointed out last year, punk bands like The Ramones and The Clash might have been the first musicians to make the skinny jean mainstream.
Officially inducted into the Rock and Roll Hall of Fame in 2002.
BONUS: FROM THE ARCHIVES! We asked our Resident Historian, Lynn Downey to dig through the archives and uncover any Rock N' Roll regalia we might have on hand. Here's a look at two exclusive awesome finds:
LEVI'S® JEANS, SIGNED BY MICK JAGGER*: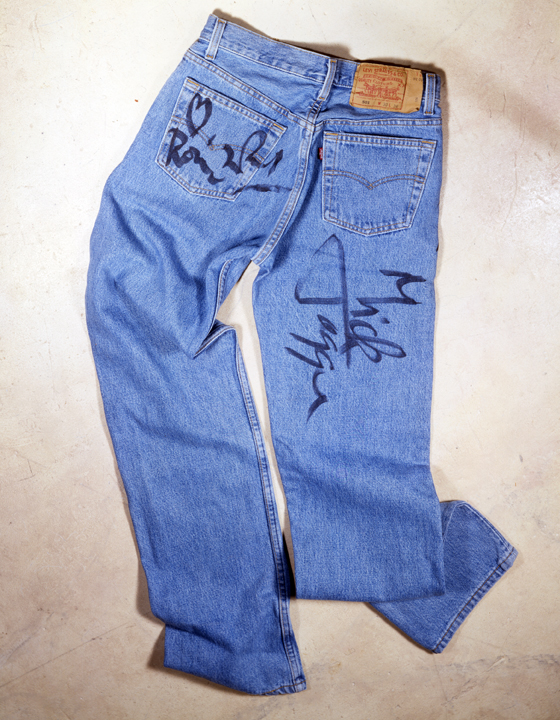 "In 1995 the office of Levi Strauss Japan sponsored the Rolling Stones' "Voodoo Lounge" tour when it came to Tokyo. The group signed a few pairs of jeans and jackets for the company, and a set made its way to the Archives."
LEVI'S® JACKET, MADE FOR ELTON JOHN*: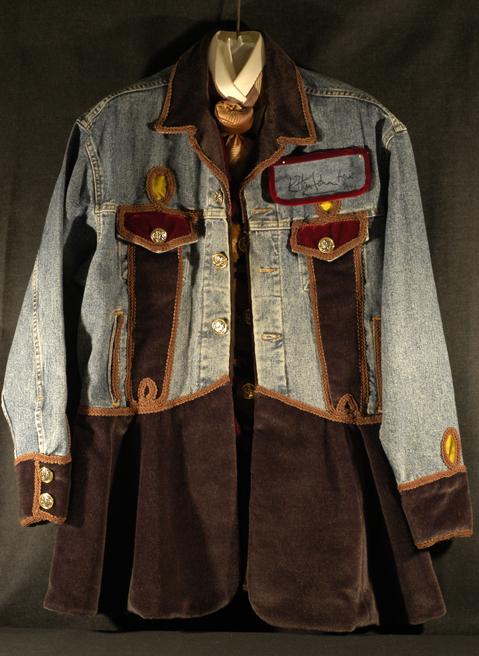 "This Levi's® jacket was repurposed and designed for Elton John in 1994. This was one of the many entries in the "7th on Sale" decorated denim event in San Francisco in 1994. The specially-made jackets were auctioned to benefits AIDS charities and this piece—signed by Elton John himself—was acquired by the Archives."
 *photos courtesy of Levi Strauss & Co.

And with music festival season in full swing, we know festival fans will be sporting their Levi's® 501® Cut Off Shorts. The short version of the iconic 501® has also been loved by generations of musicians, style icons and festival-goers. Designed with style, tailored to perfection and still just as cool today as they were when your mom was pinning flowers in her hair, the 501® Short is the ultimate wardrobe essential for this weekend's Coachella and other music festivals around the corner. Rock on!