April 15, 2014
Some of our Brussels employees will step away from their desks next month to spend a day on a farm. It's part of the company's annual day of giving back in the communities where we work and live.
This year, we'll take on more than 160 Community Day projects. Many of our employees volunteer all year long with their favorite nonprofits, but on this one day every year, virtually all of us get involved.
We've recently shared stories of Levi Strauss & Co. Community Ambassadors in the U.S. and Asia. Today, we take you to Belgium to meet Laurent Giard and hear about the volunteer project he'll be leading on May 7.
What's your role and how long have you been with the company?
I am the executive assistant to the vice president of Retail at our European headquarters and have been here for a little more than five years.
What's the name of the organization you are working with on Community Day?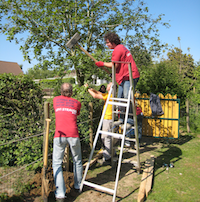 The organization is called La Ferme Nos Pilifs. We have worked with this organization in the past, and some of us still remember the work that was done four years ago. La Ferme Nos Pilifs is a farm created in 1984 to provide jobs to people with mental and physical disabilities; today they employ 170 persons, including 140 disabled people. The farm is located in the city of Brussels in a large green environment maintained by this community. Today, there are two shops on the site that sell plants from the garden as well as vegetables and chickens.
Tell us a little bit about the work that volunteers will be doing.
In addition to working with the employees on site, the volunteers will support the community by maintaining, painting or repairing the existing structures and building some new one. A small group will also prepare lunch for the community and the volunteers.
What's the best thing about serving as a Community Ambassador?
My focus is to make sure the volunteers and the on-site people are having a great time and can share this experience of supporting the community.
How are you exemplifying "sustainable reuse" on Community Day?
The farm is recycling all they can. When they make deliveries, they take back all materials that can be reused.